As final-year JHS students, nationwide, return to school, they'll be expected to protect themselves enough to avoid a Covid-19 ambush.
That will be double burden as they also prepare for examinations, in September.
The threat of Covid-19 must, however, be defused first in order to build the morale for the 'fate determiner.'
At Ayigya M/A JHS, Stella Hagan, a Form 3 student in nose mask stands alone on the compound at about 7.30 a.m. when I visited the school.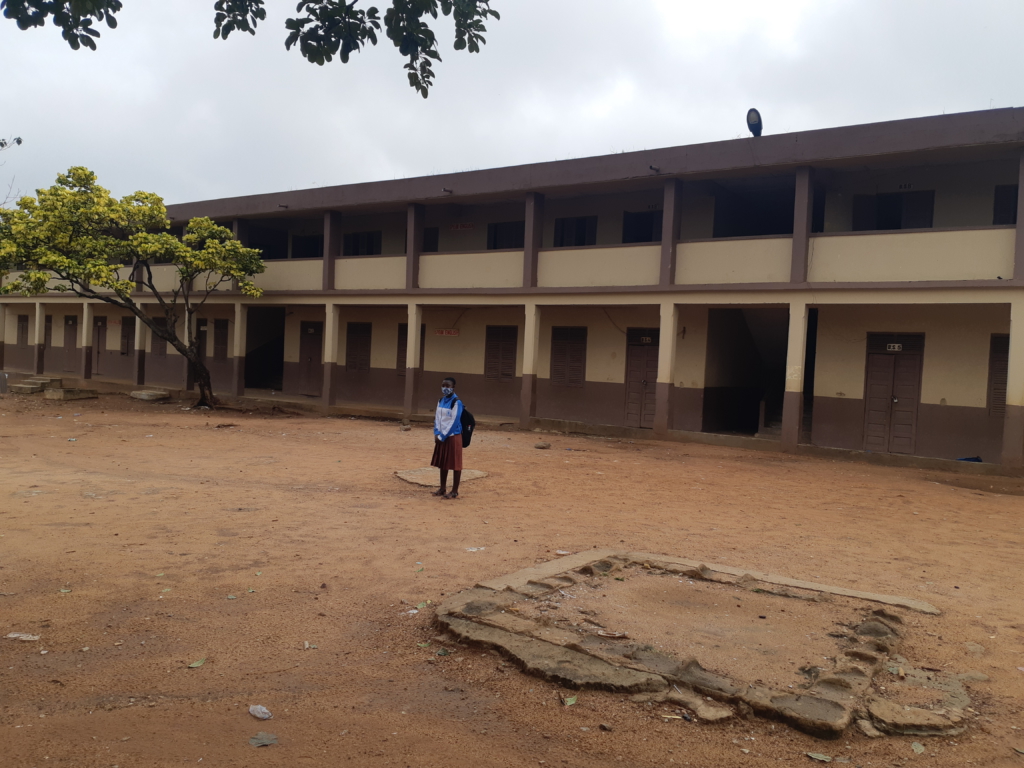 No teacher, no colleagues. She has been here for almost an hour waiting for them to show up. The torso-length black back-pack is her only companion, at least, for now.
"We normally come to school around 6:30 a.m. Since I came, no one has been here. It's 7:30 now," she lamented.
All the doors of the one storey school block are closed, the silver padlocks seem not ready to be woken up.
About one-and-a-half kilometers away, on my way to the KNUST JHS, I met two students heading towards TECH Junction from the school.
I asked, "why are you coming back?" Their response was, "We're going to buy hand sanitizers, we left ours at home."
The heightened alert also manifested itself at the school's entrance. I saw students and teachers, in masks, undergoing temperature checks.
A veronica bucket with liquid soap and tissue sits at the entrance, three lined up 10 metres into the main compound to serve the 316 final year students.
Besides, every block has one yellow veronica bucket.
"After washing their hands, the teacher will direct the students to the class," said Assistant Head teacher JHS, Eric Oti Attah.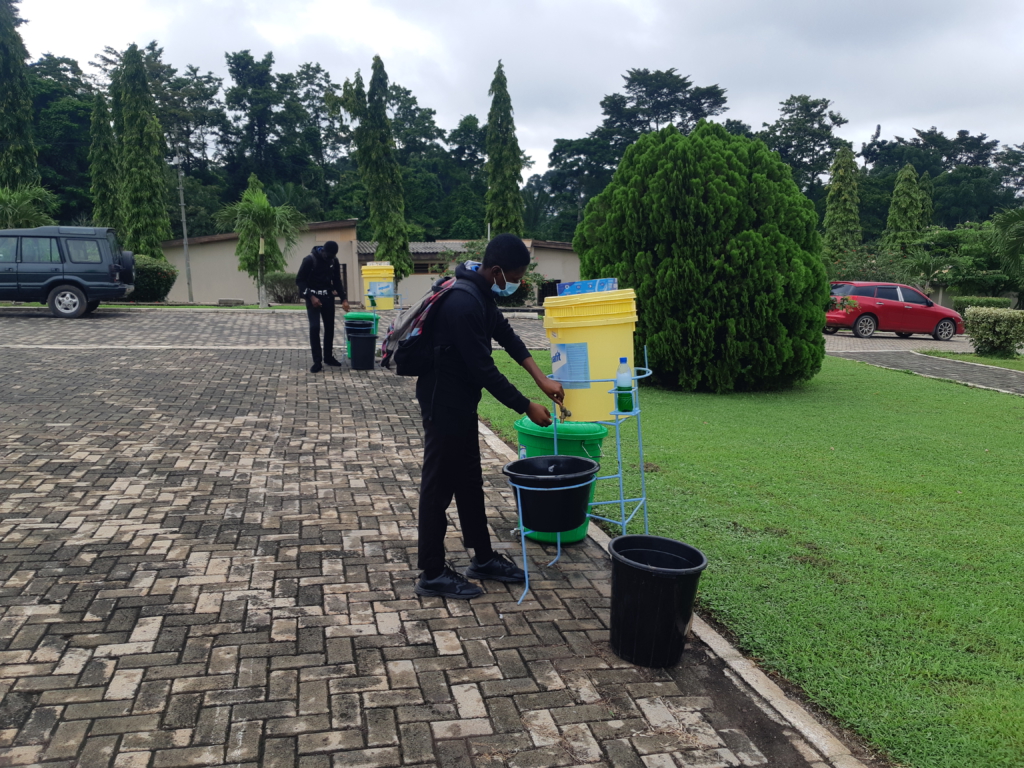 Social distancing
Though government had directed 30 pupils per class, KNUST has 23, with one classroom separating each class on a block.
"There's no class after each class so that the students will get enough space to refresh themselves during the short break of 20 minutes. They can get enough space to take their snacks as they wait for the next lesson," Mr. Oti Atta explains.
A teacher stands at the entrance of each classroom to direct students to seats embossed with their names and index numbers.
Teacher can step on the campus only when they have lessons.
Disinfection
Washrooms for teachers have now been allocated to students, and they are cleaned every hour.
The school has procured spraying machines to fumigate the classrooms after each day's session.
The school bears the cost of the exercise, undertaken by its casual workers and Zoomlion personnel.
"After closing they'll come here and tidy up. We'll fumigate the classrooms, with chlorine, so by the time they come back the classrooms will be clean," the Assistant Headmaster said.
Feeding
The school's cafeteria has been closed for disinfection and especially, to prevent vendors who may be careless with handling money from coming into contact with students.
"We were afraid of the exchange of money and also some may forget to sanitize their hands after handling money," he said.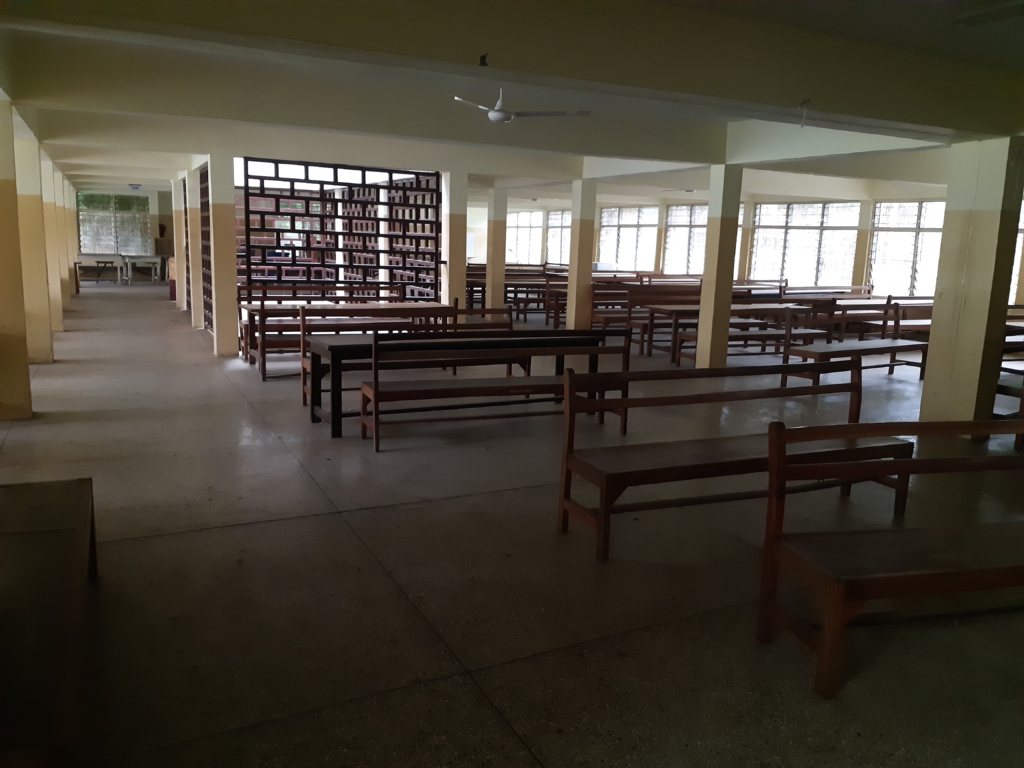 Parents have been advised to cook at home for their wards while the school has made available sachet water for students who may need it.
"Other parents offered to give us 50 pieces of sachet water. But we have enough water available to give every student who may need it," Mr. Oti Atta assured.
Awareness and health
On the school compound, from entrance to classrooms are various sensitization notices on classroom doors: "No Mask No Entry, "Wash hands with soap under running water." Social distancing notices decorate lawns.
First period of the lessons involved orientation of students on covid-19 safety protocols.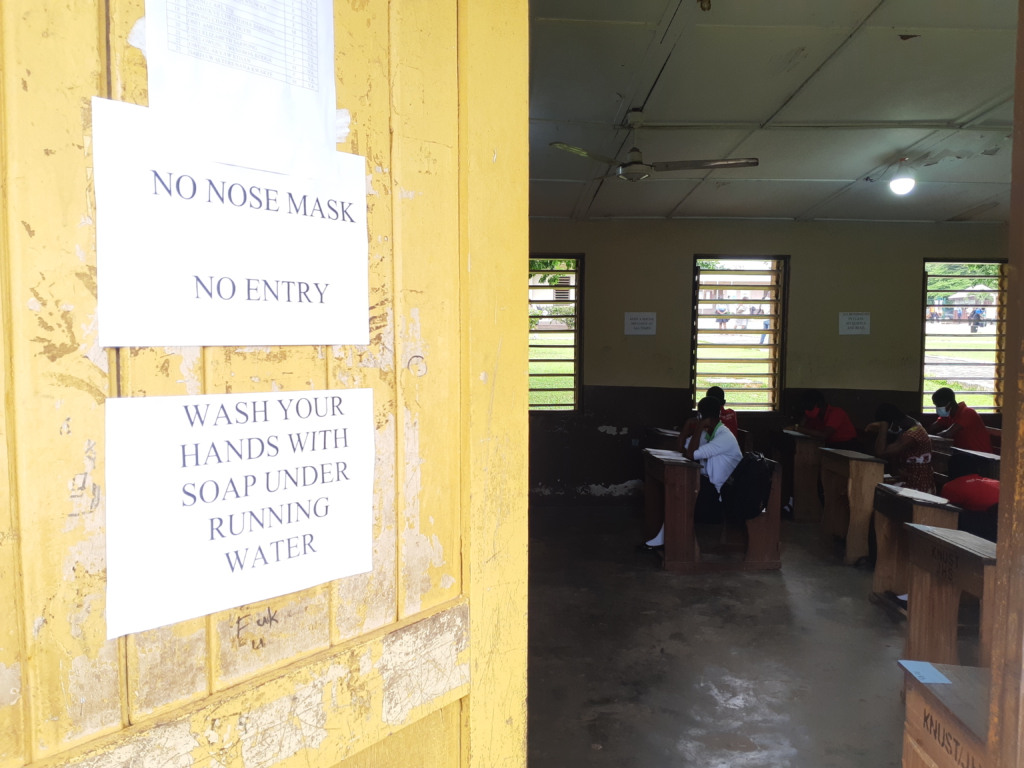 Transportation
Many students take buses to their homes from the Tech Junction, identified by health authorities as a hot spot.
The school is therefore arranging with KNUST buses to take students to their destinations.
I sighted the GES-supplied green veronica buckets being repaired for defective tap, quite expected as government hurriedly supplies them to schools nationwide.
KNUST JHS, if emulated nationwide, for its preparedness, school authorities will leave students as well as parents and guardians at ease in these Covid times.