When Ghana hosted the rest of Africa for the first time at the 14th CANA swimming championship, it was one those within Ghana's swimming circles looked at with modest expectations.
Disappointingly though, only two medals remained in the country after the competition. But seven months down the line, the story will change and Ghana's swimming team will import 29 medals from Dakar, Senegal.
4 gold medals, 10 silver and 15 bronze made up the extra baggage the team put on their return flight, and amongst Ghana's triumphant swimmers was a British-born.
"I chose Ghana over the UK because I wanted to inspire people and show people around the world that Black people can swim. I am Ghanaian too and I see no reason why not to represent team Ghana," Nubia Adjei told Joy Sports.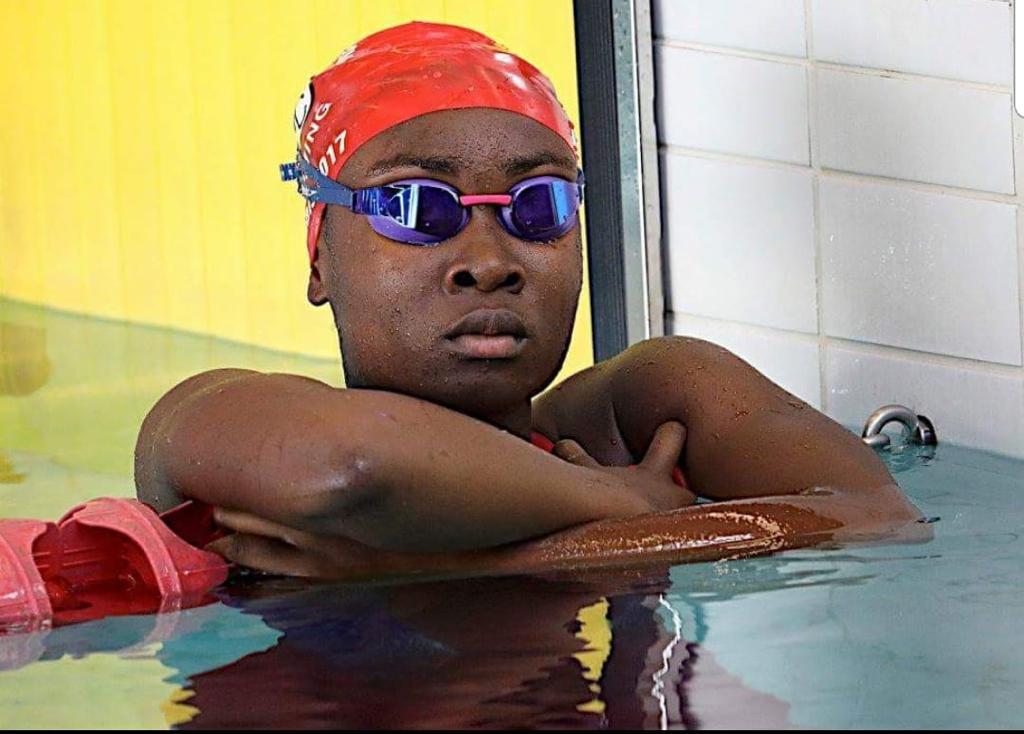 She won six of Ghana's 29 medals in Dakar, after setting a new 100m women's backstroke record at the African Zone II championship only two years prior – enhancing the public discourse of her being one of the country's most promising swimmers.
"After my first nationals competition in the UK, I loved the atmosphere and buzz so much I wanted more of it. I am still an amateur, but I am working hard towards becoming what I call a professional," she explained.
And at the 16th FINA World Swimming Championship, she put in extra steps to become that professional swimmer – recording a time of 29.11s in the Women 50 butterfly, leaving her top of the pile of Heat 2, where she was the third youngest of 8 swimmers.
However, in the women's 50 backstroke, Nubia's time of 29.96s left her in 6th of the event's third heat. But that will do very little to derail a burgeoning career which started at a very young age.
"I'm so proud of her swimming career so far, she is a very talented athlete, who is so focused and determined to succeed. Naturally a hard worker, I love the way she just gets on with life. Her focus is unwavering [and] as her mother, it makes my job so easy. She knows what she wants and she works for it," Nubia's mother disclosed.
But all of the hard work and focus was brought to a halt in 2020. There were no exemptions from a cruel coronavirus which was determined to pull plugs on what was seen as regular everyday life.
Maybe though, the statement might not really be all-encompassing, because, in the background of the pandemic, FNEtia was taking shape.
"Jewellery is eternal, it never goes out of fashion" – Kate Moss; and that probably explains why jewellery-wearing never halted when everything else did during the pandemic.
And FNEtia, provided Nubia an escape at a time her safe space – swimming pools, were deemed not so safe anymore.
"While in lockdown we all needed to do something to keep us moving so while I built my brand, FNEtia my sister created a project coined, '841' and I decided to use some of the members of her swim team as a way of getting them doing something other than waiting for pool to open," Nubia's mom explained.
And though inspired by her mother, there was some scepticism from Nubia when the chance to model cropped up, but eventually, the set and lenses did win.
"FNEtia is a very inspirational brand. I was there from its conception & therefore, I was glad I could be there for this stage of its journey. The experience of modelling, for my mum's brand FNEtia, was exhilarating. I was worried & excited all at once. Everyone on the shoot was nice & that made the experience enjoyable," Nubia admitted.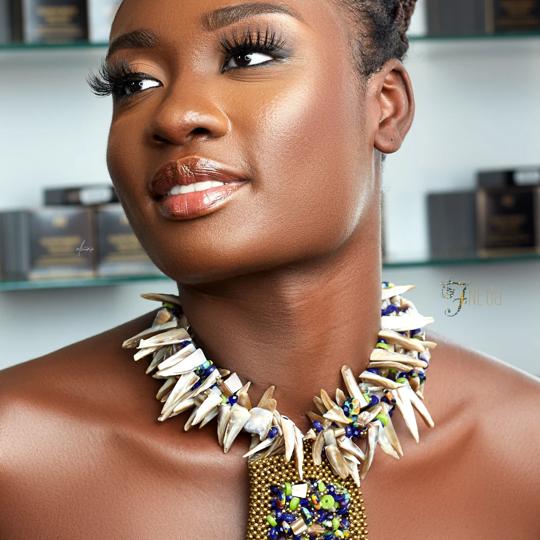 I noticed how amazing she looked and how she brought life to my products. I could have placed the items on a mannequin but you must always showcase everything in the best light, and this human being of mine just did the trick.

Franca Araba Grant
These baby steps follow the stead of world-renowned athletes like Lionel Messi, Cristiano Ronaldo, Gareth Bale and 23-time Olympic Gold medallist, Michael Phelps, who have all – at least once – run it before a set.
And for someone eyeing the life of a professional athlete, she is determined to experience it in all its facets.
"I now have a taste for it and I look forward to modelling for other brands too, especially in the swimming world.
"Like my dad always says: you can do anything you put your mind to. Where there's God and a will, there's always a way. I see no reason why I can't add a little spice," she concluded with a smirk.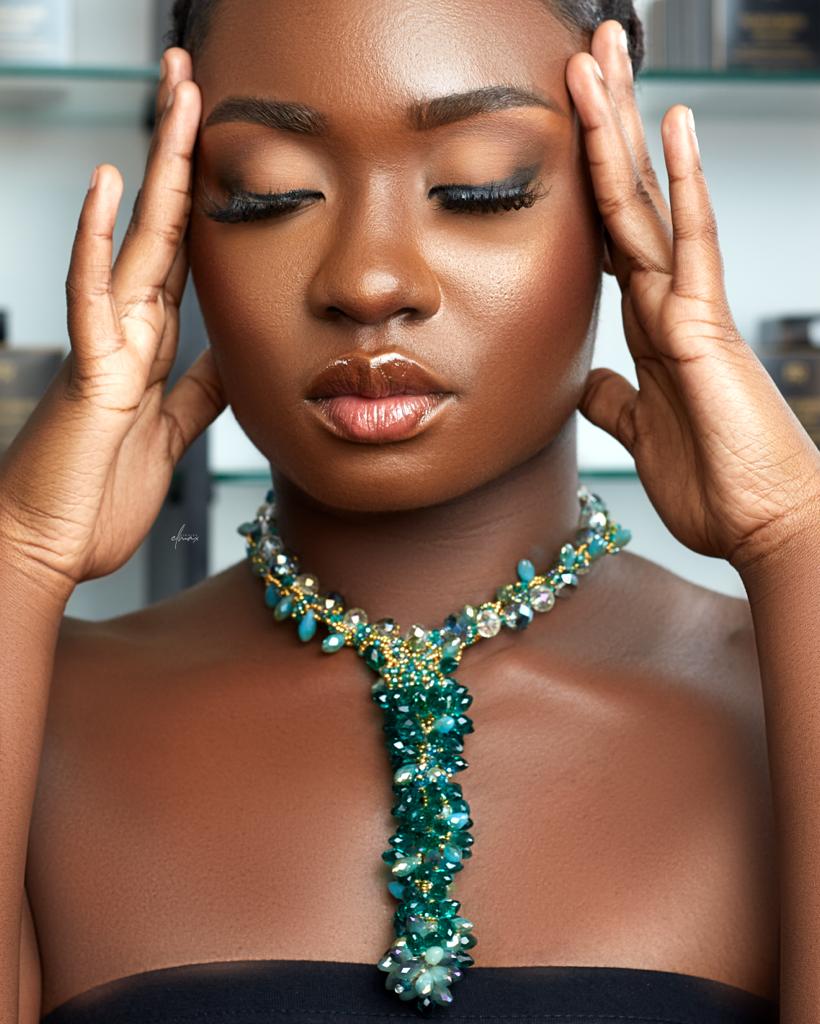 So still only 20, Nubia is looking to add to her portfolio: medal-winning student-athlete, and now, model, and her quick steps down the 'runway' and before a camera, mirrored her first in swimming.
"I have always believed in the importance of learning to swim. I took both Nubia and her sister Egyptia, to swim from a very young age. Both naturally took to the water [but] Nubia showed more determination and wanted to pursue competitively and my job was simply to support her very easy decision," her mother explained.
And although she looks to turn up big – as a glamour girl, her competitive swimming edge is one which will always remain her Infinity Stone.
"A successful swimming career for me would be winning a medal for myself and Ghana. Inspiring many Ghanaian girls, especially, to take up swimming at a competitive level," she concluded.
DISCLAIMER: The Views, Comments, Opinions, Contributions and Statements made by Readers and Contributors on this platform do not necessarily represent the views or policy of Multimedia Group Limited.