Monarchs, heads of state and PMs across the world, both past and present, have been sending heartfelt tributes following the death of Prince Philip, Duke of Edinburgh, at the age of 99.
Spain's king and queen telegrammed "Dear Aunt Lilibet" to mourn the passing of "Dear Uncle Philip".
Along with tributes from Europe's royal households, many Commonwealth nations praised his exceptional public service.
They paid tribute to a life of duty, purpose, and devotion to the Queen.
US President Joe Biden also sent condolences, hailing the duke's World War Two service, his environmental activities and charitable concerns, adding: "He was a heck of a guy... 99 years old, he never slowed down at all."
All living former US presidents also sent touching tributes.
The duke, whose death was announced by Buckingham Palace on Friday, accompanied the Queen during hundreds of overseas visits.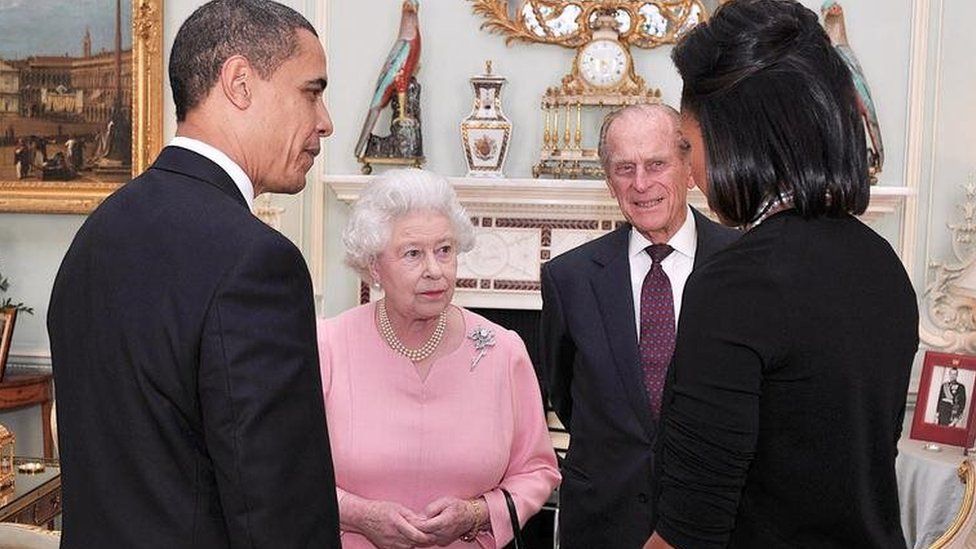 'Cherish the memories'
Prince Philip had blood ties with a number of former or current European royal households, and many of their members have been sending condolences.
The telegram from King Felipe and Queen Letizia of Spain was particularly poignant, sending "all our love and affection" to Aunt Lilibet (the affectionate name used by the duke for his wife) and Dear Uncle Philip.
"We shall never forget the moments that we shared with him and the legacy of service and dedication to the Crown and the United Kingdom by your side," they told the Queen.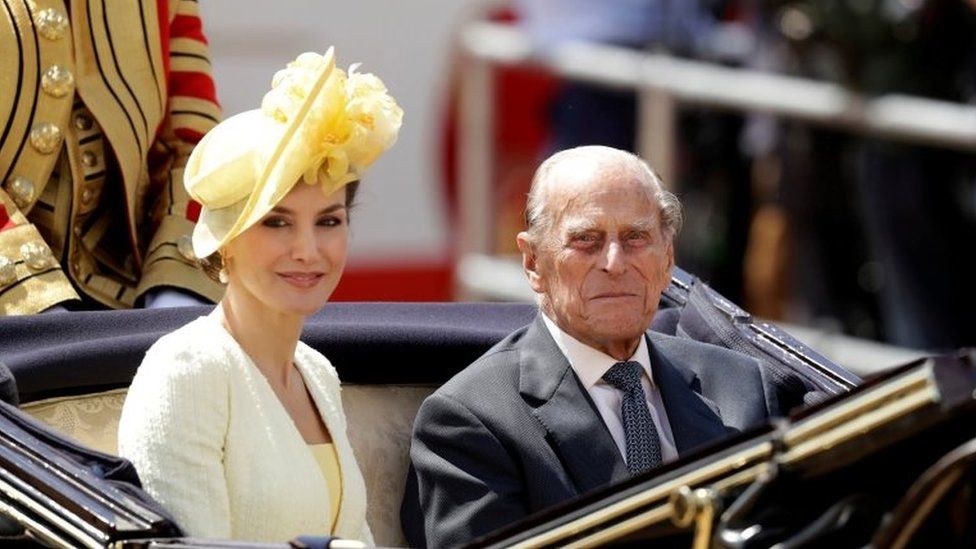 Sweden's King Carl Gustaf was also moved, saying the duke had been "a great friend of our family for many years, a relation we have deeply valued".
Swedish royal family spokeswoman Margareta Thorgren told the BBC the king and the duke had sailed together in England, adding: "That was the start of a great friendship between them."
The Dutch royal family said they remembered Prince Philip with great respect, adding: "He dedicated his long life to the service of the British people and to his many duties and responsibilities. His lively personality made an indelible impression."
Belgium's King Philippe said he and Queen Mathilde would "always cherish the memories of our warm encounters".
'A pillar for the Queen'
Tributes came in too from the Commonwealth - 54 nations, most with roots in the British Empire and home to 2.4 billion people.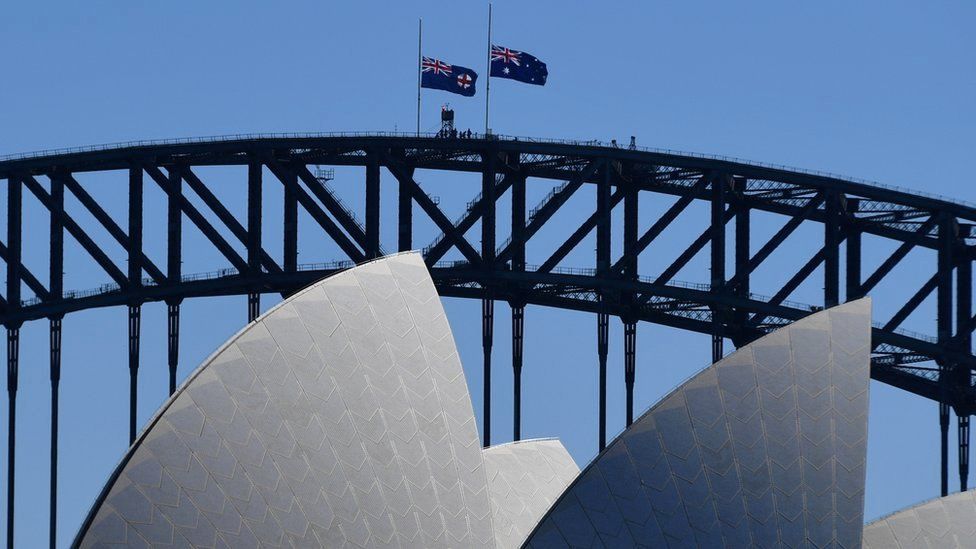 "He embodied a generation that we will never see again," Australian Prime Minister Scott Morrison said in a statement.
"He was a man who was steadfast, who could be relied upon, always standing by his Queen," he added.
The praise from New Zealand's Prime Minister Jacinda Ardern was similar, saying that "thousands of young people have completed life-changing challenges" through the duke's Hillary Award.
A ceremony has been planned in the country's capital, Wellington, for midday on Sunday, which is expected to last about 40 minutes and feature a 41-gun salute.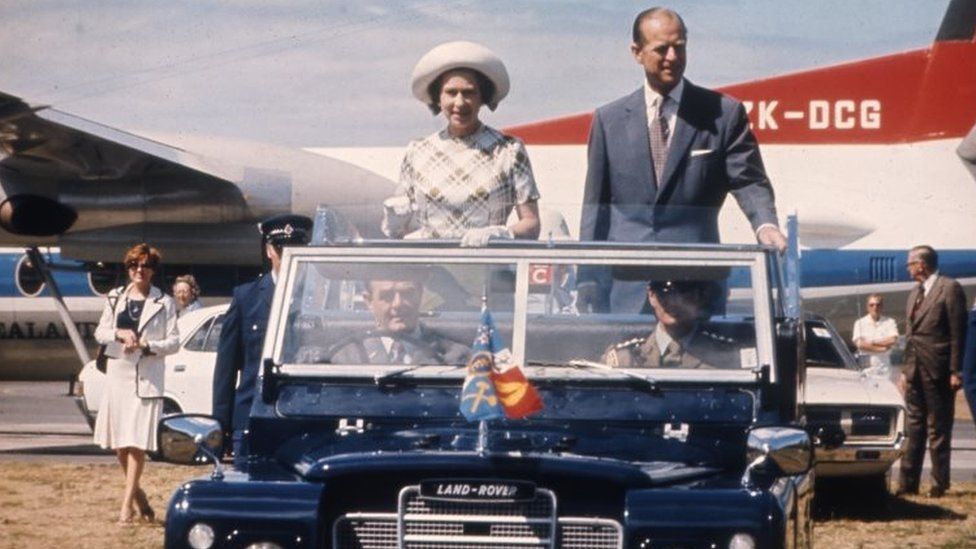 Canada's PM Justin Trudeau said the duke had "contributed so much to the social fabric of our country - and the world".
He added: "Prince Philip was a man of great purpose and conviction, who was motivated by a sense of duty to others. We will fondly remember him as a pillar in the life of our Queen."
Pakistan's PM Imran Khan said Philip had been a "wise leader" and his "role in promoting Pakistan-UK relations will always be remembered".
And Indian Prime Minister Narendra Modi was another to praise a lifetime of dedication to "many community service initiatives".
Kenya's President Uhuru Kenyatta said the duke was a "towering symbol of family values and the unity of the British people as well as the entire global community" - a man who had worked for the "peaceful co-existence of the human race"
Other warm condolences from Africa included Zimbabwe - which has had a rocky relationship with the UK and is no longer in the Commonwealth - and the president of Tanzania, which only recently lost its leader John Pombe Magufuli amid Covid-19 rumours.


'Long and remarkable life'
Other tributes came from nations deeply linked to the duke and his family.
Malta's Prime Minister Robert Abela wrote: "Truly saddened by the loss of Prince Philip, who made Malta his home and returned here so often. Our people will always treasure his memory."
Philip and Elizabeth spent two idyllic years on Malta, where he was stationed in the Navy, before King George VI died in 1952.
Israel's PM Benjamin Netanyahu said the duke was "the consummate public servant and will be much missed in Israel and across the world".
The duke's mother, Princess Alice of Battenberg, who died in 1969, is buried at the Church of Mary Magdalene in Jerusalem.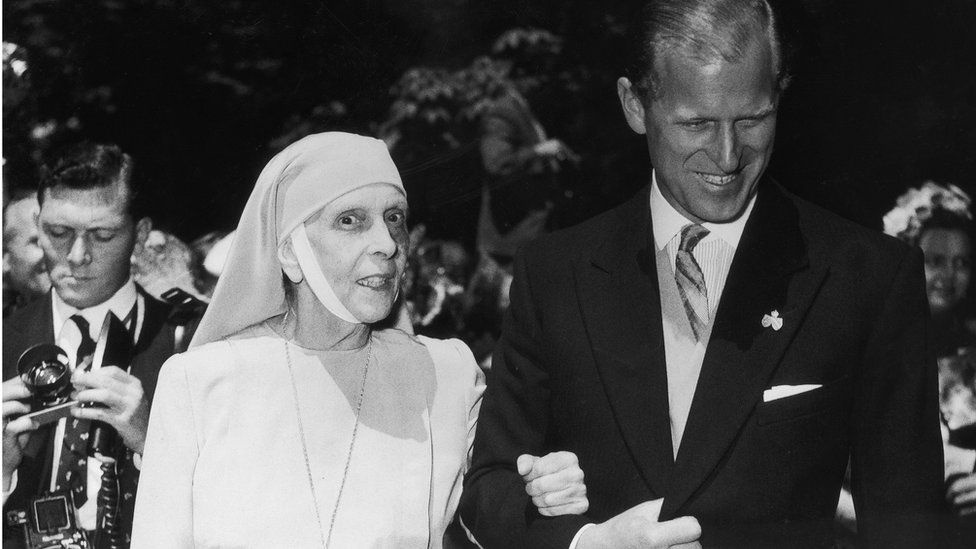 In a personal tribute, Barack Obama, one of the 18 US presidents in the duke's lifetime, said Philip had immediately put him and Michelle at ease, and that he was "kind and warm, with a sharp wit and unfailing good humour... we will miss him dearly".
Donald Trump said Prince Philip "defined British dignity and grace. He personified the quiet reserve, stern fortitude and unbending integrity of the United Kingdom... He will be greatly missed".
In a telegram to the Queen, Russian President Vladimir Putin said the duke had "rightfully enjoyed respect" both at home and internationally.
And Chancellor Angela Merkel said the duke's "friendship with Germany, his straightforward nature and his sense of duty will remain unforgotten."
France's Foreign Minister Jean-Yves Le Drian summed up many of the tributes - calling the duke a man of "great style".
"France joins in the sorrow of its friends across the Channel and salutes the life, at once European and British, of a man who was a witness to a century of trials and hopes for our continent."
President Emmanuel Macron said the duke had led an "exemplary life".
Italian President Sergio Mattarella said he would "cherish" the memories of Prince Philip's "deep admiration for Italy's artistic and cultural heritage". He said the duke had "exemplary dedication, accompanying the evolution of his country with an open and innovative spirit".
Meanwhile, Irish President Michael D Higgins praised Prince Philip's ability to bring "an air of informality to otherwise formal occasions".
"His distinctive presence and unique sense of humour put participants at ease and always engaged those who encountered him," he said in a statement.
European Commission President Ursula von der Leyen said she was "saddened" by the news, and expressed her sympathy to the royal family and "the people of the United Kingdom on this very sad day".
DISCLAIMER: The Views, Comments, Opinions, Contributions and Statements made by Readers and Contributors on this platform do not necessarily represent the views or policy of Multimedia Group Limited.