On Monday, March 30, 2020, all activities in some parts of the country came to a complete halt following the declaration of a partial lockdown by President Nana Akufo-Addo.
In a televised address on March 27, the President announced the directive to restrict movement outside the immediate parameters individuals residence s an opportunity to accelerate testing and surveillance to reduce transmission of COVID-19.
This move came after several calls by pressure groups and public health experts to take this step which would limit the spread of the virus
Below is a timeline of activities of the three 21-day lockdown
March 27, 2020
The President announced that movements would be restricted in some urban areas including Accra, Tema, Kasoa and Kumasi, where significant numbers of infections have been recorded.
March 28, 2020
Ghanaians throng to markets and fuel stations in preparation for 14-day lockdown imposition.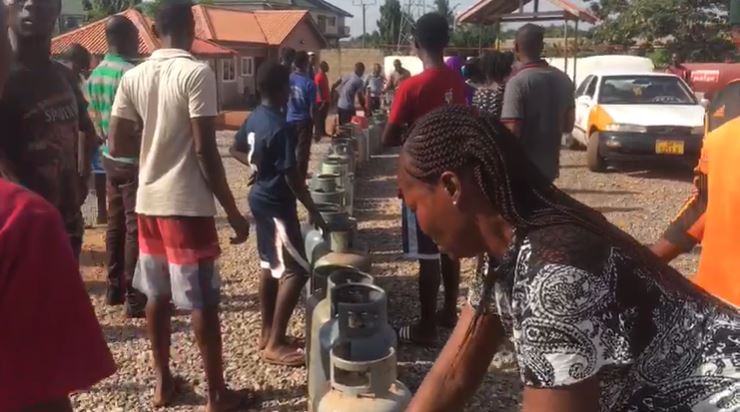 Chief of Staff, Akosua Frema Osei-Opare, issued a statement which to explain that members of the Executive arm of government were exempted from a lockdown directive issued by the President on Friday.
Ghana Police Service promise 'democratic policing strategies' in their enforcement of lockdown protocols.
Administrators of the various health service facilities across the country call for mass testing of the residents in areas under partial lockdown to tackle the coronavirus pandemic.
The Bank of Ghana advised all financial institutions in the country to keep operating but with minimum staff to provide services to clients as parts of the country prepare to go into lockdown.
The Chief Justice, Kwasi Anin-Yeboah, directed all hearings within the partial lockdown areas to be adjourned to May and June 2020.
March 29, 2020
Ghana's COVID-19 cases increased to 152 from 141 according to the Ghana Health Service. The 11 new cases, were recorded on Sunday, March 29, 2020.
Head porters flee Accra following lockdown amid coronavirus lockdown. Originally from the Northern parts of the country, these individuals who travelled to make money begun making a hasty journey back to their hometowns to avoid the partial lockdown on the capital.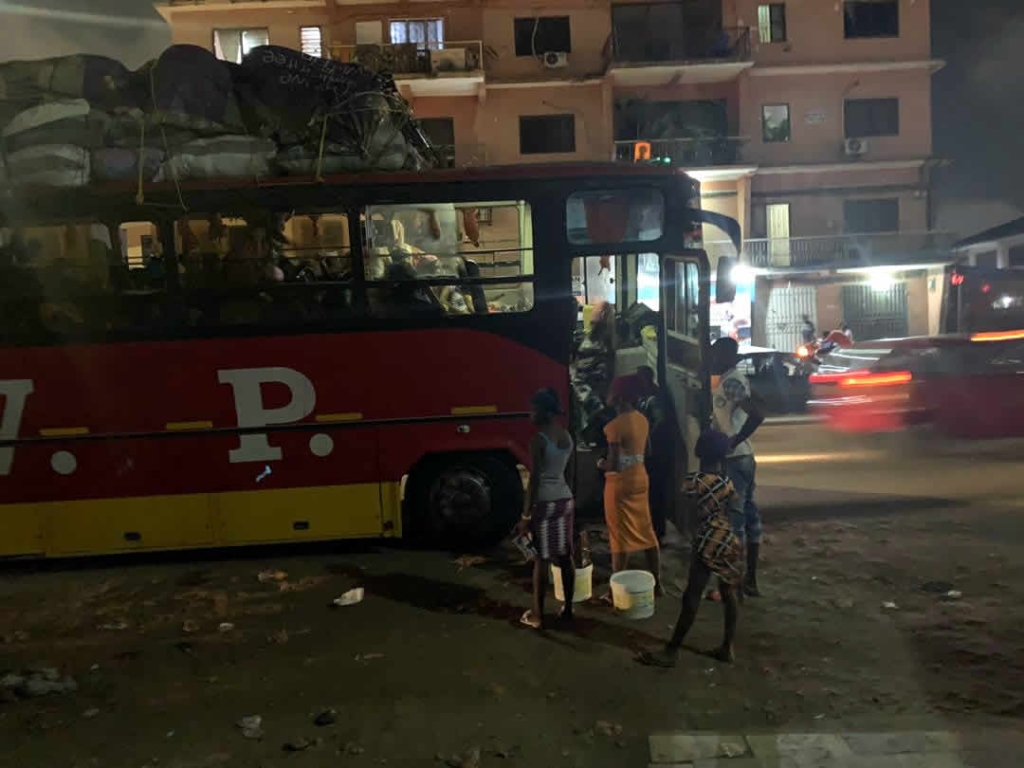 The COVID-19 technical team of the opposition National Democratic Congress (NDC) called on government to institute measures to ensure that the fleeing head porters, do not spread the coronavirus.
The police administration in collaboration with the Ghana Navy, Army and Airforce deployed officers to various stations to enforce lockdown protocols.
Chief Executive Officer of Ghana Tourism Authority issued directives to hotels, restaurants, pubs and drinking bars in some areas in the partial lockdown areas to remain open during the period. However, to operate only through pick-up and delivery services.
March 30, 2020
The Ashanti Region Police Command threatened to deal ruthlessly with residents who fail to comply with the lockdown directives.
28 courts in Accra and Kumasi designated for only lockdown-related cases.
Cargo drivers 'smuggling' head porters to the north forced to turn back. Two cargo trucks, each carrying over 40 passengers, including children, bound for Walewale in the North East Region from Accra, were forced to return.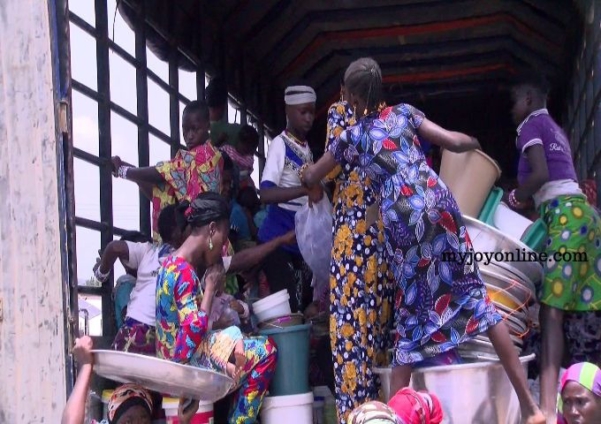 Rapper Edem has organised his first-ever digital concert aimed at entertaining people while the country battles the coronavirus pandemic.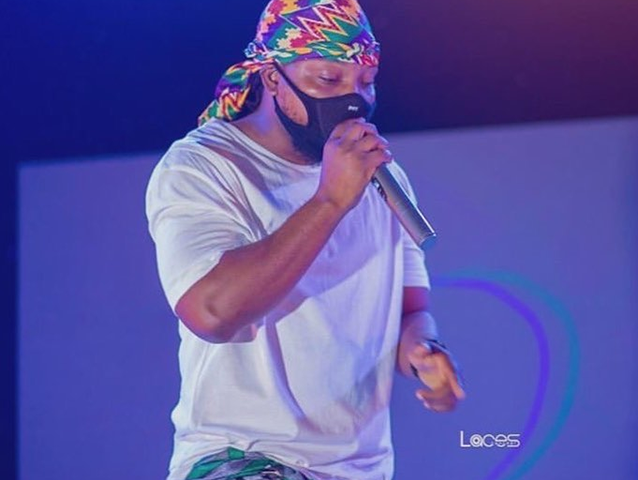 March 31, 2020
Health Minister, Kweku Agyeman-Manu disclosed that 31 out of the 152 persons who were receiving treatment after contracting COVID-19, the disease caused by the coronavirus have recovered.
AMA taskforce discovers women, children hidden in a truck in an attempt to escape lockdown. On the same day, over 30 passengers heading to Burkina Faso were detained and sent to Tamale hospital for COVID-19 testing.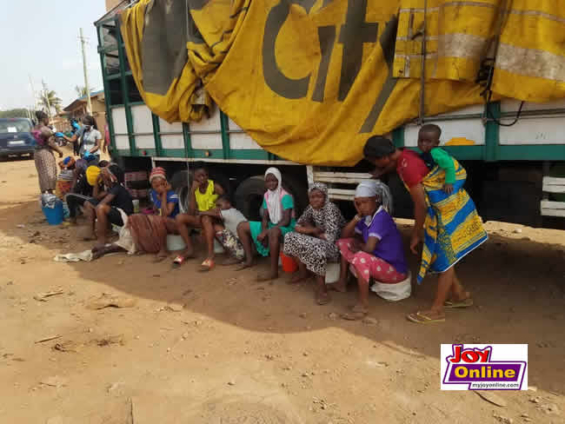 The Ashanti Regional Health Director, Dr Emmanuel Tinkorang, charged the Covid-19 Safety taskforce, to tighten methods and ensure the compliance of citizens to the lockdown directive.
Over 100 commercial vehicles impounded for flouting lockdown directive. The Dansoman Divisional Police Command has impounded these vehicles for breaching the social distancing protocols introduced as part of measures to fight the spread of the coronavirus pandemic.
The Ghana Armed Forces (GAF) discredited videos trending on social media that sought to suggest that some soldiers on the Operation Covid Safety were manhandling citizen.
The Ghana Immigration Service (GIS) deployed about 3,500 personnel to enforce directives for the lockdown imposed on citizens in Accra, Tema and Kumasi. Later, 36 foreigners and two Ghanaians arrested for using unapproved routes into Ghana.
Ghana sees an increases in coronavirus cases to 161 from the initial 152.
325 markets in 4 regions of the north to shutdown April 1 for disinfection after lockdown.
Ghana Health Service begins mass Covid-19 test in Ashanti region. Meanwhile, 28 suspected coronavirus cases in the Eastern Region test negative.
April 1, 2020
The Health Minister, Kwaku Agyeman-Manu, disclosed that as of Wednesday, April 1, 195 cases of Covid-19 have been recorded in the country.
The disinfection exercise that started with markets in Accra and Kumasi to prevent the spread of the coronavirus, took place in the northern parts of the country, on April 1, 2020.
Brigadier General of the Ghana Armed Forces, Nsiah Yeboah, cautioned the public to desist from sharing false information on the ongoing 14-day lockdown.
The Northern Regional Security Council placed a ban on the activities of commercial sex workers in the region. This directive is in line with the council's attempt to curb the spread of Covid-19 in the region.
April 2, 2020
Some persons exempt in locked-down areas complain of strict enforcement. They stated that it was becoming difficult for them to transit to their various workplaces.
Ghana records 204 confirmed coronavirus cases as more roadblocks and checkpoints spring up during 14-day lockdown.
Police arrested 18 persons for defying government's ban on social gatherings
CHRAJ urged police, military to exercise restraint while enforcing lockdown directive.
Nine more coronavirus cases were recorded in Ghana, bringing the total to 204.
April 3, 2020
Over 250 security personnel join Zoomlion staff to embark on massive cleanup exercise.
April 4, 2020
Abuakwa South Assembly disinfects major markets as well as public spaces.
Dome Market in the Ga East Municipality of the Greater Accra Region, was shut down after traders failed to observe social distancing.
The Deputy General Secretary of the Ghana Medical Association (GMA), Dr. Titus Beyuo, said the two-week lockdown imposed on some parts of the country, was not enough to fully isolate the spread of the coronavirus.
Fourteen residents of Kasoa in the Awutu Senya East Municipality of the Central Region were remanded into Police custody by the Awutu Ofaakor Circuit Court for loitering during the lockdown.
Musicians held virtual concerts to thrill fans during the lockdown. Ghanaian artistes, Shatta Wale and Manifest entertained their fans with performances which was streamed online.
April 5, 2020
Ghana awaits results of over 15,000 persons as country enters critical phase in coronavirus fight.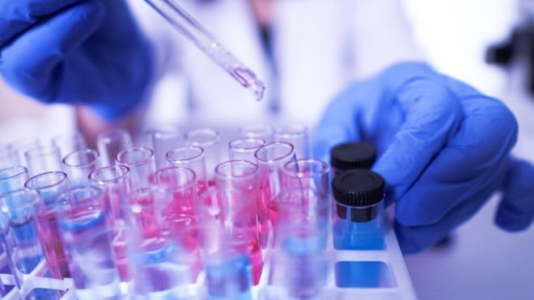 April 6, 2020
Government providing food for 400,000 individuals and homes in locked-down areas.
Government provides free transport for health workers who live at Tema, Kumasi and Kasoa to and from work.
Ashaiman traders outraged by alleged shooting of man by soldier on lockdown operation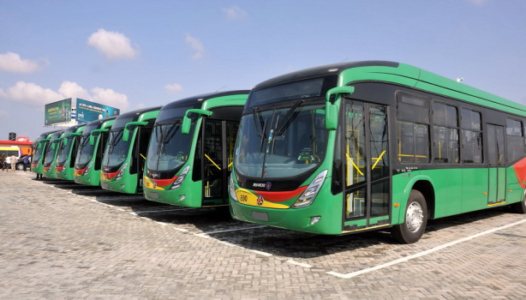 April 7, 2020
Ghana's coronavirus case count rose sharply to 287 according to an update by Ghana Health Service late Monday, April 6, 2020.
Covid-19 Private Sector Fund served over 60,000 meals in lockdown areas. Food packs were handed to head porters, popularly known as 'kayayei' within six days of the inception of its 'Feed-a-kayayo' project.
April 8, 2020
One more person passed on due to the coronavirus bringing the total number of deaths to six and the case count to 313, an update on the Service's dedicated Covid-19 page indicated.
April 9, 2020
The Ghana Water Company Limited (GWCL) asked all landlords and landladies to allow their tenants access to water for free.
Lockdown in Accra and Kumasi extended by seven more days as coronavirus cases increase to 378.
Soldier shoots police officer on lockdown duty at a checkpoint at Tema New Town.
Yilo Krobo Municipal Assembly in the Eastern Region, declared a lockdown in the area effective Friday, April 10, 2020.
April 10, 2020
Former President Jerry Rawlings has called on Ghanaians to adhere strictly to measures being taken by state authorities to contain the Covid-19 pandemic.
April 12, 2020
Akufo-Addo signs Executive Instrument extending ban on public gatherings by 2 weeks.
The Ghana Police Service on Sunday warned against visiting the beaches during the lockdown. They threatened to arrest recalcitrants as part of measures to curtail the spread of the novel coronavirus.
April 13, 2020
Police arrested over 40 people in Dzodze for organising 'Easter jam' despite ban on public gathering.
Ghana Medical Association warned against scraping off lockdown saying the situation has not been contained.
April 19, 2020
President lifts lockdown but maintains ban on social gatherings. Nana Addo scrapped the restrictions imposed on the movement of persons in Greater Accra and Greater Kumasi and their surrounding towns as part of efforts to control the spread of the coronavirus.
Moments after President Akufo-Addo lifted the restrictions on movement which was imposed on persons living in Greater Accra, Greater Kumasi, Tema and Kasoa, people took to the streets to celebrate their 'freedom'.
As things stand, life is returning to normal as individuals have returned to their daily activities.
Markets and roads that were almost deserted 24 hours ago are beginning to buzz with activity.
Meanwhile, there are currently 1, 042 positive cases of coronavirus with 99 recoveries and 9 deaths.