At 12 years old table tennis prodigy Hend Zaza is living her Olympic dream and shining a light of hope.
As Tokyo 2020 swings into action, Zaza is making history as one of the youngest Olympians of all time and the youngest table tennis athlete ever at an Olympic Games.
The Syrian paddler will be the youngest Olympian at Tokyo 2020 , her date of birth listed as 1 January 2009 by the International Table Tennis Federation.
On July 24th when table tennis bounces into Olympic action, Zaza is set to become the youngest Olympian in 52 years since 11-year-old Beatrice Hustiu competed in figure skating at the 1968 Winter Olympics.
Currently ranked 46 in the ITTF U13 girl's singles category, it is an amazing achievement to be at the same table as the best in the world in Tokyo.
Even more so when you consider that she's grown up in a country at war and had to try and train amidst a global pandemic.
Zaza qualified for the Tokyo Games at the Western Asia Olympic Qualification Tournament in Jordan in February 2020, drawing headlines from some of the world's biggest news outlets like NBC , The Guardian , The Washington Post and USA Today .
She won four of five matches to claim the women's singles title with a 4-3 victory over Lebanon's Mariana Sahakian in the final in Amman.
The youngest Olympian at Tokyo 2020
Who is the youngest Olympian at Tokyo 2020?
Hend Zaza is the youngest Olympian at Tokyo 2020, born on 1 January 2009 Zaza is 12 years and 205 days old on 24 July 2021 when her Olympic debut happens, younger than British skateboarder Sky Brown who's now 13.
Youngest Olympian
Who is the youngest Olympian ever?
The youngest-ever recorded athlete at an Olympic Games was 10-year-old Greek gymnast Dimitrios Loundras.
He competed at the birth of the Modern Olympics in Athens 1896 – he even won an Olympic medal claiming bronze in the team event.
So while Zaza is incredibly young to be competing on sport's greatest stage, she isn't the youngest ever.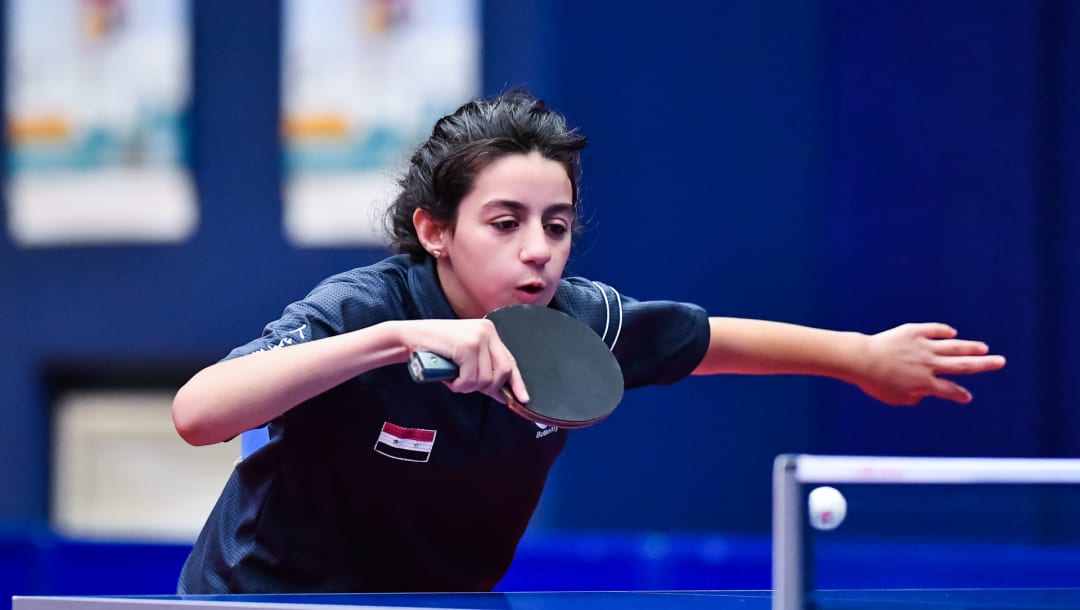 ITTF.com
How sport brought hope for Hend Zaza
This Syrian paddler has defied all the odds to get where she is.
The first Syrian table-tennis player to qualify for an Olympics, it all began when she first picked up a bat in 2014 at just five years of age.
Her brother played and she was a natural, coach Adham Aljamaan took her under his wing at the local club in her hometown of Hama, a city heavily affected by war and terrorist attacks, but table tennis was a source of joy and hope in hard times.
In 2016 she travelled with her brother to the West Asia Hopes Week and Challenge in Qatar where she could practise with older players and show her potential.
Zaza earned a spot at World Hopes Week and Challenge as a competitor and was spotted by ITTF official Eva Jeler who was astonished by this tenacious girl's play, later telling the ITTF website :
"I have very rarely seen a player at this age play with such joy and train with such intensity as Zaza. She never walked to pick up the ball – she ran. While of course her technique needed and still needs improvement, her determination, resilience and will to play and win are (almost) a guarantee for future success." – Eva Jeler
As reported by the ITTF, the hall where she trains in Hama is not exactly of an Olympian standard, the tables are old and the floor beneath them concrete, there are frequent power cuts meaning the athletes are dependent on daylight to train when temperatures can reach up to 40 degrees Celsius (104 degrees Fahrenheit) and above.
Add the coronavirus restrictions on top of all the other difficulties and you can see just how difficult it is for athletes who train and prepare in conditions like these to go toe-to-toe with well-funded elite athletes from other nations.
But Zaza's focus and maturity beyond her years have seen her overcome great obstacles. She is the first Syrian player to win national titles in every single category that it was possible for her to play in: hopes, cadets, juniors and senior.
Her future looks bright and regardless of her results in Tokyo this determined young Olympian has shone a light of hope for young people around the world looking to rise up from near-impossible circumstances.
DISCLAIMER: The Views, Comments, Opinions, Contributions and Statements made by Readers and Contributors on this platform do not necessarily represent the views or policy of Multimedia Group Limited.