Two children, both aged 3 years, were found dead on Friday, October 15, in the back passenger seat of a broken-down Mercedes Benz saloon car.
The vehicle, according to police report, was parked at a mechanic shop located at Alajo in Accra.
In a press statement dated October 17, 2021, signed by Director of Public Affairs, Superintendent Alexander Kwaku Obeng, the police noted its outfit has begun investigations into the circumstances leading to the death of the minors.
The release noted that the "bodies were conveyed to the Police Hospital Morgue for preservation and autopsy after Crime Investigation Experts had examined the scene."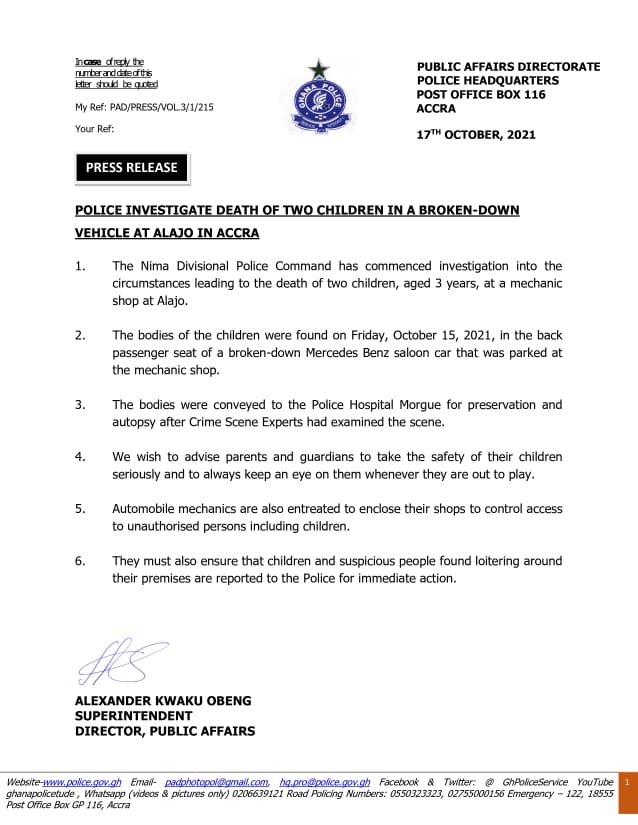 Meanwhile, the Police Service is entreating parents and guardians to treat the safety of their wards as paramount by ensuring they are well informed on the whereabouts of their children when they head out to play.
Also, the Service has cautioned automobile mechanics to restrict access to unauthorized persons including children.
"They must also ensure that children and suspicious people found loitering around their premises are reported to the Police for immediate action," the Service added.