The only bridge linking the Akwidaa New Town to the Old Town in the Western Region has collapsed.
This has left locals with no choice but to swim in the Ezile River in order to access adjoining communities.
According to residents, this is the second time the bridge has collapsed after a similar incident happened in 2020.
'
After the previous incident, the bridge was reconstructed with wooden materials in lieu of a permanent one.
The dream, however, never materialized, thus, causing the temporary structure to buckle around 6:00 am on Tuesday, July 5, 2022.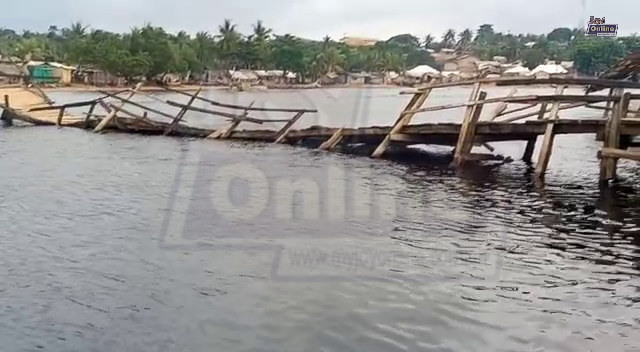 The Assembly member for the Akwidaa electoral area, Emmanuel Bonney said residents are finding it difficult to cross the river.
The situation, he added has disrupted the lives of many in the community.
"Those in the [Akwidaa] Old Town get their potable water from the [Akwidaa] New Town, so to cross to access good drinking water has become a problem.
"And because of how important the bridge is, people with canoes are exploiting residents who want to commute between these two towns," he told JoyNews in an interview on Wednesday.
As a result, Mr. Bonney has called on all and sundry to support the community to hasten the reconstruction of the bridge linking the two communities and other neighbouring towns.
"If I get the support from the Assembly today, we will start something today because after pestering the Forestry Commission, they finally allowed us to cut some trees for the project.
"However, because of rains we did not get much wood last week, but this week we are working earnestly to get more so that we can start something as soon as we get the light poles," he told host JoyNews mid-day Kojo Brace on Wednesday.