Habiba Iliyasu, 15, was asleep in her school dormitory in northwestern Nigeria when a group of armed men burst in and ordered her and her schoolmates out of bed.
The schoolgirls – 279 in total were rounded up by the men, who arrived at the school on motorbikes.
"They fired guns. Some of them came into the school while others stayed at the gate," Habiba recalls of the ordeal on February 26, which prompted global outrage and prayers from Pope Francis for the release of the captives.
Taken from her dormitory at the Government Girls' Secondary School in the town of Jangebe, Zamfara state, they were forced to walk through the night into the forest where the kidnappers camped out, she tells CNN.
Some of the girls did not have time to put on shoes and were forced to walk barefoot, sustaining cuts and injuries, Habiba says.
Inside the kidnappers' den
When they got to the kidnapper's hideout, Habiba saw two people she recognized instantly — her father Iliyasu Magaji, 65, and her sister, Raliya Gusaram, 33.
Her elder sister was in the forest with her two children Isah, 4, and Rabiatu, 2, Habiba says.
"I first saw my older sister, it was after seeing her that I saw my dad, he was seated. One of them (the kidnappers) hit him and asked him to come forward and sit at a particular spot," she says.
Habiba was forced to pretend she didn't recognize her family members.
"I pretended not to know them because if I showed I know them I would be held back with them. I was really hurt, all I kept uttering (was) the prayer 'Allah is enough, a helper and a guardian,' I prayed that may we be released together."
Later, she says she started to cry as she became overwhelmed by the situation.
"My sister told me not to cry, that you get beaten if you cry."
For Magaji, seeing his youngest daughter, Habiba, in the clutches of the kidnappers was heartbreaking.
He recalls weeping when he saw her.
"I was extremely sad, I started crying. Later I remembered Allah is in control of everything and I stopped crying," he tells CNN.
Magaji says he despaired what might happen to Habiba if he acknowledged her.
"I pretended I didn't know her, I didn't talk to her and I wouldn't look at her because I was afraid they would know she is my daughter and as a result harm her or harm me."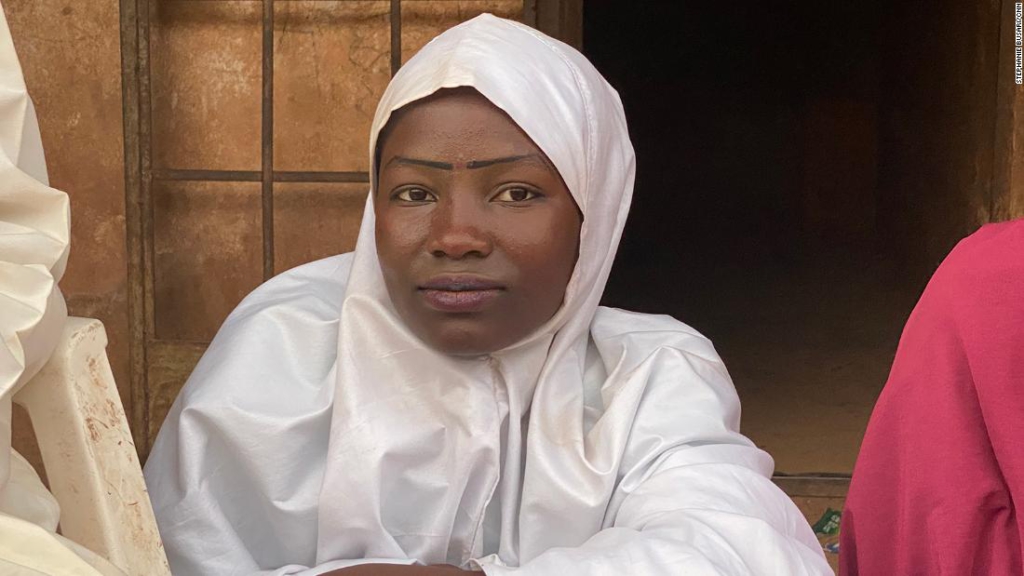 His time in the forest was marked by near-daily beatings and at one point, he was attacked with a machete, he says, showing CNN the scar on his right shoulder where he was struck.
"He wanted to cut off the hand," Magaji says, gesturing. "You can see, the spot still hurts. I can't lift this hand high up."
Magaji says he was abducted in the middle of the night by armed men outside his house in the village of Gwaram, Zamfara state, one of the worst-affected parts of the country.
"I rose to urinate and when I approached the spot I came across some people," he says. "When I got closer to see who they were, they accosted me with guns … and threatened to shoot me."
Magaji says he was taken to the forest with a group of others and the kidnappers demanded a ransom of 10 million naira (about $26,000).
It was an impossible sum for Magaji – a farmer – to raise.
He says the bandits would put pressure on loved ones to raise money by making him stand on burning coal when he called his family so they could hear his screams of agony.
His wife Rukkaya Iliyasu, 58, was left alone, and distraught at home, frantically trying to raise the money from her meager earnings selling groundnuts and bean cakes.
"My tears dried up," she told CNN. "I couldn't cry anymore. We sold our land, camels, maize, crops. Everything," she says with a deep sigh.
In the end, they say they managed to raise just over two million naira ($5,000) after selling virtually all their belongings and crowdfunding for contributions.
It was only after Habiba was freed and told the state governor about his plight that he and others were eventually released, Magaji says.
In all, Magaji would spend three months and two weeks in the forest with his eldest daughter and two grandchildren.