The Overlord of the Mamprugu Traditional Area, Naa Mahama Abdulai Sheriga says he believes only a civil approach to the Bawku chieftaincy skin conflict would help avert further needless loss of lives and destruction of properties.
The overlord is therefore convinced that matters about Chieftaincy including the Bawku chieftaincy dispute should be allowed to be settled through time-tested institutions in the country.
In a letter addressed to the President, Nana Addo Danquah Akuffo Addo, Naa Bohaga Mahami Sheriga, said he remained committed to finding lasting peace in Bawku.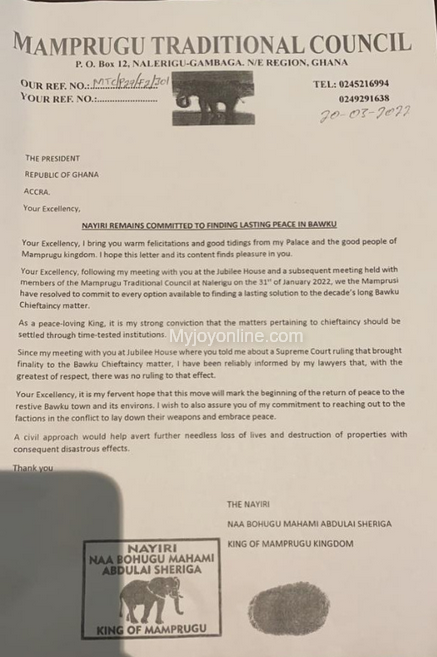 In the letter, intercepted by JoyNews, the Mamprugu Overlord referred to a meeting with the President at the Jubilee House, and a subsequent one with members of the Traditional Council relative to the ongoing violent dispute in Bawku.
"Your Excellency, following my meeting with you at the Jubilee House and a subsequent meeting held with members of the Mamprugu Traditional Council at Nalerigu on the 31st of January 2022, we the Mamprusis have resolved to commit to every option available to finding a lasting to solution to the decades-long Bawku Chieftaincy matter".
"As a peace-loving King, the overlord continued, "it is my strong conviction that matters pertaining to chieftaincy should be settled through time-tested institutions".
According to the overlord, "since my meeting with you at Jubilee House where you told me about a Supreme Court ruling that brought finality to the Bawku chieftaincy matter, I have been reliably informed by my lawyers that, with the greatest of respect, there was no ruling to that effect".
The Nayiri is therefore of the hope that allowing the Bawku chieftaincy dispute to be settled by time-tested institutions including the Supreme Court, "will mark the beginning of the return of peace to the restive Bawku town and its environs".
The overlord also assured the President of his commitment to reaching out to the other factions in the conflict to lay down their weapons and embrace peace.