Curiosity, they say, kills the cat.
Out of insecurity and distrust, some ladies are pushed to the edge.
They sometimes go to the extent of snooping on their partners' phones just to quench their inquisitiveness.
Well, for some men, this act is enough to make a relationship frosty.
One such person is Poxieble, who represents Skinny on Joy Prime's BMPS (Bald, Muscled, Potbellied, and Skinny) all-male panel talk show.
According to him, he can tolerate a number of things, but not for his girlfriend to invade his privacy.
"Sometimes, you've got to let the woman know that the thing she's doing is stupidity. Example: Just pick up my phone and be going through. Some petty things happen in relationships and even marriages. Going through my phone and wanting to see…that one, I won't be vulnerable to that. That particular one, I won't accept, and that can even end our relationship," he said.
His comments come in line with their discussion as to whether "being vulnerable to your partner is a sign of weakness."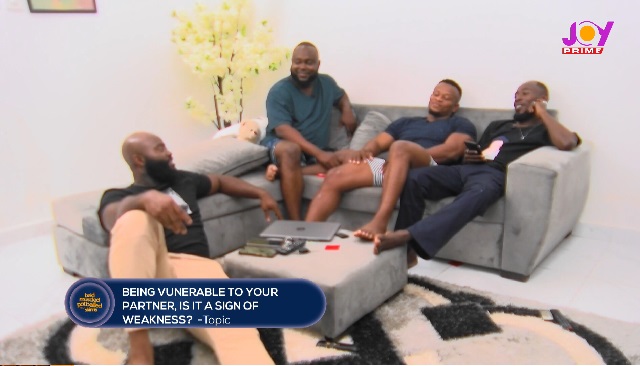 Even though he admits to having fallen vulnerable sometimes in a relationship, that does not make him a feeble person; rather, it is a sign of maturity.
Skinny is of the opinion that it is never right for a fiancée to go through her partner's phone without their knowledge.
He admonished men who were not comfortable with the behaviour never to let it slide.
He also added that one needs to talk to the partner about how he feels because relationships are based on trust.
BMPS is hosted by Kofi Hayford, who doubles as 'Potbellied' on the show.
His other counterparts are Nanye Kofi, who represents 'Bald', and Oliver Rockson Prempeh, who portrays 'Muscled' while Samuel Nana Yaw Berima-Poxieble is 'Skinny' on the show.
The BMPS Show is brought to you by the kind courtesy of Jameson Irish Whiskey.
DISCLAIMER: The Views, Comments, Opinions, Contributions and Statements made by Readers and Contributors on this platform do not necessarily represent the views or policy of Multimedia Group Limited.