Christian Atsu's big heart has been a constant feature in many of the tributes shared across the world.
Atsu's family, former teammates, the many he touched through countless missions and Journalists have expressed how kind and compassionate he was.
What we are fast losing sight of is that Atsu was an amazing footballer. A young talent who was likened to the great Lionel Messi and secured a contract abroad at the age of 17.
Even before moving out, the young man, born in Ada Foah, had already dropped hints of his enormous football talent at the then Feyenoord Football Academy at Gomoa Fetteh and Cheetah FC, a club based in Kasoa.
Atsu had some great times in his playing days in Ghana's famous colours but his 2015 Africa Cup of Nations (AFCON) story is by any stretch the greatest as he emerged the most valuable player in Equatorial Guinea despite the challenges he had to overcome to be at the competition.
Former Black Stars coach, Avram Grant, is the man who kept faith with Atsu regardless of a year of inactivity at Everton and sent him to the Nations Cup amidst the murmurings. Dealing with the tragic passing of Atsu has not been easy.
"It's one of the saddest days that I had in my life you know. To hear that about Christian, 31 years old. Fantastic person — a good man — this is difficult. Difficult for me to speak about him now, he's part of the past," Grant said in an interview with George Addo Jnr.
"I heard the news when it happened day 1. I think after the earthquake they said it was a player from Ghana so I checked and people told me that it was Christian Atsu.
"I spoke to his agent and we tried to find a way, how to help his rescue. The rescue team was from my country so I sent them to check, but nobody knows where he is. Then the news that maybe he was okay and they found him but it was as you know; it was not true but we were so happy to hear it and then day by day it became worse and worse until we found out. It was really a shock, big shock for me."
Atsu's journey to becoming Africa's finest at the 2015 competition despite gold eluding Ghana has been swept under the carpet because it was a great competition after all. Here's another reason why Atsu kept going despite the challenges and somehow left his mark at Africa's grand football showpiece.
Recovery from 2014 World Cup debacle
The Black Stars had just exited the 2014 World Cup in Brazil after a poor showing. Ghana lost (1-2) to the USA, drew 2-2 with Germany and lost 1-2 to Portugal, finished 3rd in the group and failed to make the knock-out phase for the first time. Ghana's shame at the world cup was not only on the pitch but off it. Disciplinary issues stemming from delays in the payments of player bonuses and appearance fees made the Black Stars a laughing stock.
The Dzamefe Commission of Inquiry which was constituted by President John Dramani Mahama to look into circumstances surrounding Ghana's chaotic campaign worked between Augustan d December of 2014. Their reference was to enquire into matters relating to the preparation of the Black Stars for the World Cup and issues that affected their performance and early exit. Just when the committee's work ended, Avram Grant was appointed head coach of the Black Stars with the immediate task of leading Ghana to the 2015 Africa Cup of Nations in Equatorial Guinea.
Out of form Christian Atsu selected for the AFCON
Fresh from the shenanigans of the 2014 World Cup, Avram Grant had to listen to trusted men, reevaluate stories from the Mundial, use the Dzamefe Commission of Enquiry report and white paper as a guide in deciding which players were fit and ready for the Nations Cup in a matter of weeks. Big names like Michael Essien, Sulley Muntari and Kevin Prince were set to miss out on the final AFCON squad but including a name like Christian Atsu at that point in time for the tournament was a bit far-fetched.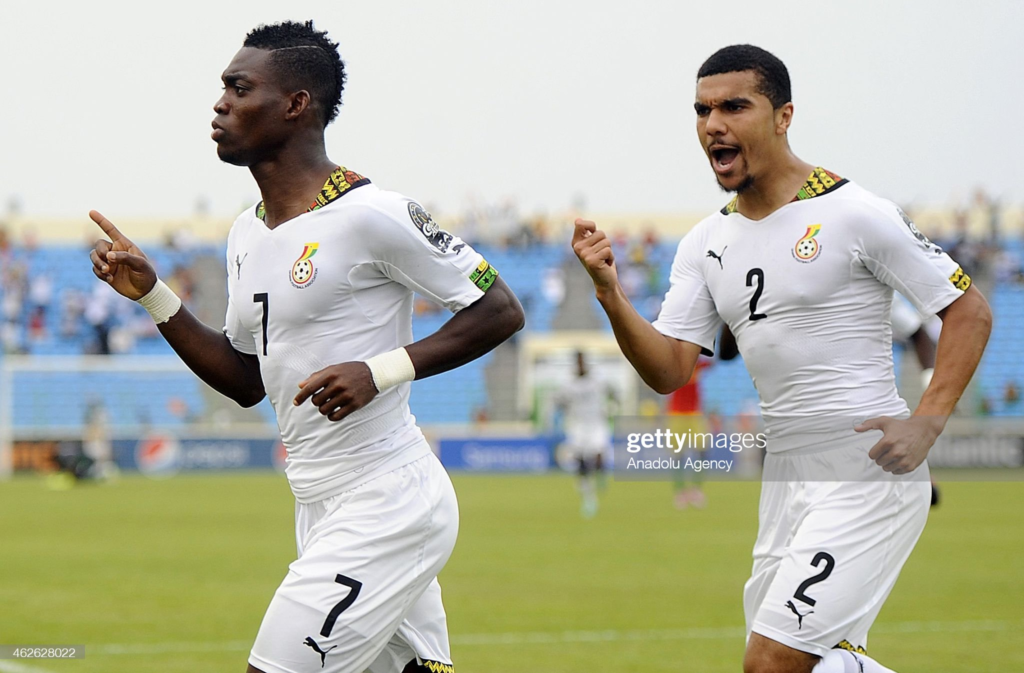 Shortly after the World Cup, Christian Atsu, who had completed a loan spell with Vitesse, began another at Everton. Atsu made his first appearance days later, coming on as an 85th-minute substitute for Kevin Mirallas in a 2–2 draw with Arsenal at Goodson Park. On 21 September 2014, Atsu made his first start in the league against Crystal Palace, which ended in a 2–3 home loss.
Unfortunately, the Chelsea man hobbled off the pitch after ten minutes into Everton's Europa League tie against Russian side FC Krasnodar with a hamstring injury. It was feared that a Grade 3 tear which will require surgery was going to sideline him for between three to six months. This meant Christian Atsu had featured just twice for Everton in six months. That according to many pundits was enough to rule him out of the Avram Grant squad.
Everton's medical team revealed that the Atsu had suffered a grade one tear which was going to require about ten days to recover and could somehow make Ghana's camping in Seville and the tournament proper. That appeared to be the cue for Avram Grant who surprisingly added Christian Atsu to Ghana's official 2015 AFCON squad against all the odds.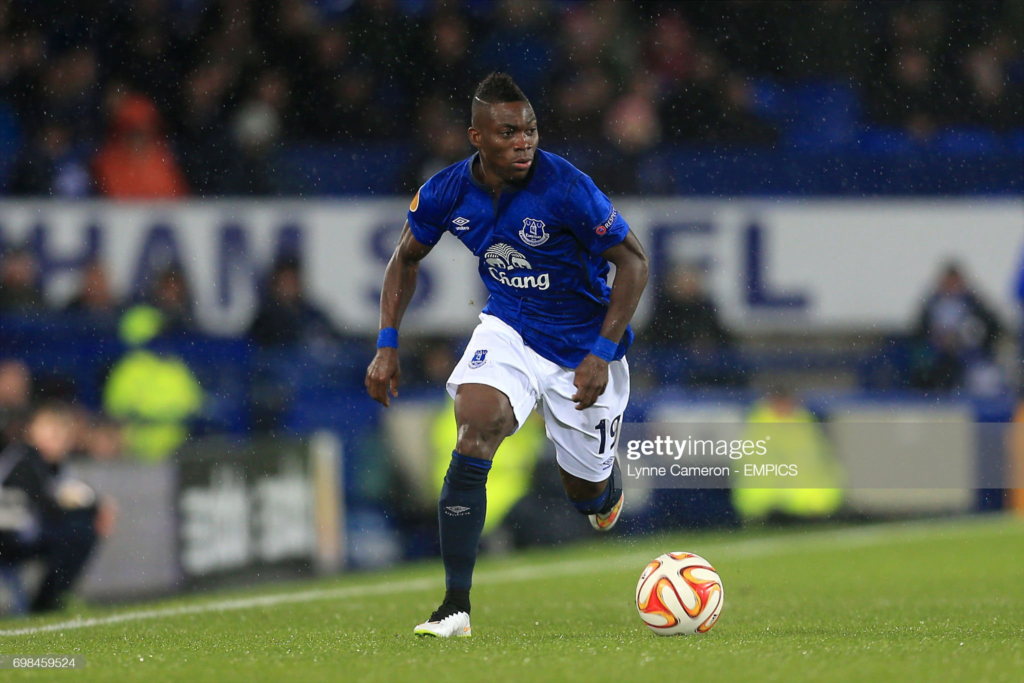 "It's a story that shows also about his character and how strong he is mentally because I received the team very short time before the AFCON after the crisis in the World Cup in 2014 and he was not even on the list because he didn't play half a year. The first half of the year he didn't play, he didn't find a team, partly because of injury.
"Then I knew him also because Chelsea bought him and he played in Holland and I decided to take him to the team which I think a lot of people didn't agree with me which I understand because he didn't play for half a year.
"So we put him in a special program with Jamie Lawrence, the fitness coach to prepare him and I remember that I had a conversation with him, he said to me if you decide to take me, I don't care if I play one minute or five minutes or 10 minutes.
"I'm a Ghanaian. I'm proud of my team and after what happened in the World Cup with the supporters don't believe in us. I want to give my contribution".
Indeed doctors had ruled Atsu out of action for just ten days following the injury, but with the help of the fitness trainer, he appeared stronger by the day and convinced the technical team. After 10 days of intensive work, the Black Stars left their camping base in Seville, Spain for the Nation's Cup in Equatorial Guinea. The team arrived in Mongomo in good time for the Group C opener against Senegal.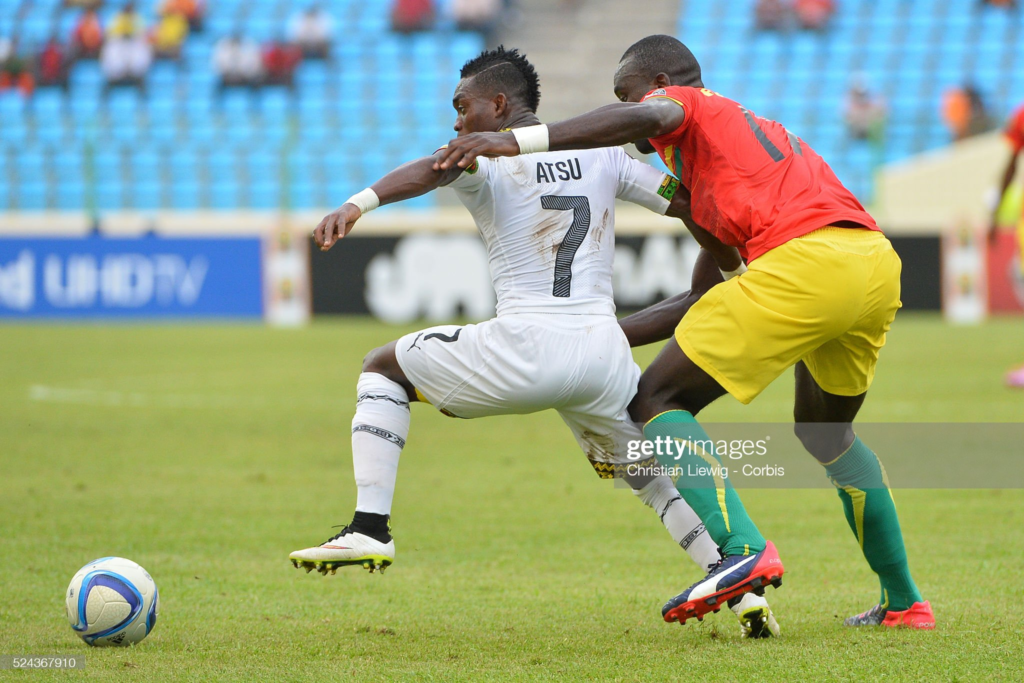 Ready for action but more questions marks about actual performance
With a lot more question marks about the fitness and readiness of Christian Atsu in Mongomo, Grant gave him 68 minutes in Ghana's opening 2-1 defeat at the hands of Senegal. Christian Atsu made way for his best friend Mubarak Wakaso but left an impression on the technical team.
"He had exceptional talent and I remember the first game; they made a penalty on him against Senegal even we lost after the last minute and then we played fantastic against Algeria and then South Africa and all the way to the final."
Atsu was rewarded for his impressive play against Senegal with full ninety minutes in the second group game against Algeria. Ghana won the game through a solo effort by Asamoah Gyan right at the death to prevent what would have been an early exit for the Black Stars. Atsu's transition from being a doubt to a starter was complete when the final group game against South Africa came around. Ghana won 2-1 and made the knock–out face of the competition.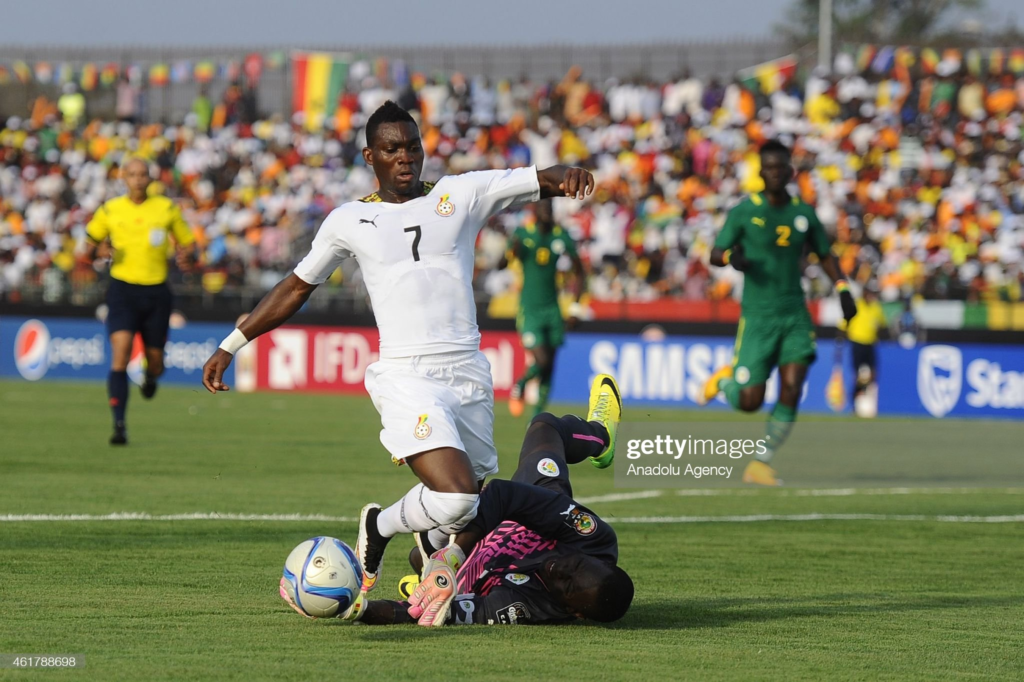 At this stage, Grant was vindicated for trusting the out-of-form player in such a high-level competition. Another ninety minutes followed in the quarter-final game against Guinea and this time he moved his contribution in attack to a whole new level. Atsu scored two critical goals in Ghana's 3-0 mauling of their West African counterparts and set up a semifinal berth with the host nation.
"He scored two amazing goals in the quarter-final. It's not easy in any quarter-final of a tournament to do that. He did it like it was easy. If you remember the final that we lost on penalties, we played much better than Ivory Coast and he hit the bar. He did amazing, amazing. He beat two players and then he hit the bar from 20 meters," Grant continued.
"So, he was fantastic but to speak with him as a player was easy because he was really an exceptional talent and I think if he didn't have these injuries that he had, he could have reached the top. No doubt, no doubt about this. It's very difficult to speak about him as a person, very difficult to speak about Christian Atsu that is not with us."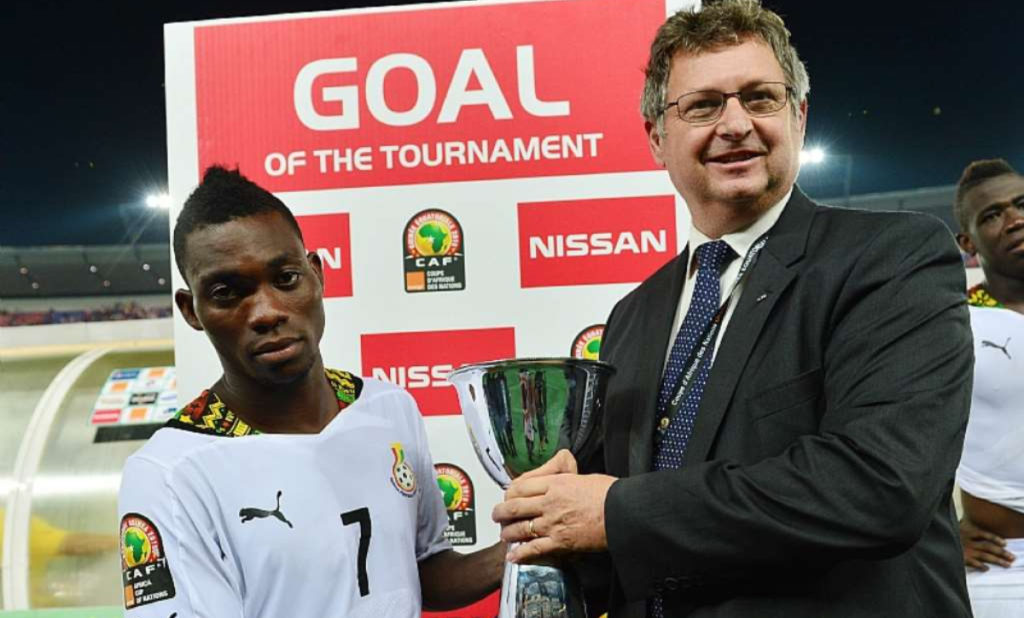 Atsu played full throttle in the semifinal where Ghana beat Equatorial Guinea 3-0 and in the final when the Black Stars lost on penalties to Ivory Coast. At the end of the tournament, he was awarded both the Player of the Tournament award, as well as the Goal of the Tournament award for his strike against Guinea. Atsu was also named in the Team of the Tournament for the 2017 Africa Cup of Nations in Gabon, where Ghana came fourth. Grant is still yet to come to terms with Atsu's sudden demise
"First to Ghanaian people. I received more than [a] thousand calls in the last hours from Ghana. I don't know if thousand but hundred for sure, many people texted me, many people sent his picture and it showed that the Ghanaian people love him and there is a lot to love about him and his family.
"I can say that even if it was a sad moment they can be proud that they were near a person that was always positive. That's how I remember him. Always when I spoke with him, when he played, when he didn't play, when he had good days, when he had the bad days, he always had a positive attitude, then smiling and this I think the Ghanaian people and his family especially can be proud about him and remember the moment that they were with a top person like him. I don't know even what to say, it's so sad," he added.
Loans were never a blight on his career.
Atsu endured many loan spells in his short football career with many wondering if he was as good as was initially thought when he was much younger. He suffered the most loan spell at Chelsea. After moving from Porto to the Blues in 2013, Atsu played for Vitesse, Everton, Bournemouth, Malaga and Newcastle on loan before finally signing for the Magpies in 2017.
Grant who worked as a Technical Director, and coach of Chelsea insists the club valued Atsu highly contrary to the opinion that he was surplus to requirement.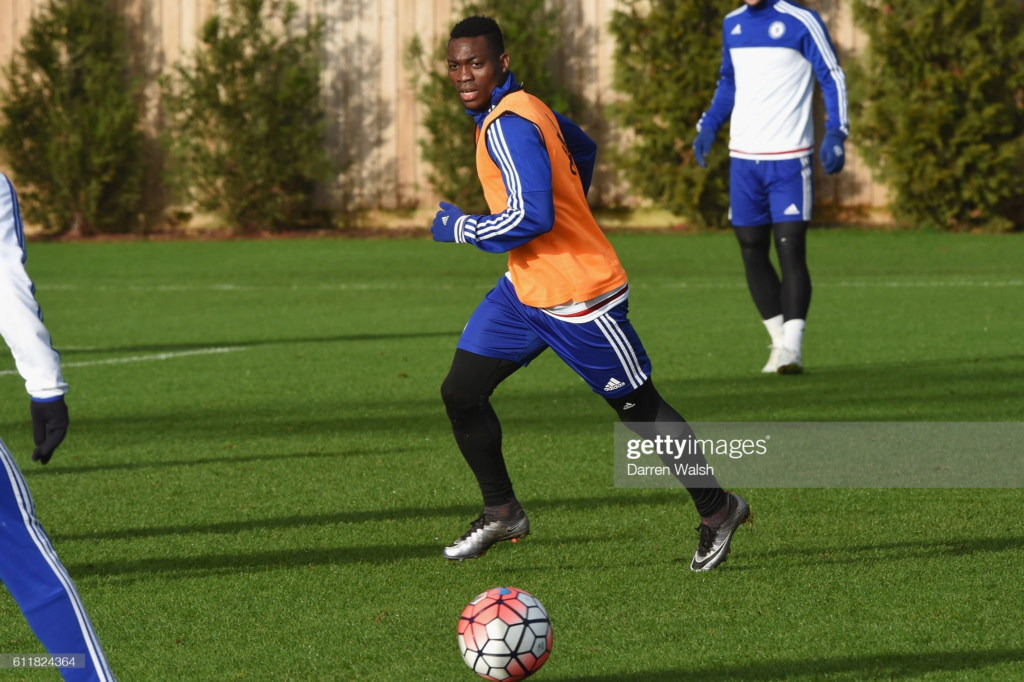 "No, the story of him is simple. First, Chelsea bought him, it means that they thought that he was high talent. Chelsea don't buy average players. But I think as I told you before, he could play in Chelsea, no doubt about this but he had a lot of injuries and not at the right moment, you know. Imagine even before the AFCON, he was injured. So, he could not be picked even to the team.
"And when I spoke with him, he said I understand if you will not pick me. So, when you play in Chelsea you need to be also fit physically as much as you can always. He had long-term injuries and I think this is what stopped him to be in Chelsea. Of course, it was not his quality, it was not his personality. That was perfect."
Atsu served Ghana well with 65 caps from 2012 to 2019 and represented the nation at the 2014 FIFA World Cup and four Africa Cup of Nations tournaments.
DISCLAIMER: The Views, Comments, Opinions, Contributions and Statements made by Readers and Contributors on this platform do not necessarily represent the views or policy of Multimedia Group Limited.