The University of Ghana, Legon (UG) is aiming to oust the University of Cape Coast (UCC) as Ghana University Sports Association (GUSA) mammoths, as 2022's games get underway.
UCC has dominated the medal table from 2012 to the games' last event in 2020, topping the leaderboard in all the editions. Meanwhile, Legon has put up credible results, recording two silver and a bronze finish between 2014 and 2018.
However, when Legon last hosted the games in 2020, the institution dropped out of the podium places, with the University of Development Studies replacing it, as it finished fourth. Nonetheless, there is renewed energy from UG as GUSA returns this year.
Training camps for all 10 teams of the University opened on October 13 as preparations were geared up, after a short training camp in December 2021. But despite the seemingly short window available for fine tuning, Dr. Bella Bello Bitugu, Sports Director at the university, believes Legon will do better than 2020.
"We are very positive towards improving on our medal haul from what we had in 2020. You will appreciate that immediately after GUSA games, things started going downwards in terms of sports, so there wasn't much practice, less competitions and others. And this is really the first major tournament, and we are positive that we will at least match what we had at GUSA 2020, when we hosted. We are doing our best, and have done our best, so are positive," he told Joy Sports.
The University of Ghana won 12 gold, 21 silver and 19 bronze medals in 2020. The men's football team felt the pangs of narrowly losing out on gold after they were very narrowly beaten by UCC to the gold medal.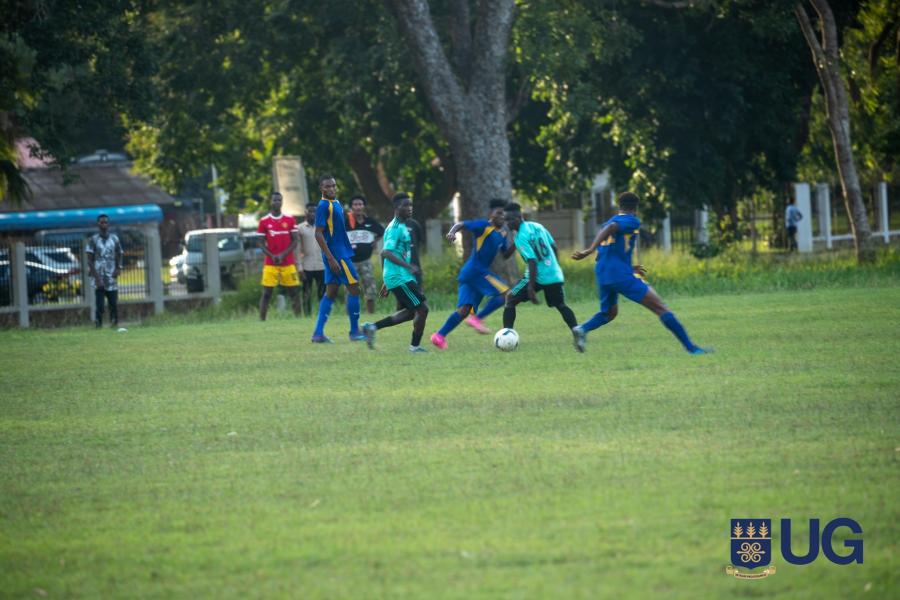 The two teams were tied on points, but a healthier goal difference left UCC celebrating while UG wallowed in self pity.
"My players were very bad, were feeling very bad. They didn't understand and I had to take more than a week to explain to them but still, they were looking for the gold. And you know, University of Ghana, before you can travel outside to play for the university, you have to get a gold medal, in whatever competition you play.
"If you place first, it means you have the ticket to go outside. We were bound to go to Kenya for the FASU games, and we placed second, so it was heart-breaking," Tahiru Yusif Amuda, the football head coach narrated.
While the footballers drowned in the pool of sorry emotion, Legon's men's volleyball team had succeeded in upsetting the odds when they beat UCC in their final game to win gold. They were not considered amongst the event's favourites, but after spending millions of cedis in the construction of two new volleyball courts and others, they made sure to inaugurate the court by pulling down the bourgeoisies.
"A lot of transformation has taken place. Before GUSA and even after. So as we invested in having a standardised court, it gives us the ability to offer the best of training so that they can give off their best and it told well at GUSA 2022.
"We are for the ultimate all the time, so are preparing towards the ultimate. Fortunately, we've had three weeks of extensive preparation and results in our trial matches tell we are more prepared for the competition in Kumasi," Henry Nii Sackey, head coach of the volley ball team said to Joy Sports.
Over the last seven to eight years, tertiary basketball in Ghana has always screamed the University of Ghana, made possible by the dominance of the UG Guerrillas who have won basketball gold in GUSA since 2016.
Three GUSA titles with an unbeaten six year run which stretches to the continent, and seen them win two consecutive Federation of African University Sports (FASU) basketball championships, in domineering fashion.
However, the Guerrillas enter this year's games wounded, with their six-year unbeaten run severed by Kenyatta University at the 2022 FASU games. And also without any member of the current team having any GUSA experience, other tertiary institutions believe they are at their weakest, but Emmanuel Wobil - head coach - is confident they will string surprises.
"This team is new but not all that new. It's just that they haven't played GUSA and this will be their first, before but it all depends on the training - their conditioning and how they'll respond to the coach. That will make them a team. If you look at our training from day one, till now, you can see improvements. You can see the team can still excel in GUSA.
"This team has a little bit of lapses out there, yet still they'll get to the final, and when we'll get there, we'll cross the bridge."
While UCC dominated the athletics events of GUSA 2020, winning 8 gold and 11 silver medals, it was the University of Ghana who stole the headlines, via exploits of Benjamin Azamati in the men's 100m. 10.60m in the final left him as GUSA's hottest athlete, and Legon brazing as the 100m event is one of the games most sought-after.
Legon has long-lost out on Azamati though, when Texas A&M University came in, and with Ghana's fastest man out of the way, the University of Ghana recognises that lips-licking rivals are confident the space is now up for grabs.
"Scholastic sports is something that lasts for four years, maximum and even two/three years when you're doing a diploma. There are always students going and coming, so you need to have a strategy of replenishing those leaving. We have tried and are still trying to do that with our many policies; the University of Ghana Policy on Admission of Athlete Student (UG-PAS) and the University of Ghana Sports Fund, so we are trying our best.
"Let's see what happens in Kumasi but we are positive, we do think we have to take it because we have a strong team," Dr. Bitugu said.
Dramani Abdul Wahab, a sprint coach with the university added: "100, 200, we are bringing the gold back to UG so they shouldn't worry about Azamati going to the States. We have Rasheed, James, Mustapha - the guys are ready to fight so now we need the alumni to support. They should come in their numbers, we are going to prove lots of people wrong."
Indeed, policies like UG-PAAS, seem to be bearing fruit for the university, as Abdul-Rasheed Saminu has been roped in into the university's setup. Saminu, with a personal best of 10.31, was part of Ghana's team which secured a spot in the final of the men's relay before their disqualification, and is an athlete the university is hopeful will defend their 100m gold medal.
"The 10.31 is not even my target," Saminu explained when quizzed about his desire to break his personal record. "I am just targeting the GUSA 100m record, 10.25s and I'm just preparing towards it. My colleagues are also preparing because it is going to be fire, we are just ready to face whatever is coming."
'my colleagues are also preparing' is a call of intent, and rightly so, as Saminu will not have to do it all alone. Aziz Mohammed, a middle-distance runner is one of the highly-rated at the university. In 2021, he recorded a personal best of 3:54 in the 1500m even of the 2021 Kumasi Open Championship, and returning to the City only one year later, will be looking to shore up Legon's efforts in track and field.
Saminu will not have to do it all alone though. Aziz Mohammed, a middle-distance runner is one of the University's highly-rated athletes, and with a personal best of 3:54 recorded at the 2021 Kumasi Open Championship, he can shore up UG's efforts in track and field when he returns to the city.
"Sometimes when you come to training, you feel like you're very tired, and can't move again, but he says training won't kill you, and you train hard and compete easily. So I think that has helped me a lot when we started training.
"To win," was his simple reply when asked what his targets for GUSA were. "I won't promise anything, but to win."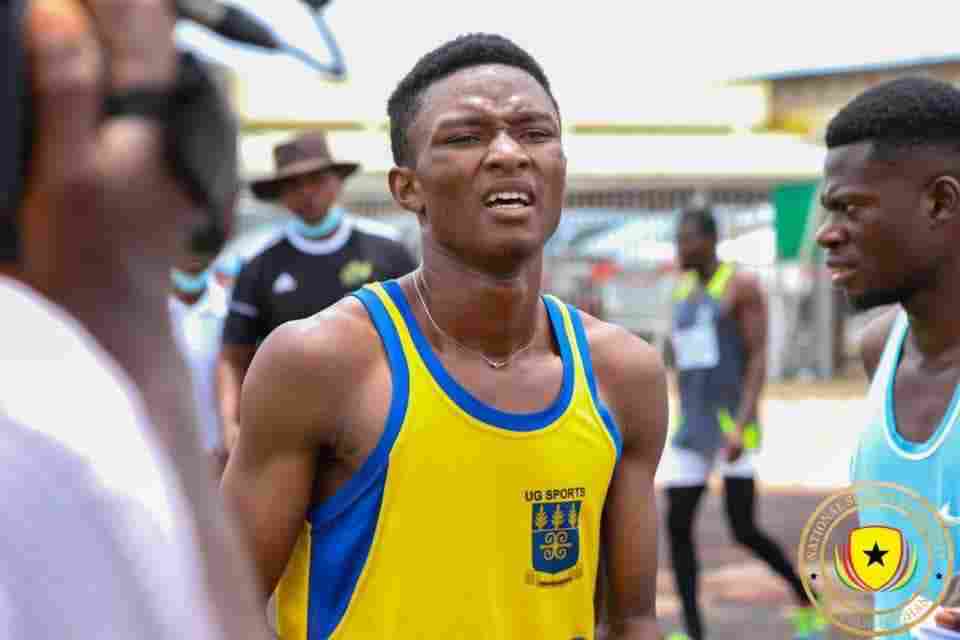 Despite UCC's dominance, Legon's male athletes have made credible attempts of closing the gap to the ever-sailing coasters. But the female teams have seemingly struggled to stand up to the competition, despite the resurgence of the female basketball team, the UG Amazonians, and Grace Obour's shattering 400m record in 2020.
The Amazonians after sweeping field to win GUSA 2020, return in a bid to defend their title, and together with Grace Obour, Legon will look to anchor on them for improved performances.
"From the past GUSA years, UG's male teams have obtained so many gold medals, but for the females, only a few like basketball [have won]. More of the medals are from athletics. But this year, there is hope we will get more gold because the sports directorate have been doing a lot. Provided good coaches, and had sessions with the psychologists," Hannah, captain of the Amazonians indicated.
"University of Ghana we don't have a lot of female athletes, but the coaches have been doing their best to trainn us towards the GUSA games. Our director has been encouraging and advising us. Whatever he has to do to support, he tries to do it to make sure we improve. So this year, we'll try our possible best to improve, and I know we'll make it," Grace Obour, GUSA 400m record-holder told Joy Sports.
The University of Ghana teams opened their 2002 GUSA campaign with victories over GIMPA, UPSA, GIMPA - again, and UDS in men's basketball, netball, men's volleyball and men's beach volleyball.
There were walkovers for the netball and men's volleyball teams.
DISCLAIMER: The Views, Comments, Opinions, Contributions and Statements made by Readers and Contributors on this platform do not necessarily represent the views or policy of Multimedia Group Limited.