Speaker of Parliament, Alban Bagbin, has spelt out the limitations of President Akufo-Addo with regard to law making in the country.
According to the Speaker, the President cannot meddle with parliamentary processes until a bill is passed and sent to him for assent.
The speaker's comments come on the back of the President's response to the question posed by a New York Times reporter about the existence or otherwise of LGBTQ+ legislation in Ghana.
The President in his response said there is no such legislation in Ghana yet, as the bill is currently before Parliament after which it would come to him for assent.
"The Attorney-General has found it necessary to speak with the committee about it regarding the constitutionality or otherwise of several of its provisions and Parliament is dealing with it at the end of the process I come in.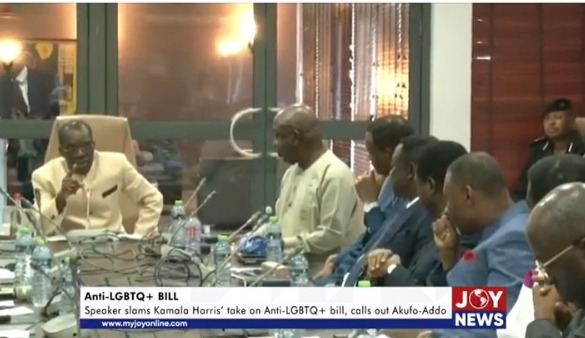 "But in the meantime, Parliament is dealing with it and I have no doubt that the Parliament of Ghana will ensure as is done, first of all the sensitivity to human rights issues as well as to the feelings of our population and will come out with a responsible response.
"We will see what the final outcome will be and that is the stage in which I will also have the opportunity …," he said.
However, Mr. Bagbin seems to have construed the President's comments as an attempt to interfere in the process.
Thus, speaking during a meeting with some religious leaders, Mr. Bagbin assured that the Anti-LGBTQ bill will be passed.
"The bill will be passed. This is the word to his excellency the President. There is no way he can intervene. That answer he gave, 'that it's now before Parliament and that when it's get to a stage that he has to, he will come in' hey [sic] please, this is legislation, this is not execution.
"Wait until we pass it and then we direct you to execute it. That is when you come in. That is why we are representatives of the people. So in terms of the law which is part of the policy, we finalise it and then the executive now has the authority to implement it and execute it. Let's get this clear once this bill is before us [Parliament] he is not in charge, I am in charge. I hope the US Vice President is not yet gone, she will read from me," he said.
It would be recalled that on July 2021, eight members of Parliament introduced the Promotion of Proper Human Sexual Rights and Ghanaian Family Values Bill, popularly known as the Anti-LGBTQ bill.
The bill seeks to criminalise Lesbian, Gay, Bisexual, Transgender and Queer (LGBTQ+) activities in the country.
DISCLAIMER: The Views, Comments, Opinions, Contributions and Statements made by Readers and Contributors on this platform do not necessarily represent the views or policy of Multimedia Group Limited.