Vice President of IMANI Africa, Bright Simons, has expressed worry about the excessive taxes banks and other financial institutions are being asked to pay in 2023, despite the impact of the Domestic Debt Exchange Programme (DDEP) on their operations.
According to him, banks in Ghana will pay 5% taxes on their profit-before-tax this year.
Non-bank financial institutions, insurance companies, telecommunication firms, Oil Marketing Companies, Bulk Oil Distribution Companies (BDCs) are among 15 firms that are also to expected to pay 5% tax on their profits in 2022.
In a tweet, Mr. Simons said "It's the Season of Sorrow for Ghana's banks".
Describing the ordeal as burden, he stated that it is unfortunate that government is growing a strong appetite to take from the private sector even when they are struggling to breakeven.
He stated for example that a reasonable policy will be for government to advocate fiscal policies that will encourage the private sector to reinvest the little profit that would be made in their businesses for expansion.
"Fresh out of an episode where they were made to bear double their share of the burden of Ghana's ongoing debt restructuring, they are about to be hit with an extra 5% in corporate taxes. They're to join calls for fiscal discipline", he added.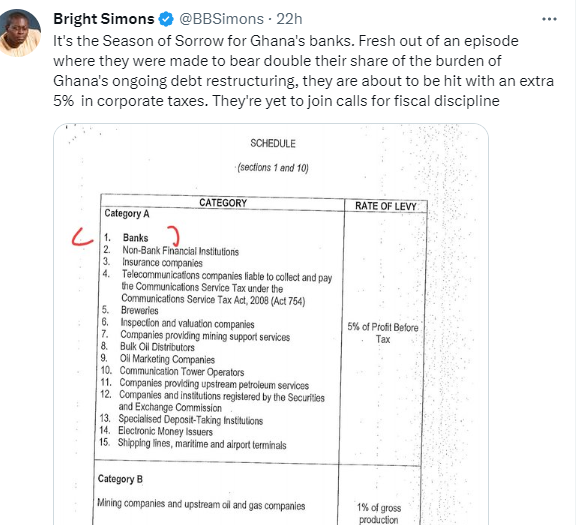 How the DDEP ended
The Ministry of Finance on February 14, 2023 announced that approximately 85% of bondholders participated in the Domestic Debt Exchange Programme (DDEP).
This amounted to ¢82,994,510,128 (¢82.99 billion)
"The Government is pleased with the results, as a substantial majority of the Eligible Holders have tendered," a statement from the ministry said.
It added that the result is a significant achievement for the government to implement fully the economic strategies in the post-COVID-19 Programme for Economic Growth (PC-PEG) during the current economic crisis.
To provide sufficient time to settle the New Bonds in an efficient manner, the statement explained that government is extending the Settlement Date of the Exchange from the previously announced February 14, 2023 to February 21, 2023.
DISCLAIMER: The Views, Comments, Opinions, Contributions and Statements made by Readers and Contributors on this platform do not necessarily represent the views or policy of Multimedia Group Limited.