He is almost six foot tall, dark in complexion, cool and collected. With a smooth bald, complementing his physique the fine gentleman could be mistaken for a retired basketball player.
But he traces his sporting roots to the sweet science of boxing.
Kwame Asante has his own special place in Ghana's sporting history for the simple reason that he guided two different boxers to world title success – a feat that is unprecedented in the West African nation's history.
He resurfaced on the scene in 2007 when he guided unfancied contender Joseph Agbeko to win the IBF bantamweight title from the then champion Luis Alberto Perez.
The 64-year-old man is currently based in New York, a place he has called home since 1989 when he left his homeland Ghana.
Kwame Asante, is a respected boxing trainer at the John's Gym in Bronx, New York, for a very simple reason – he handled the only two of the gym's boxers to have turned major world champions.
Within the forewalls of the John's Gym are two big portraits of Ghana's Joseph Agbeko who won the IBF Bantamweight title in 2007 and Joshua Clottey who annexed the IBF welterweight title a year later.
Amateur Career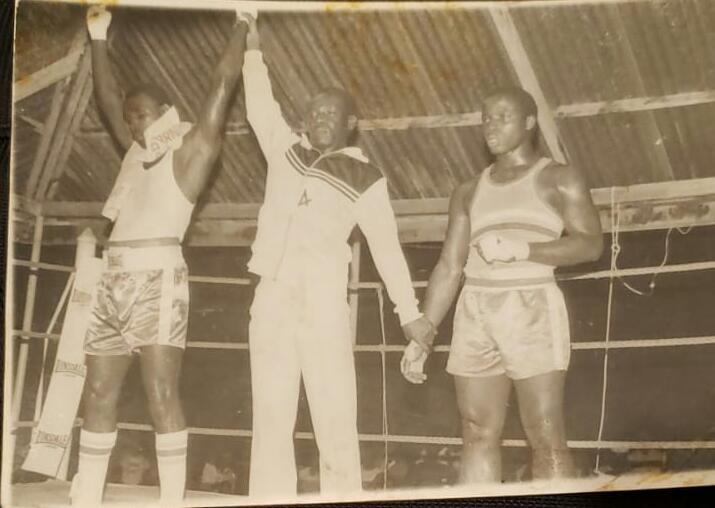 His association with the sport is not accidental. It was a calculated one which saw him train professionally and practice as well. In 1980 the Ghana Prisons Service recruited sportsmen and women into the service.
This was under the leadership of the then Sports Director of Prisons, ADP B.T. Baba, who would move on to head the nation's Olympic Committee (GOC) for over a decade and eventually became a Member of Parliament.
So in the mid to late 80s the young ambitious amateur boxer, Kwame Asante was trained at the Ghana Prisons Training school in Maamobi, a suburb of Ghana's capital Accra.
He underwent an intensive six-month training programme, with 3 months theory at the Prisons Depot and three months of practicals.
All the trainees were assigned to various units of Ghana's Prisons Service and young Kwame was assigned to the Service's Training School.
Asante and his fellow amateur boxing mates studied and trained under a coach called W.O. Akwetteh, a renowned Military physical training and boxing instructor.
During that period, Ghana's sports sector had a very active calendar. So Kwame as an amateur boxer had a good number of platforms in his homeland to build him and improve his skill.
They included the National Sports Festival put together by the National Sports Authority (then the Sports Council), the Individual championships and the SESSA Games.
SESSA is the abbreviation for the Security Services Sports Association and as its name suggests is the official sporting arm of all the security services in Ghana.
The SESSA Games was a gallant stage, which discovered the legendary Azumah Nelson who moved on to become Ghana and Africa's greatest boxer.
In 1984, there was an individual championship event held for amateur boxers drawn from various districts of Ghana's capital Accra.
The aim was to select the best to participate in qualifiers for the Los Angeles Olympic Games. Kwame together with many other boxers were camped at the Azumah Nelson Complex ( the Kaneshie Sports Complex).
Then-President of the Ghana Amateur Boxing Federation (now Ghana Boxing Federation), Ambassador Ray Quarcoo, personally sponsored a contingent of 23 boxers and officials to a training tour of London and Denmark.
Young Kwame's dreams were shattered when he sustained a knee injury after the tour. This ruled him out of the event which could have shaped his dreams. "But it did not discourage me,' he recalled in an interview.
Another chance beckoned him as a similar event was held two years later for selection for the Commonwealth Games in Scotland.
On the final night of selection, Kwame was given two bouts instead of one, to fight by the Head Coach of the Black Bombers, Armstrong Agbana. The coaches' idea was to expose Kwame's talent to all the officials.
"I stopped my first opponent in the first round and faced one Tetteh Nartey from the Ghana Fire Service in the second bout. I beat him real good. The officials were happy about my performance and I was selected."
"We travelled to Hannover, Germany for a training tour and over there I fought one of their top boxers and stopped him in the second round in one of my bouts, he added."
Unfortunately, Ghana was among the 32 African nations that boycotted the 1986 Edinburgh Commonwealth Games. This was in solidarity with South Africa which was struggling with the Apartheid regime. Another big door seemed shut before Kwame Asante's eyes.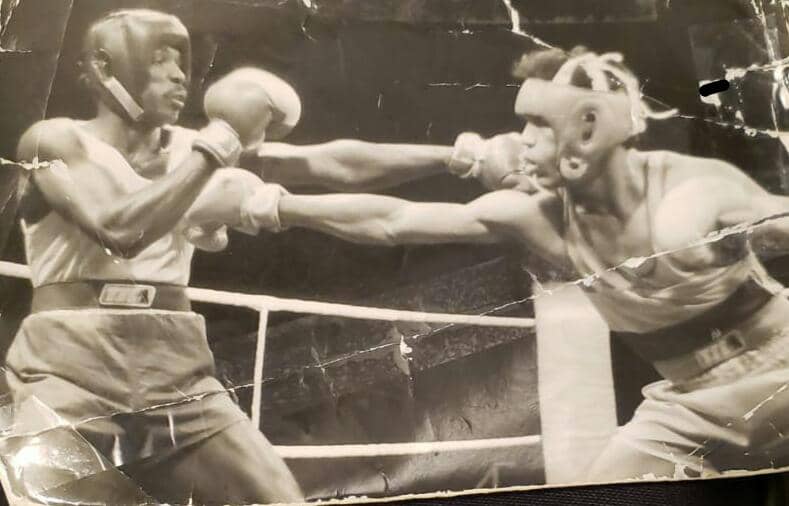 Boxing Training
Prior to the training tour of Germany, Coach Armstrong Agbana suggested he took a course in boxing coaching. Kwame Asante was interested and duly applied for the course.
Kwame and one of his mates, Papa Kwaku Ananse took the course together in 1987 in Leipzig. Kwame returned a year later to assist at the National Sports Authority of Ghana with training Ghana's national team the Black Bombers to prepare for the Seoul Olympic Games.
They included two of Ghana's eventual 10 world champions – Ike 'Bazooka' Quartey who became a WBA welterweight champion and Alfred 'Cobra' Kotey.
Another of the many young ones who worked with Kwame Asante at the early stage of his career is deceased former WBC International champion and trainer, Napoleon Tagoe, who established the Will Power Gym in Accra.
Joseph Agbeko – former IBF and IBO champion
Joseph 'King Kong' Agbeko is now a three-time world champion after annexing the IBF and IBO titles at bantamweight. When Joseph Agbeko won the IBF Bantamweight title in 2007, Ghana had been starved for at least 13 years.
"I met Coach Asante when I went to the US in 2007. I moved to New Jersey but was not comfortable so I moved to New York to live with Joshua Clottey. I joined his gym and we started working together. That was when I met Kwame Asante," Agbeko recalled in an interview with Joy Sports.
Agbeko describes his former trainer as very humble. "He would come to pick us to the gym. He was like a friend to us. He was a very experienced coach living in the US and was the first port of call for all young Ghanaian boxers who went to the US."
Agbeko credits the improvement in his fight style during the period to Kwame Asante.
"He trained me and stepped up my speed. He handled me for my first fight in Vegas and then for the world title. He is a wonderful personality and a great coach."
Joshua Clottey – former IBF Welterweight champion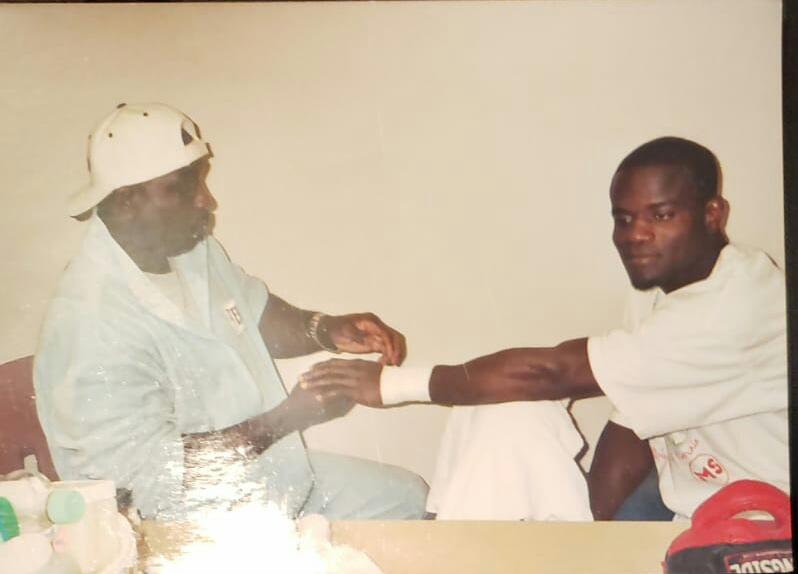 Interestingly, Kwame Asante introduced the boxer to Dibella Entertainment owned by promoter Lou DiBella.
This promotional agreement was to prove the biggest strategic decision made by the boxer since it brought him the biggest bouts of his career and also saw him pick his biggest paycheques.
It was also a great relief for Clottey a good fight record for himself, but had but was emerging from an acrimonious end of relationship with his previous manager, Freddy Annan of Base Sports Management, UK.
"We had a lot of good times together, and he did a lot to prepare me for my bout against Zab Judah. We camped at the Pocono Resort which is two hours' drive from my regular residence in New York. It was peaceful and I was able to prepare well", Clottey recalled.
"One of the things that have marked him out as a trainer is the ability to push his boxers to get the best."
Asante had confidence in Joshua from the first day he stepped into the gym. Joshua recalls that he was eager to do something extraordinary and was impressed with him.
Their relationship kicked off on a good note and there was good chemistry as well.
"We fought in and won our eliminators leading up to the world title fight against Zab Judah. We won those fights and were able to forge ahead."
The two parted ways later on.
New Generation
Today, Kwame Asante, the father of four, continues to work diligently to make world beaters out of a crop of boxers including lightweights Dashaun 'Too Sweet' Johns and Issouf 'Volcano' Kinda, from Burkina Faso and light heavyweight, Matthew Tinker from Ireland.
"We keep working hard and push to get the best out of the young ones. I have travelled a long journey in the sport and learnt a great deal and I want to give back as much as I can," he concluded.