The public did not trust Labour to deliver on many of its election commitments, two of the those vying to succeed Jeremy Corbyn have said.
Sir Keir Starmer said its manifesto was "over-loaded" and hampered Labour's ability to present itself as a "force for good and a force for change".
And Jess Phillips said Labour lost trust "on some of the basics", such as its "not believable" broadband pledge.
Five candidates have so far entered the race to succeed Jeremy Corbyn.
Emily Thornberry, Lisa Nandy and Clive Lewis have also been making their initial pitches over the weekend.
Ms Thornberry told Sky's Sophy Ridge if Labour "can't win elections then we are failing this party" while Ms Nandy said radicalism was "irrelevant" unless it helped people with their daily needs and concerns.
Labour's ruling body is due to meet on Monday to decide the timetable for the election. Would-be candidates have to be nominated by more than 20 MPs and must also get the backing of at least 5% of constituency parties or three affiliated bodies – two of which must be trade unions.
Shadow business secretary Rebecca Long-Bailey is expected to officially declare her candidacy in the coming days.
The contest was called after Mr Corbyn announced he would stand down as leader after Labour's heavy election defeat.
Both Sir Keir and Ms Phillips told the BBC's Andrew Marr the party must learn the lessons of the defeat and why some many previously rock-solid Labour seats in the Midlands and the North of England turned to the Conservatives.
Sir Keir said the manifesto was one of a number of "cumulative" factors which eroded trust, on top of concerns over the party's Brexit policy, its leadership and its record on tackling anti-Semitism.
"There was a general feeling the manifesto was over-loaded. We lost the public's trust in the Labour Party as a force for good and a force for change," he said. "After four general election losses we have to address that straight away."
But he warned Labour against "unpicking" the last manifesto when it should be focused on its offer to voters in five years time. He also said it would be wrong to "retreat" from Mr Corbyn's focus on reducing inequality and protecting the public services.
While not the sole reason for its defeat, Ms Phillips also identified the manifesto – which pledged to bring rail, mail, water and energy into public ownership and extend the role of the state into new areas – as one of Labour's weak points.
"The fundamental thing is that the country did not trust us to govern," she said. "They did not trust to deliver on the things we were saying."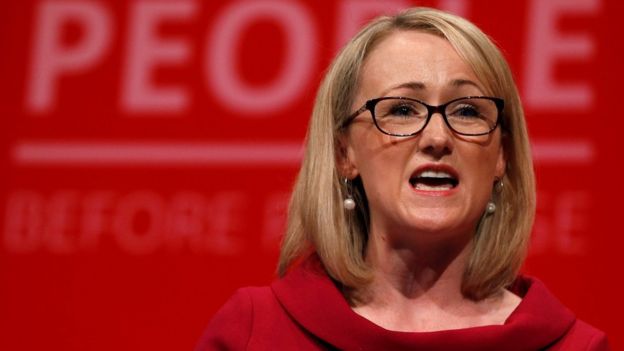 While there was a strong case for nationalising the railways and ending private involvement in the prison and probation services, she suggested tackling deep-seated social problems, such as homelessness and social care, were more important than public control of key utilities.
"We lost them on some of the basics. My son does not go to school five days a week. Lots of people in the country can give you their own example. While that was the case, offering free broadband was just not believable."
The Birmingham Yardley MP said the party must stop obsessing with factionalism and internal positioning and speak honestly to people.
"People have to feel a connection with us again. People have to feel we are on their side."
Ms Nandy also distanced herself from the broadband pledge, telling BBC Radio 5 Live's Pienaar's Politics.
"People said to us, 'It's all very well promising free broadband but can you sort out the buses?' and that was the more pressing issue in their lives. It's not about whether you're radical or not it's about whether you're relevant."
On Brexit
Ms Thornberry said Labour had been wrong to allow the Conservatives to fight the election on the "single issue" of Brexit.
She told Sky News that the opposition's focus should now be on ensuring the UK had a relationship with Europe in the coming years that's "going to work for jobs and the economy".
Sir Keir, who like Ms Thornberry was a supporter of another referendum, suggested the issue of EU membership was now closed and the party needed to move on from an argument between Remain and Leave.
But Ms Phillips suggested the door should not entirely be shut on the UK rejoining the bloc at some point, saying a "wait and see" policy was sensible and she would "always fight" for something if it made the UK safer and better off.
On military action
The candidates have also been pressed on the UK's relationship with the US following the killing of Iran's top military leader, Qasem Soleimani, in Iraq.
Ms Phillips said people were "not shedding any tears" over the Iranian general's death and, while she opposed the Iraq War, she would always support the deployment of British forces abroad if there was a "moral case" for it.
"What we have to make sure is that when we take action, it is lawful, proportionate and there is a moral case for it. If those questions can be answered, then I would absolutely take action to protect British lives."
However, Sir Keir said the UK should never find itself in the position of "blindly following the Americans".
If he became prime minister, he said he would pass legislation to circumscribe the ability of governments to take military action. He suggested it would have to pass three tests – if it was lawful, had been supported by Parliament and was part of a viable plan.