The Majority Chief Whip, Frank Annoh-Dompreh has called for the introduction of a new Pension Scheme specifically for farmers.
According to him, the laudable success chalked by the government's Cocoa Farmers' Pension scheme is enough reason why the same should be done for other farmers in the country as well.
In a post on his Twitter page to mark Farmers' Day, the Member of Parliament for Nsawam-Adoagyir said the Cocoa Farmers' Pension scheme, which will ensure that about 1.5 million cocoa farmers receive a pension when they attain 65 should be extended albeit gradually to all farmers in the country.
He said, "Government has started the Cocoa Farmers' Pension scheme, a laudable effort which will guarantee pension income for over 1.5 million farmers.
"We should start looking at a broader Pension scheme for our Farmers starting with staples and moving to non- Traditional Exports.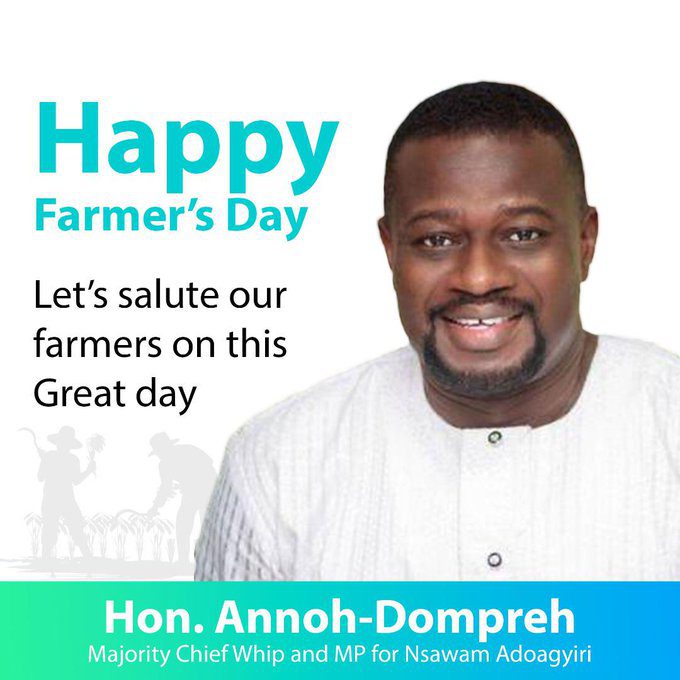 "Government must begin processes to engage the National Pension Regulatory Agency and actuaries to explore this possibility."
Last year, President Akufo-Addo launched the Cocoa Farmers' Pension scheme which "will enable cocoa farmers to make voluntary contributions towards their retirement, whilst COCOBOD makes a supplementary contribution on behalf of the farmers as well."
Launching the Pension Scheme at the Jubilee Park in Kumasi, as part of his 3-day tour of the Ashanti Region, President Akufo-Addo said the millions of cocoa farmers across the country are responsible for the production of the crop, that has, for over a century, been the mainstay of the economy of the country.
In recognition of their hard work, the Ghana Cocoa Board (COCOBOD) was mandated, under Section 26 of the COCOBOD Law, 1984 (PNDC L.81), to establish a Contributory Insurance Scheme for Cocoa Farmers within the framework of the Social Security Scheme, so that they could also enjoy a well-deserved pension, upon retirement.