A member of the 2000 year group of Mfantsipim Old Boys Association (MOBA) Kevin Fiifi Dadzie has lamented the ineffective nature of government's policies tailored to aid youth development.
The Managing Director and  Head of Country, Ghana – BP, he stated that although there are a number of initiatives in that direction, they remain unsustainable and sometimes limited to a few selected individuals.
Mr Fiifi Dadzie noted that although many past governments have acknowledged that a large chunk of the country's population consists of young people, the problem of unemployment remains.
Speaking at the 5th MOBA Annual Engagement Series on Joy News on Wednesday, he called for a reconsideration of the national policy framework to significantly impact the lives of youth.
"Despite the initiatives and institutions that have been built like the National Entrepreneurship and Innovation Program and the National Youth Employment Agency to help curb the unemployment problem, unemployment gets louder daily.
"This results in a discouraged, disillusioned and demotivated youth. Sometimes the jobs made available by these institutions are not sustainable and when sustainable, they are reserved for a select few."
"Unemployment not only robs our youth of a career but also deprives them of their dignity to earn an honest living," Mr Fiifi Dadzie said.
His presentation was on the topic; "Leveraging Ghana's young and agile demography for economic development. Framework for long range policies targeted at youth employment and upward mobility".
He highlighted how Israel used policy to leverage the third industrial revolution which had a young and agile population ready to work to change the traditional ways of working.
"This eventually led to the creation of jobs in the technology space and earned the title as "the Start-Up Nation" which boasts of a Gross Domestic Product (GDP) of $398 billion, about six times that of Ghana".
He further called for the inclusion of young people in decision making processes as they have robust ideas that can foment change.
"Industry should invest in placing the youth in decision making roles. The energies and ideas of the youth must be tapped at an early age to ensure that they are introduced into key areas of industry operations to combat the tradition where the youth are typically assigned entry-level tasks only.
"Many young people have become trailblazers because key people believed in them and provided them with the platforms to excel. Mr Chairman, I am a great example of this phenomenon and I advocate that industry should not hesitate but rather be keen to make great leaders of tomorrow from the youth of today," he said, Wednesday.
Academia and youth development
Kevin Fiifi Dadzie called on the Education sector to promote skill-based over theory-based learning as it broadens the cognitive capabilities of students.
These learnt skill help them fit well not only in the digital economy but also in the current global society.
"There is also the need to eliminate geographical barriers in learning to promote equity in education. Virtual learning platforms have far reaching impacts that can be leveraged to ensure quality content is accessible across the country especially in the basic and public schools. Partnership between academia, government and telecom industries can help achieve this successfully."
"Academic bodies in Ghana must develop study programs where students can also study from foreign professors or educators who are global specialists in the field of study. This does not have to be an expensive initiative as remote learning can be instituted to provide Ghanaian youth with global knowledge and prepare them to implement the global knowledge locally," he stated.
He called on policymakers to make technological skill training mandatory for all young people to help become them masters of the digital tools in the world.
The MOBA Annual Engagement Series was instituted in 2016 with the objective of creating awareness and encouraging public debate on matters of national interest. This serves as part of MOBA's contribution towards national development.
This year's edition saw was hosted by Joy News' Daniel Dadzie. Other speakers for the event were members of other MOBA year groups; Tsidi Tsikata (1970), Felix Akuoko (1980) and Ekow Archer (1990).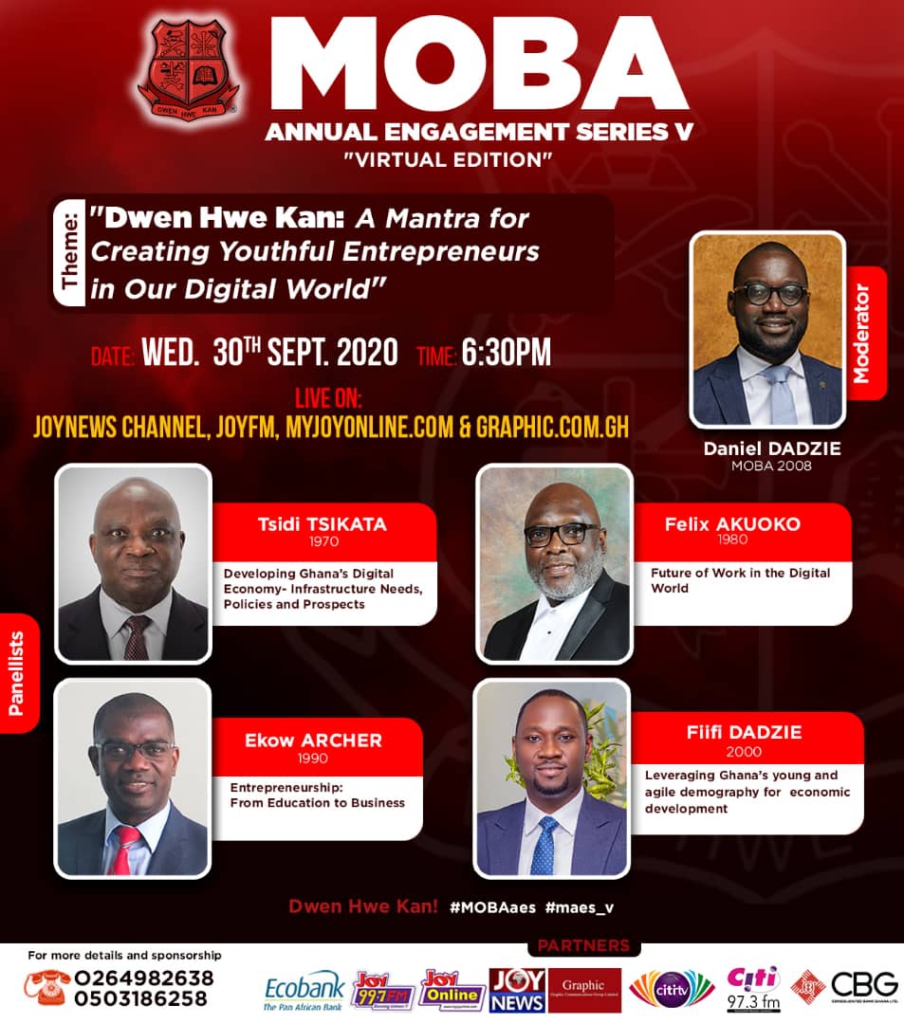 Mfantsipim School is an all-boys boarding secondary school at Cape Coast in the Central region. It was established by the Methodist Church in 1876 to foster intellectual, moral, and spiritual growth in country and has since produced notable men in the society.
DISCLAIMER: The Views, Comments, Opinions, Contributions and Statements made by Readers and Contributors on this platform do not necessarily represent the views or policy of Multimedia Group Limited.