The topic; "Leveraging Ghana's young and agile demography for economic development. framework for long-range policies targeted at youth employment and upward mobility"
Mr Chairman, fellow MOBAs, distinguished listeners and viewers, I am honoured by this opportunity given me by my year group to speak on the topic Leveraging Ghana's Young and Agile Demography for Economic Development. Framework for Long Range Policies Targeted at Youth Employment and Upward Mobility.
My earliest memories of my alma mater, Mfantsipim, some 23 years ago, was my deep admiration of the fact that this great school resonated tradition. I was deeply fascinated by the harmony of the old architecture of our academic infrastructure, the daily experience of going up and down the Kwabotwe hill from our dormitories to learn in the academic blocks, the community of students, teachers, market folk and the intense reminder of Dwen Hwe Kan which we sang willingly and sometimes unwillingly. You couldn't run away from our choir master MC Lite.
This tradition and the community created was envisioned in 1876 and has educated a great number of Ghanaians and non-Ghanaians for 144 years.
Generation after generation, MOBAs have impacted the national and global society as The School, tactically prepared its students for the future. We all look up to our seniors and applaud their accomplishments and the setting of higher heights for generations to follow. We also look back and are proud to observe the relentless efforts of our juniors to improve and contribute their quota to keep the name of our dear school on the higher path. Ayekoo to us all.
Mr Chairman, I will start addressing the topic by asserting unequivocally that the socioeconomic sustainability of any country rests with the viability of its youth.
The inclusion of the youth in our political, economic, cultural and technological development is key to our development as they bring on board innovation, creativity, ideas, vision and diverse energy. That is why, any country which seeks upward mobility and increased economic development pays closer attention to their youth and makes stronger efforts backed by strategic and pragmatic policies to attract and grow the youth.
Who is the youth?
Ghana's 2010 Youth Policy profiles 'youth' as the period between the ages of 15-35.
This age range accounts for approximately 33.5% of our country's population. A large percentage of strong, creative and innovative young men and women on whose back the nation can grow in an accelerated manner. Africa is the most youthful continent in the world. The youthful population is expected to reach 830m by 2050.
These numbers could bring excitement because of the socio-economic possibilities they represent. However, statistics shared by the African Development Bank indicates only 3M formal jobs are created annually but the job demand is estimated at 10-12m per annum.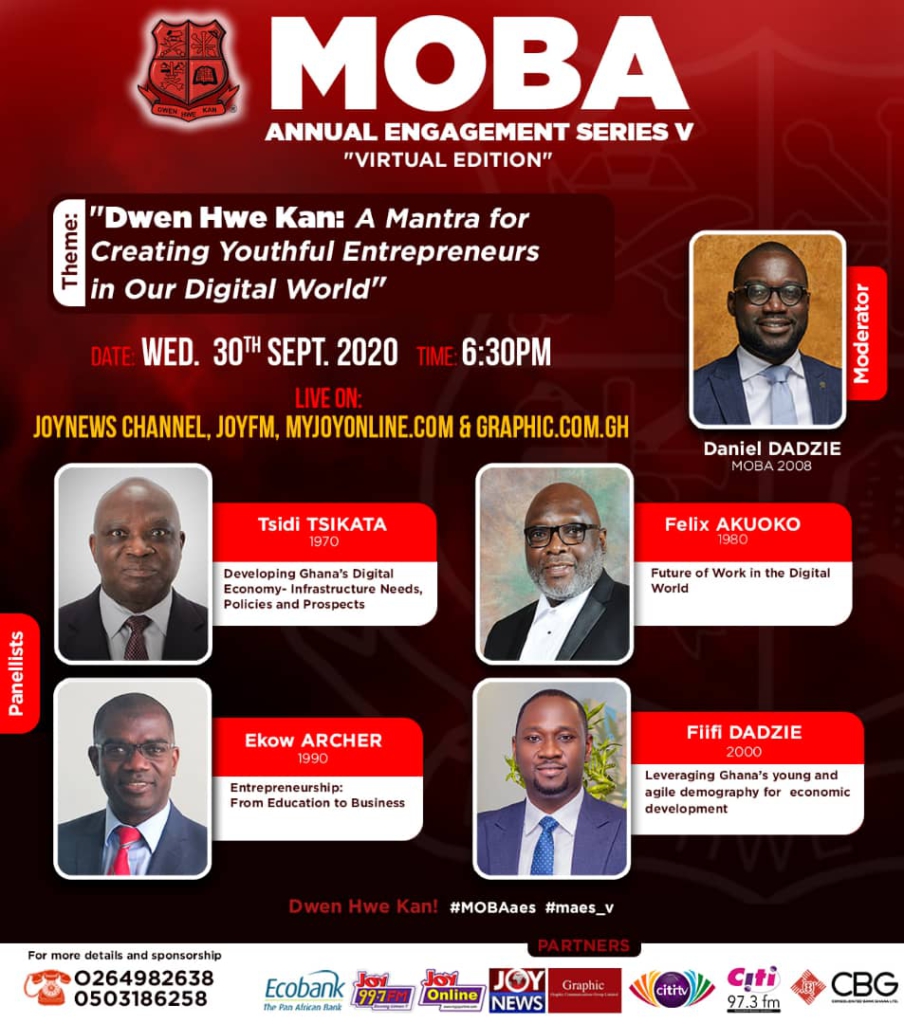 This means that without
the ability to introduce viable measures to curb unemployment, in 2030 we will potentially have 100m-120m unemployed youth.
Now let's take a look at Ghana. All governments, past and present have shared concerns about the unemployment situation in the country. It is quite alarming to find out that although Ghana has a population where the youth represents 33.5%, there is a huge youth unemployment rate of approx. 13.69%. This figure is steadily rising, and a careful review may even reveal higher numbers.
Despite the initiatives and institutions that have been built like the National Entrepreneurship and Innovation Program and the National Youth Employment Agency to help curb the unemployment problem, unemployment gets louder daily resulting in a discouraged, disillusioned and demotivated youth.
Sometimes the jobs made available by these institutions are not sustainable and when sustainable, they are reserved for a select few.
Unemployment not only robs our youth of a career, but also deprives them of their dignity to earn an honest living.
Mr Chairman, it is clear that policies and initiatives exist for upwards mobility of our youth, but their effect has been weak. Hence, the billion-cedi question "how can the country's policy framework be revised to yield the effect of a prosperous and productive youth?"
For me, harmonising the efforts of industry, academia and policy to prepare our youth to thrive and win in the 4th Industrial Revolution is the way to go.
What is the 4th Industrial Revolution?
The world is rapidly shifting from the third to the fourth industrial revolution and with it comes the automation of traditional manufacturing and industrial practices with the use of very smart contemporary technology, robotics, blockchain, augmented reality, artificial intelligence, internet of things etc.
The fourth industrial revolution is transforming every aspect of our lives, our work and how we communicate with each other whether we are ready or not. This will challenge traditional work systems and processes making them obsolete thereby compounding the unemployment issue.
This is further highlighted by a report from DELL Technologies which indicates that 85% of the jobs that will be available in 2030, have not been invented yet. A clear example is with the emergence of blockchain, social media management etc as careers which did not exist ten years ago. This means that the necessary skills and competencies required to compete on a national and global level if not developed now, will leave our youth further behind in the world and we cannot let this happen.
At this point, I'd like to share an inspiring story on how Israel used policy to leverage the third industrial revolution.
In 1990, Israel was known to have no major natural resource and had an economy similar to modern day Ghana. Israel battled with high unemployment and a banking crisis. Incidentally, that sounds familiar.
They had a young and agile population ready to work so they changed the traditional ways of working and created jobs in the technology space. They transformed the fortunes of the country and its youth and took advantage of the third industrial revolution. Today, Israel is referred to as the Start Up Nation, boasting a GDP of $398bn, about six times the GDP of Ghana.
How did they do it?
The Yozma Program was instituted by the government to support start-ups with a $100M and tax-free incentives to attract investors to grow the technology space in the country. Education was made more accessible to all citizens and the subjects taught were relevant with the upward mobility of the nation to ensure literacy in technology, science and the financial sectors. This led to a crave for higher education by the citizens. Finally, Israel's belief in responsibility and accountability was imbibed in every person and it became mandatory for the youth to serve in the Israel Defence Forces. Israel has been so successful in leveraging their young people and has transformed her economy significantly to the point that they are also referred to as the nation greasing the wheel of the fourth industrial revolution.
This remarkable story highlights the outcome of the purposeful assemble of industry, academia and policy as a tool to achieving upwards mobility in a global community.
Digital proficiency is paramount to take advantage of the 4th industrial revolution. Ghana must therefore prioritise digital proficiency in its policy development for the youth.
The following are recommended for consideration by the 3 key pillars of our success (i.e. Industry, Academia and Policy)
To Industry
Ghanaian industries should be welcoming of foreign mergers and investments. Our industries will develop faster if we can partner our operations and goals with advanced global companies whose technology transfer and market access can be priceless. This will create more opportunities for our youth.
Digitisation of operations should be implemented to promote efficiency, productivity and scalability of businesses. Isn't it interesting that from Seattle in the United States, Amazon has affected e-business globally? That is the goal we should be setting for the youth to achieve.
Industry should invest in placing the youth in decision making roles. The energies and ideas of the youth must be tapped at an early age to ensure that they are introduced into key areas of industry operations to combat the tradition where the youth are typically assigned entry level tasks only. Many young people have become trailblazers because key people believed in them and provided them the platforms to excel. Mr Chairman, I am a great example of this phenomenon and I advocate that industry should not hesitate but rather be keen to make great leaders of tomorrow from the youth of today.
Ghanaian industries must target and train the youth to provide services in various disciplines and industries remotely. A page can be taken from India's book on the call centre services that they provide to the world.
To Academia
Academia must promote skill-based over theory-based learning with the hope that our youth will be acquiring a problem-solving mind-set to become innovative to benefit the nation. The World Economic Forum identifies cognitive flexibility, service orientation, emotional intelligence, creativity and critical thinking as the skills required to thrive in the present future. Unfortunately, a lot of young people lack these skills today. These skills are not only required for a digital economy but also for the society we live in.
There is also the need to eliminate geographical barriers in learning to promote equity in education. Virtual learning platforms have far reaching impacts that can be leveraged to ensure quality content is accessible across the country especially in the basic and public schools. Partnership between academia, government and telecom industries can help achieve this successfully.
Academic bodies in Ghana must develop study programs where students can also study from foreign professors or educators who are global specialists in the field of study. This does not have to be an expensive initiative as remote learning can be instituted to provide Ghanaian youth with global knowledge and prepare them to implement the global knowledge locally.
To Policymakers
Policy should:
Make technological skills training mandatory for all young people that will enable them to master the use of the digital tools available to the world. Policies to ensure access to tablets and laptops for all students in the public schools should be at the fore of this. This pandemic has forced 3-year olds to learn with their teachers over the internet showing us that this is possible.
Prioritise investments in decentralising digital infrastructure such as incubation hubs for access across the country. The Accra Digital Centre for example has an enabling environment for tech start-ups and other technology-based organizations such as Ghana Innovation Hub, Code Train, Ghana Tech Lab and the Ghana Passport office. However, this is insufficient and should be expanded.
Develop a free zone framework for technology services like; business and knowledge process automation, coding, software design and management, IT audit etc. This will effectively present Ghana and its youth to the world. Foreign entities will jump at this opportunity to invest and create an ecosystem that benefits the youth and the economy.
Local content laws must also focus on youth inclusion, development and empowerment. Specific job quotas, board and management representation etc, must be extended to the youth.
Policy makers should consider setting up funded national youth targeted challenges where the youth innovate and invent technological solutions to solve specific national problems. The handwashing innovations by the youth at the height of the COVID-19 pandemic is an inspiring example.
Conclusion
Mr. Chairman, as I bring my address to a close, we will be disappointed in the results our youth if we pair all the right policies with a youth who lack character and a good value system.
The instances of misconduct amongst our youth is worrying and requires a national movement to turn things around. It is imperative to prevent a scenario where wrong is generally accepted as right and right is seen as alien.
Without a careful, deliberate and purposeful action to develop the moral conscience of our youth, we will lag behind. We owe it to the youth to be good examples of the values they must hold and live.
Mr. Chairman, James Picot, was appointed as the first Headmaster of our great school at the age of 18yrs. He led and charted the path in ways that have left his name engraved in the sands of time. I believe he benefitted from great training and an enabling framework to succeed, such that, we too, can hold our heads high as alumni of a great school. This sets right the question, what training and enabling framework are we giving our youth, so that just as James Picot, they too shall be engraved in the sands of time?
Let us not rest till we have laboured enough to carry the youth along, equipped with tools to continue where we lay them down, for our predecessors' Dwen Hwe Kan for us, is now our Dwen Hwe Kan for the youth.
Thank you. Medaase pii.
DISCLAIMER: The Views, Comments, Opinions, Contributions and Statements made by Readers and Contributors on this platform do not necessarily represent the views or policy of Multimedia Group Limited.