The National Commission for Civic Education (NCCE) is calling for strict enforcement of regulations against individuals who flout Covid-19 safety protocols.
Chairperson of the Commission, Josephine Nkrumah believes this will serve as a deterrent to the number of people who continually defy these protocols.
Speaking on Joy FM's Super Morning Show Friday, she stated that it is "our civic duty not to endanger the lives of other people".
"This is where we want to see the enforcement of the law to at work here so that it becomes a deterrent. So that people understand that the repercussions for flouting this regulation can be dire for all of us", she told host of the Show, Kojo Yankson.
The Chairperson highlighted 'endemic indiscipline' as an underlying factor that causes these cases of rebellion.
However, she noted that her outfit has intensified public education on how to stay safe and the need to observe social distancing among other safety measures that have been spelt out.
Her comments came as part of her reaction to the news of the resigned Deputy Minister Trade and Industry, Carlos Ahenkorah.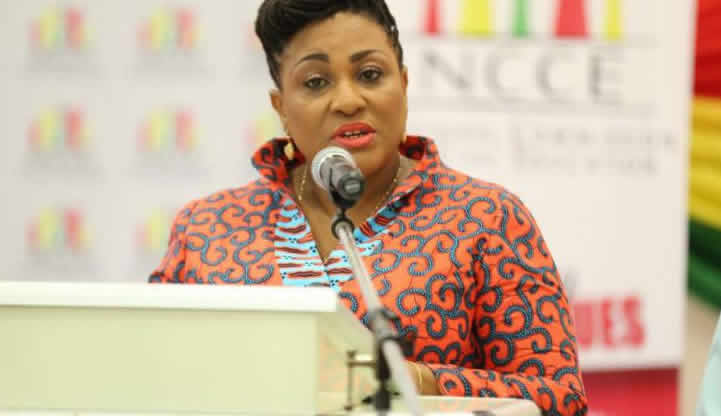 The Tema Wst MP had visited a Voter ID card registration centre despite knowing he has tested positive for Coronavirus.
She out rightly condemned the action of the former minister who has received severe public backlash since the incident came to light.
"To go out in the public space to conduct business as usual because you are wearing a mask and social distancing is neither here nor there.
"Political leaders don't understand the enormous influence they wield over their follower. If they really understood it they will be more circumspect in more of their actions" she said, Friday.
On June 14, President Nana Addo officially declared failure to wear face masks outside homes as an offence.
He stated that "The Police have been instructed to enforce this directive, which is the subject of an Executive Instrument."
However, there seems to be a defiance of these measures as some people fail to wear their facemasks.
This has been the case at a number of Voter ID card registration centres across the country where caution is thrown to the wind.