The appearance of the moon in the sky may be a normal phenomenon for some but for Muslims across the world, it's the end of the fasting period.
Muslims across Ghana on Friday joined their brethren across the world to mark the end of the Holy month of Ramadan.
The day is so special because the much anticipated 'Eid Mubarak' has been prepared for by 30 days of dry fasting.
And it hasn't been an easy journey, although I didn't take part, I can vouch for the likes of Editor of Myjoyonline.com, Malik Abass Daabu and his able assistant, Abubakar Ibrahim, who had to swallow saliva and pretend to be deaf while the sarcastic Edwin Appiah describes the fleshiness of the meat he devoured each day.
Today, they get to dissect whichever meat or food they want while Appiah prays they forgive him and bring him a bite.
But away from the body's gratification, the day marks the end of the Holy month of Ramadan.
According to Islamic belief, Ramadan is the ninth month on the Islamic calendar and is observed by Muslims worldwide as a month of fasting (Sawm) to commemorate the first revelation of the Quran to Prophet Muhammad.
"This annual observance is regarded as one of the Five Pillars of Islam," according to Wikipedia.
The month lasts 29–30 days based on the visual sightings of the crescent moon, so the actual day of the Eid may vary according to the different geographical plains.
In Ghana, the moon was sighted Wednesday evening so the fast was broken on Thursday.
The statutory holiday, however, remains Friday, June 15.
Muslims across the country will converge at the iconic Independence square in Accra to pray and mark the day together.
Vice President Mahamudu Bawumia has expressed his warm wishes to his brethren across Ghana, wishing them well and encouraging them to keep the virtues of the month.
"Eid Mubarak to all Muslims in Ghana," he posted on twitter.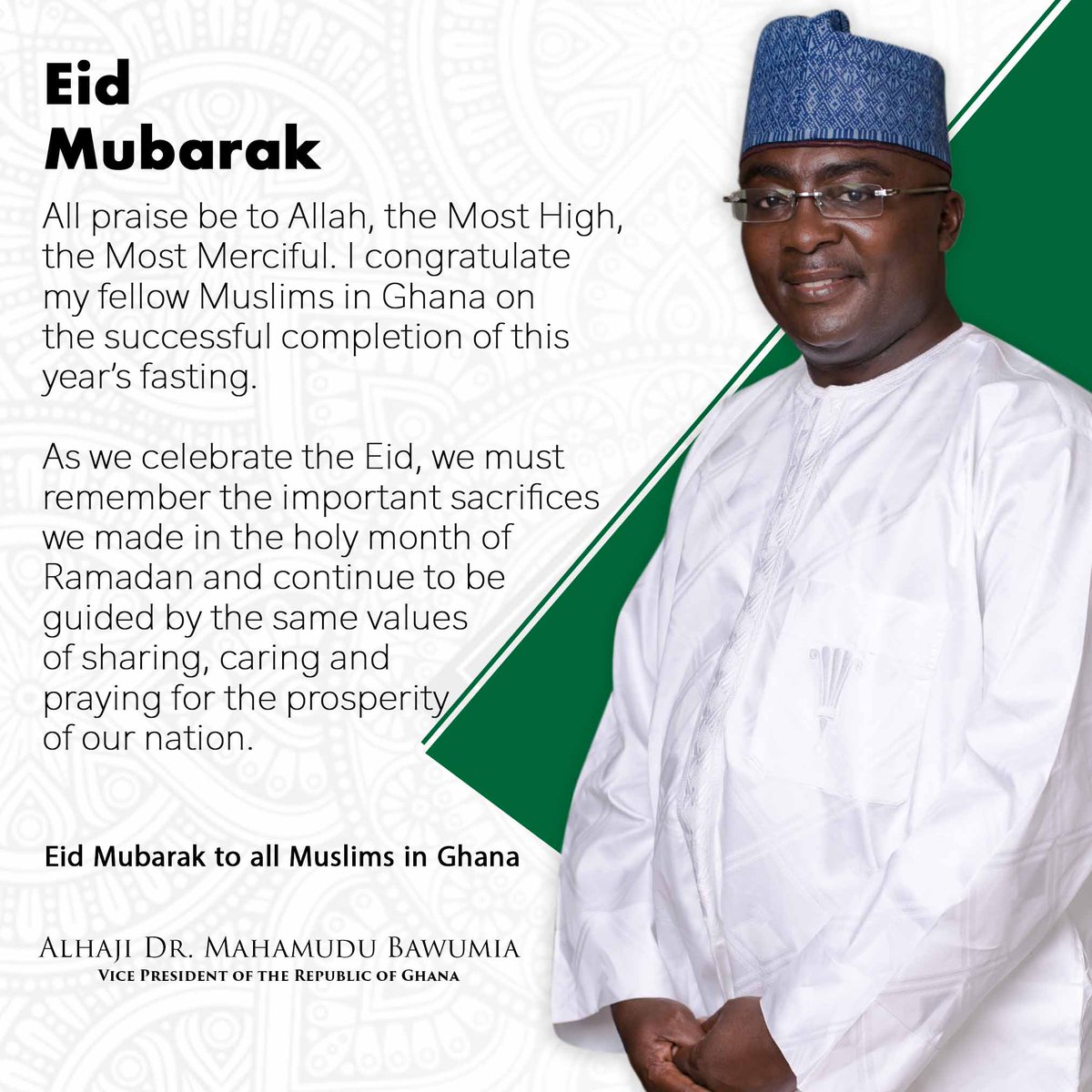 Have your say
---
More

Opinion

Headlines
---