The Asogli State Council has described the host of Good Evening Ghana, Paul Adom-Otchere, as a 'great termite' and 'an enemy of the Council'.
According to the Council, it is very displeased with the conduct of the ace broadcaster.
This follows his recent comments about the Agbogbomefia of the Asogli State and President of Asogli Traditional Area, Togbe Afede XIV.
In a statement issued after a press conference on Wednesday, June 15, the Council indicated that contrary to the earlier assertions by Paul Adom-Otchere, Togbe Afede is a man of conviction.
They therefore do not understand the basis of his disparaging remarks against the respected traditional leader.
The Council thus announced their dissociation from the journalist; tagging him as an enemy.
"Paul Adom-Otchere has publicly admitted knowing Togbe Afede XIV for some time now, visiting him from time to time and asking for financial and other favours from him. What a great friend Paul had in TOGBE AFEDE XIV.
We the people of the Asogli State have tracked Paul's attitude, his beliefs and style and identified him as a GREAT TERMITE working on the roots of our beloved tree, Ghana.
The Asogli State is a respected Traditional Area and will not allow evil-hearted people like the kind of Paul Adom-Otchere to denigrate our KING and the "Rising Star of this country.
We are therefore declaring Paul Adom-Otchere, as a result of his recalcitrant behaviour, an enemy to Asogli State", portions of the statement read.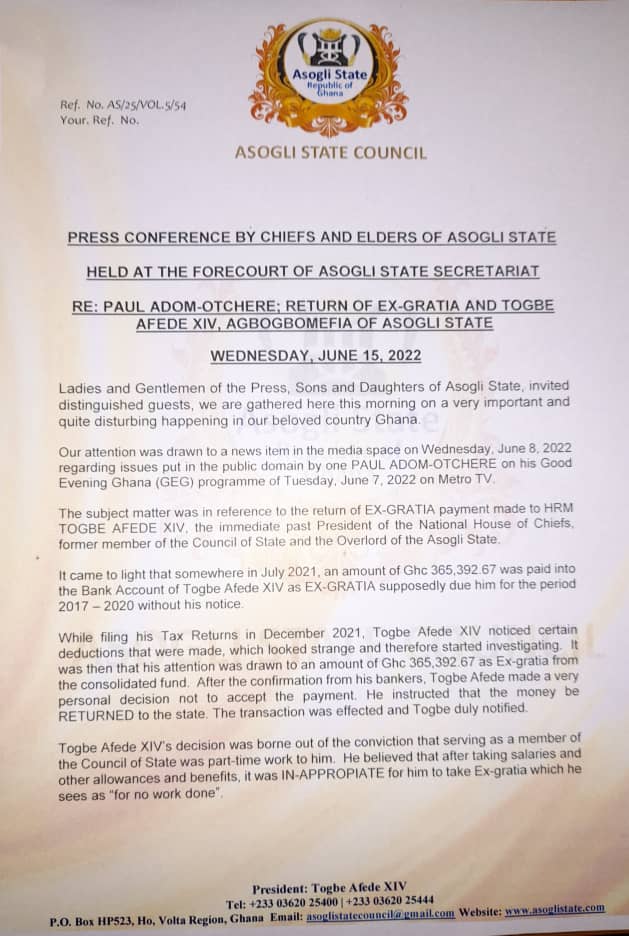 The Asogli State Council also indicated their displeasure with the Council of State, for not releasing records of the Council meeting to them, despite having done same to Mr. Adom-Otchere, to aid his editorial on Togbe Afede XIV.
"The Council of State in their letter dated 13th June, 2022, signed by Mr. Stephen Blay, the Director of Finance and Administration, to Dr. Elikem Apetorgbor Special Aide to Agbogbomefia Togbe Afede XIV, which indicates that Dr. Apetorgbor reaches out to Metro TV for the information regarding the latter's request for the Council members attendance register and others, is embarrassing and not supported by the law. This shows that the Council of State is biased and want to tarnish the high earned reputation of Togbe Afede XIV", the Council said.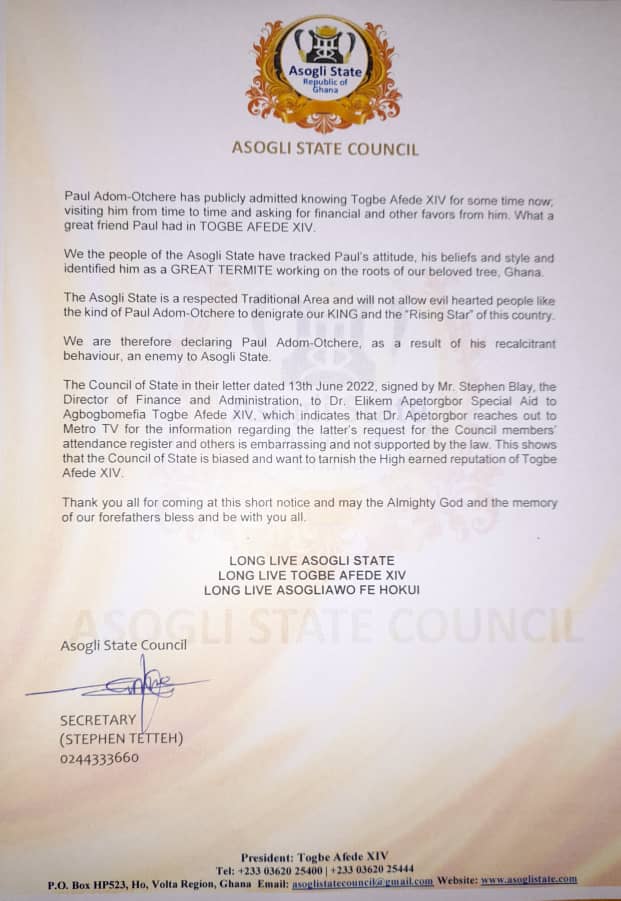 Background
During an editorial on Good Evening Ghana on Tuesday June 7, 2021, Mr. Adom-Otchere alleged that based on facts available to him, the Agbogbomefia of the Asogli State and former President of the National House of Chiefs, Togbe Afede attended only 16% of meetings during his tenure as a member of the Council of State.
Paul Adom-Otchere, said out of the total of 242 meetings of the Council during the period, the Paramount Chief honoured only 48 of those meetings; representing 16%.
The veteran broadcaster made this disclosure while expressing his views on why Togbe Afede returned the ex-gratia which was paid to him.
In his opinion, even though the move has been hailed on social media as a patriotic gesture, he does not understand the essence of the praises which were showered on the traditional leader.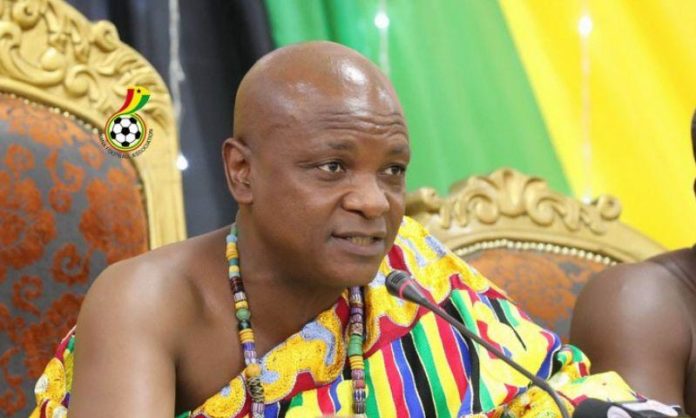 According to Mr. Adom-Otchere, the payment of ex-gratia to Article 71 office holders is captured in the 1992 Constitution, and therefore it was mischievous for Togbe Afede to have returned his, in a manner that seemingly portrayed him as incorruptible.
As result, the Good Evening Ghana host criticised Togbe Afede and urged the public to desist from praising him since the refund of his ex-gratia does not put him on any 'moral high ground'.
But in his reactions in an exclusive interview with JoyNews' Maxwell Agbagba on Thursday, June 9, Togbe Afede emphasised that he was not comfortable with the ¢365,000 extra-gratia which was paid to him for serving on the Council of State between 2017 and 2020.
In offering his clarification, he stressed that while working on the Council, he was given his monthly salary and other privileges and therefore the ex-gratia was not necessary.
Togbe Afede added that, working on the Council of State is largely a part-time job, which should not be accompanied by such huge end of service sums.
In the JoyNews' exclusive interview, Togbe Afede further explained that contrary to Paul's claims, he was 'one of the active participants' in the Council of State, during his period of service.
He also revealed that even though he was alarmed by Paul's remarks, he was not surprised because Paul did a similar thing in the past.
"He knew me very well. [So it's] surprising that he of all people, and I don't want to go into details; will be the one to criticise me. But why am I not surprised? Because he had done something similar before. When I was fighting Agyapa, he granted an interview to the Minister of Finance and sought to denigrate me even in that interview.
By suggesting that I was an employee of Ken-Ofori Atta. When I drew his attention, he apologised that no, no, he knew I was a founder of Data Bank. I said, so why then do you present it as if I was an employee of Ken Ofori-Atta? Again, when we were having a debate about the referendum, that had to be aborted, he again tried to criticise me" Togbe Afede explained.
Togbe Afede further intimated that, "It's a surprise that he of all people. When I say he of all people, he'll know why I'm saying I didn't expect that from he of all people. But unfortunately, some people live by their stomachs in the kind of things that they do. So given my recent experience, I'll say I'm not too surprised".
In a rebuttal to Togbe's claims, Paul Adom-Otchere said on Thursday June 9, that based on certain records he claimed he had gotten from the Council of State's Secretariat, Togbe Afede was not attending meetings of the Council; explaining that the Chief only attended 16% of meetings during his entire 4 years as a member of the Council.
Mr Adom-Otchere described the Paramount Chief's conduct as populist and unnecessary.
In his view, Togbe Afede was posturing as a patriotic fellow in a rather disingenuous way, since the payment of ex-gratia to former Council of State members is constitutionally mandatory.
But in its statement on June 15, the Asogli State Council said as follows:
"We have been wondering in the past days what Paul's agenda, beliefs and convictions concerning Togbe's REJECTION are. Two questions arose out of these ponderings:
1 Did HRM Togbe Afede XIV ask other members of the Council of State to REJECT and RETURN what was paid them?
2. What will Paul Adom-Otchere be doing now if Togbe hadn't taken this position and did not return the money?
His Royal Majesty Togbe Afede XIV has exhibited good, qualities of nation building at different levels in this country. He is a true businessman who looks out for thoroughness and due diligence in his approach to work. He believes that Ghana could have been better than what it is now if all of us will stop behaving like a termite at the woodwork eating the very foundation of our development. DON'T BE A TERMITE
Togbe has been admired by good meaning Ghanaians for his contributions when he served on various boards of some State Owned Institutions and has been noted to be a man of principle. Notable men and women of great measure have before time with-held principles that led greatly to nation building.
HRM Togbe Afede XIV. Agbogbomefia of the Asogli State, to the best of our knowledge did not either accuse his colleagues for taking the Ex-gratia or asked them to return the payment to government chest. Knowing very well that personal beliefs and principles should be the guiding light, every member of the council of State must walk his/her talk. Togbe Afede has walked his!".
How it all begun
It will be recalled that on Tuesday June 7, social media users showered accolades on the Paramount Chief and Agbogbomefia of Asogli, Togbe Afede XIV, for rejecting over ¢365,000 ex-gratia paid to him for serving on the Council of State between 2017 and 2020.
The netizens praised him for protecting the public purse and thinking of the growth and development of the country.
Classifying him as a "man of integrity," the tweethearts urged other public office holders to follow in the steps of the Paramount Chief.
In a statement explaining why he refunded the "outrageous" amount, Togbe Afede XIV said it is not appropriate to receive the said amount when he already took monthly salaries for serving on the Council.
He provided these clarifications after members of the public reacted to news of whether or not he indeed followed through with his supposed refund and the rationale behind it.
"I did not think the payment was made to trap me, as is being speculated. I believe it was paid to everybody who served on the Council of State. However, I thought that extra payment was inappropriate for a short, effectively part-time work, for which I received a monthly salary and was entitled to other privileges. So, I was very uncomfortable with it", he added.
On the back of this, Paul Adom-Otchere did an editorial on the evening of Tuesday, June 7, where he questioned the basis for the return of the sum by Togbe Afede XIV.