A claimant to the Ga stool, Boni Nii Tackie Adama Latse II has called on President Akufo-Addo and the Lands and Natural Resources Minister to rescind the decision to declassify some portions of the Achimota Forest reserve.
In a statement issued on Tuesday by the Ga Dzasetse, Nii Yaote Oto Ga II, Boni Nii Tackie Adama Latse II and the Ga Dzase want the government to immediately withdraw the Executive Instrument 144 which sought to declassify the Achimota Forest.
This, Boni Nii Tackie Adama Latse II contends will protect the ecological integrity of the Achimota Forest.
"We, therefore, call on His Excellency President Nana Addo Dankwa Akufo Addo and the Hon. Minister for Lands and Natural Resources to rescind the decision by immediately withdrawing E.I 144 to protect the ecological integrity of the capital's forest," portions of the statement read.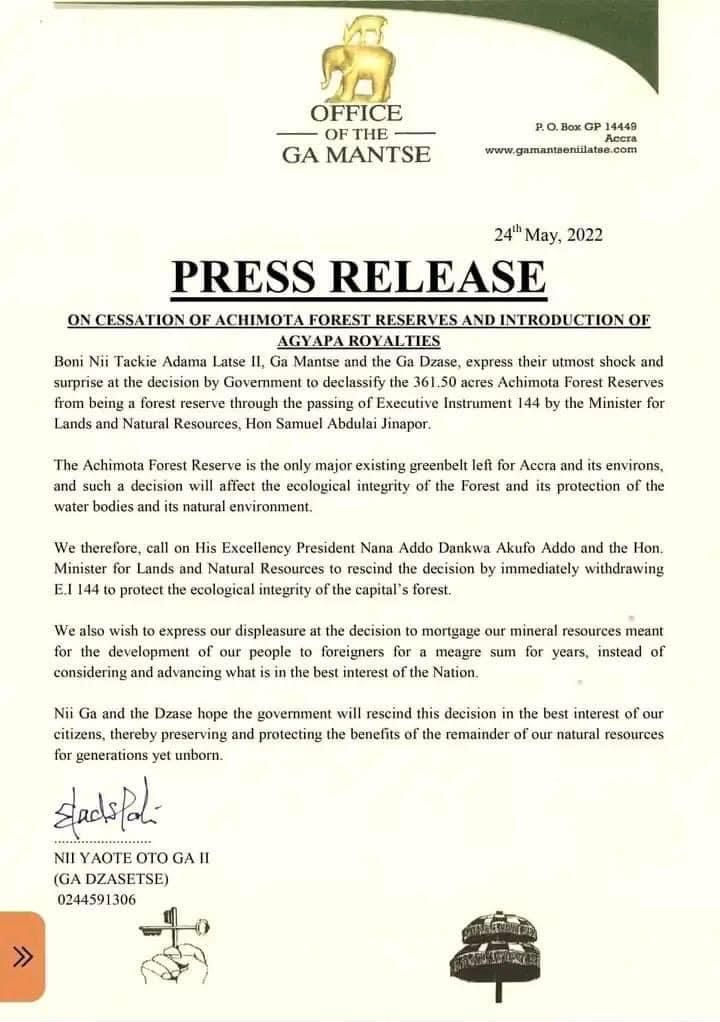 Boni Nii Tackie Adama Latse II also expressed "utmost shock and surprise" at the decision by Government to declassify the 361.50 acres Achimota Forest reserves as a forest reserve.
He further expressed displeasure at government's decision "to mortgage the country's mineral resources meant for development of our people to foreigners for a meagre sum for years, instead of considering and advancing what is in the best interest of the Nation."
Background
Last week, the President signed an Executive Instrument to declassify the Achimota Forest.
The Instrument gazetted on behalf of President Akufo-Addo by the Lands Minister, Samuel Abdulai Jinapor, stipulated that effective May 1, 2022, the land on which the Forest is located shall cease to be a forest reserve, pursuant to Section 19 of the Forest Act, 1927 (CAP. 157).
The cessation, per that document, was to be effective on May 1, 2022.
However, the Minister of Lands and Natural Resources, Samuel Abu Jinapor, has said the government is not selling the land.
According to him, plans are rather afoot to upgrade the Achimota Forest into a world-class asset.
Addressing the press on Tuesday, May 17, the sector Minister emphasised that widespread reports about the supposed sale of the Forest are false and baseless, as government has no such plans.
"The government intends to enrich the Achimota forest, revamp it and hopefully, in the not too distant future, transform it into the likes of High Park of London and Central Park of New York, where Ghanaians can go and enjoy the beauty of nature and forest reserve as it happens in other parts of the world".