President Akufo-Addo has touted the benefits the country has gained by signing the initiative dubbed "An Agreement For a Strategic Partnership" with Cote d'Ivoire.
This agreement, according to President Akufo-Addo "has bound our two countries in even closer intimacy, especially in the cocoa sector.
"We have succeeded in aligning the cocoa production and marketing policies of the two countries, and ensured that we do not continue to be victims or pawns of a global cocoa industry that is dependent on the toil and effort of our farmers."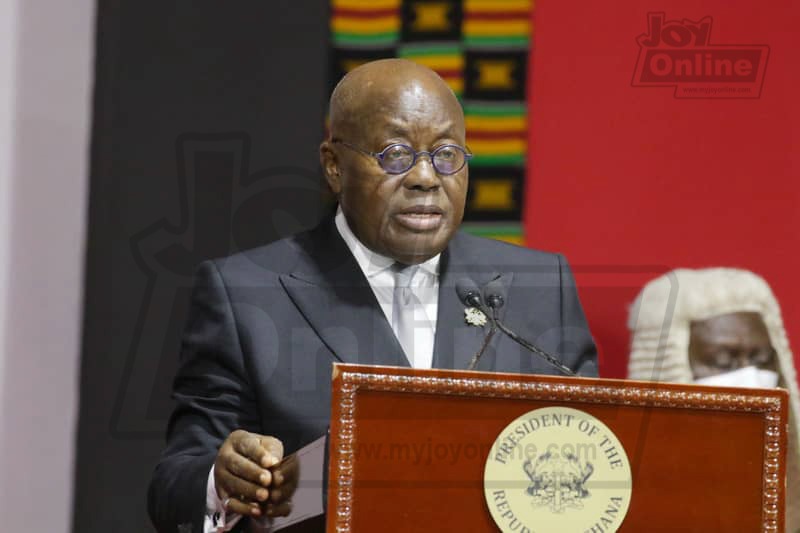 Presenting his first State of the Nation Address to the 8th Parliament of the 4th Republic on Tuesday, the President noted that the new trading mechanism has increased the value of cocoa sold by the 2 countries on the international market.
"It has ensured that a new cost item of US$400.00 per ton, for every cocoa sold by the two nations, effective from the 2020/2021 season, is paid to our farmers," he stressed.
On Tuesday, October 17, 2017, Ghana and Cote d'Ivoire agreed to set up a strategic co-operation framework, and signed a Strategic Partnership Agreement (SAP) that will give new momentum to Ivorian-Ghanaian co-operation.
The agreement covered the areas of Defence and Security; Cocoa and cashew economy and other strategic crops; Maritime cooperation; Mining, energy and environment; Transport; and Economic policies.
Meanwhile, the President said government is determined to end the over-reliance on cocoa.
He stated that with the establishment of the Tree Crops Development Authority other cash crops such as; cashew, cotton, mango, oil palm, rubber, and shea will equally be priortised.