After successfully serving humanity in many different fields of endeavour, she is on an agenda to impact Ghana's educational sector for years to come.
She is awaken to the reality that transforming the lives of the underprivileged is the surest way to make the world a better place.
Mrs. Theodosia Jackson is an educationist, marriage counsellor, and philanthropist.
Thousands of children have passed through her hands in the educational sphere and are now in different fields across Ghana and beyond.
Mrs Jackson is sympathetic and loves to help people to achieve their goals.
That's why the 73-year-old pays school fees for brilliant but needy students.
She can't stand the sight of people suffering, hence her willingness to help change lives.
In April 2021, Mrs Jackson refurbished and commissioned a school block while landscaping the Amankwatia M/A Junior High School 'A' in Kumasi.
The school was in a deplorable state for many years. The headmaster's office, the staff common room among others were in shambles.
Mrs Jackson in collaboration with the 1999 Old Students got the school refurbished.
At the commissioning, she encouraged Ghanaians to put hands on desk to maintain excellent educational resources for teachers and students.
"We, as educationists, have always burnt with passion to support this cause. Our quota is to assist in the development of good educational systems that would linger through posterity," she said
An essential element of quality education is availability of good infrastructure and an environment conducive to learning.
Both work hand-in-hand to create a comfortable environment for teaching and learning.
Mrs Jackson says, "In such an environment, motivation is made available to teach, learn, promote good behavior and build self-esteem."
32-year-old Kofi Appiah is a beneficiary of Mrs Jackson's kind gesture.
Now in final year studying MPhil Mathematics at the Kwame Nkrumah University of Science and Technology, Kofi was once a labourer.
The inability of his parents to finance his second-cycle education forced him into menial jobs.
For him, the little money he made from his work was not only for his survival.
Growing up at Juaben, the 32-year-old always looked into the future with determination and hope.
Kofi says whilst struggling through the period of his development, he was determined to return to school to reach the highest level.
He appeared to have won the confidence and trust of many people he worked for as a labourer.
In 2004, a contract that would transform his life came knocking. Kofi was contracted to weed someone's compound and a miracle he least anticipated came through.
Theodosia Jackson's desire to transform people's lives stems from the fact that she went through difficult times herself to reach the top.
''Life, it is said, is not necessarily a straight line''. One can break from the shackles of hopelessness depending on focus, determination and resilience.
Mrs. Jackson's foundation supports 100s of needy students annually.
Kofi's story is one of many told by beneficiaries, mostly, from poor financial backgrounds.
In September 2018, Mrs Jackson intervened to construct a classroom block for pupils of Kwayemu Dan-Nyame in the Asante Akim Central district of the Ashanti region.
An abandoned poultry farm was converted into a school to support underprivileged children.
Learning in such an environment was equated to a shouting competition between teachers as two different classes shared the dilapidated poultry farm.
Graduating from one class to another was as easy as taking a step.
Mrs Jackson constructed a six-unit-classroom-block for the pupils.
"School children walk 7 miles which lasts about two to three hours to have access to schools." Those were the words of Reverend Emmanuel Dela Tega in 2018.
Reverend Tega had gone there for evangelism and was confronted with the situation of the children.
He held a community meeting with some leaders and they decided to convert a poultry farm into a school.
"We went to the owner of the abandoned poultry farm and pleaded it should be used as a school," he said.
The school started with eight children in September 2016 and rose to 46 in 2017.
With little resources, they learnt to share. Classes One and Two occupied a room without any demarcation and lessons were conducted simultaneously.
These were children who tasted formal education for many years since their birth.
None of them was in school uniform nor had decent sandals.
Their faces however showed extreme anxiety to get an education.
The structure was not good, especially when it rained. Children mostly wanted to climb cocoa trees – an act that nearly caused their eviction.
They had learned, overtime to ignore the noise and learn with zeal.
Those in Class One would graduate not to the next class but to the other side of the room for Class Two.
What was taught plus any other noise sipped through the gaps of the wooden structure all in the search of education at Kwayemu Dan-Nyame Presbyterian Preparatory School.
No administration block, no library, water, and electricity.
Two teachers who volunteered to teach at the school, Emmanuel Abugri, and Theresa Aladago, were both graduates from the National Vocational Institute at Nalerigu and the Nalerigu Youth Leadership Training Institute respectively in the North East Region.
In 2018, a song of joy from the schoolchildren welcomed one woman who had decided to provide uniforms and some academic materials for the children.
Mrs. Theodosia Jackson said there was more to be done to improve the lives of the children, especially the school structure.
She had also offered to support the two teachers to pursue teacher' education at the Jackson College of Education.
More of Theodosia Jackson's gesture was needed to shape the destiny of the children.
Almost 3 years ago, the story of Kwayemu Dan-Nyame changed. The new school block is situated to make a difference in the lives of rural children.
Through the gesture of a philanthropist, parents at Kwayemu Dan-Nyame are determined to make the best out of the school.
"I had the great compassion to come and help this community. The road to the nearby school was bad and the parents feared they would leave their children to this distance to Obenimase," said Mrs. Jackson
She says parents weren't sending their children to school. They were rather accompanying them to their cocoa farms.
The school now has a toilet facility for school children and teachers. It has a constant water supply system and kitchen for daily canteen.
Nine pupil teachers were awarded full scholarships to further their education at Jackson College of Education.
Emmanuel Abugre who volunteered to teach in the abandoned poultry structure is one of the beneficiaries.
"We faced a lot of problems because children were scattered in one room and teaching wasn't going on well," he said.
Emmanuel says the new school block is a relief to them.
The teachers are also given a monthly allowance for teaching at Kwayemu Dan-Nyame to motivate them.
"This is going to change the lives of the pupils through quality education. We are assuring that we will do our best to give quality education," said Richard Aboagye Frimpong, the headteacher.
Reverend Emmanuel Dela Tega initially suggested the use of the abandoned poultry farm as a classroom to save the children from journeying two hours to school.
He is excited at the transformation.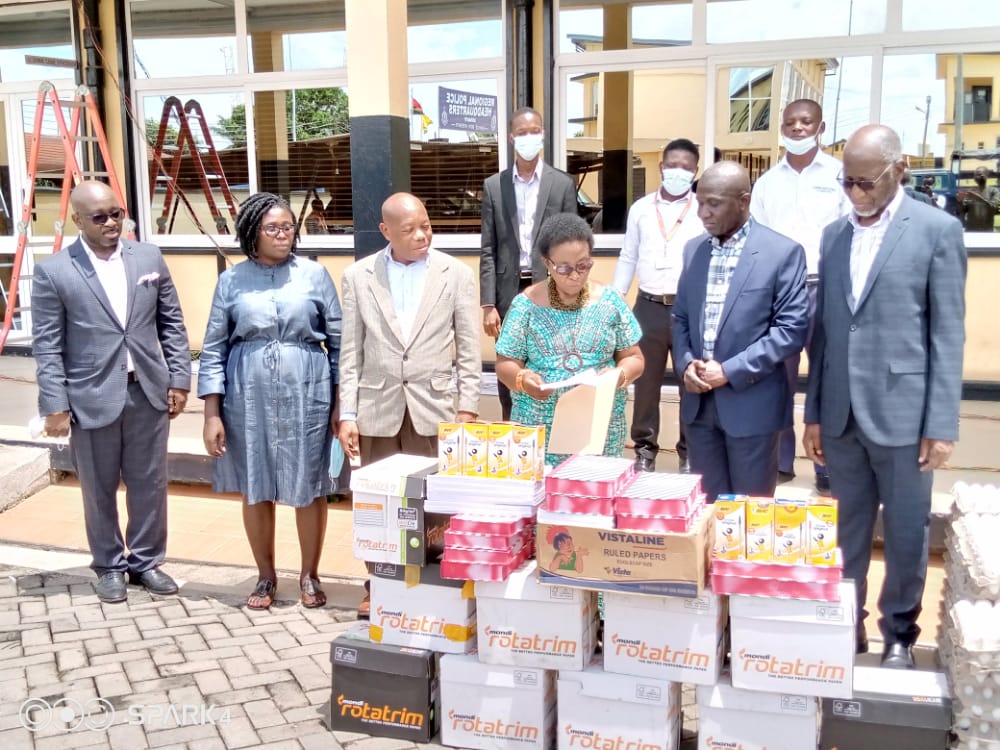 "I am excited. I was not expecting this building at all."
Residents are full of praise for the exceptional support by Mrs. Theodosia Jackson to break the unhealthy rural-urban dichotomy in accessing quality education.