It's a massive understatement to say Tuesday's fight is make or break for Isaac Dogboe.
He returns to the ring to take on a man who finds himself in the same position as the former WBO super bantamweight champion.
Two years ago Dogboe beat Jessie Magdaleno in emphatic fashion to win the WBO super bantamweight title and became the youngest Ghanaian to achieve the feat. He became arguably the most famous name in Ghanaian sporting circles.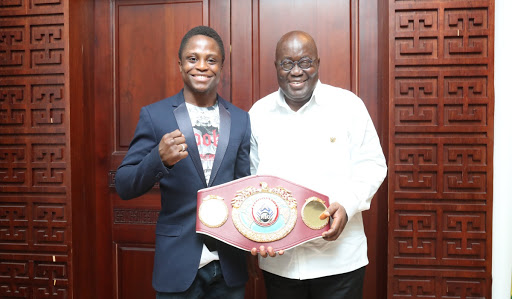 He had meetings with everyone who matters, from politicians to monarchs; his star shone so bright he earned himself a deal with Bob Arum's Top Rank. His first and only title defense was an impressive first-round stoppage of Japanese Hidenori Otake.
He was a young champion with the world at his feet until Emmanuel Navarrete happened.
The Mexican tested the depths of the young champion's repertoire and the result was a stunning, one-sided beatdown of the Ghanaian.
The rematch clause was immediately activated. Isaac and his father, Paul, spoke of problems encountered during preparation, among them being the boxer's loaded media and social engagements which disrupted camp activities.
It was hard to believe, but Ghanaians and the world gave them the benefit of the doubt. When the rematch happened, Navarrete removed all doubts about the first victory by stopping Dogboe in the final round.
The immediate aftermath of the second encounter against Navarrete was characterised by declarations in the media from father and son. They ranged from taking a break from the sport to pursue further education to switching coaches.
There's no doubt the amount of reputational and mental damage those pair of defeats created. Team Dogboe looked lost on what the next step would be.
They went from Freddie Roach to James 'Light Out' Toney as the new trainers, and although that has since been clarified you get a sense of team members or better still father and son not being on the same page.
The Dogboes say the necessary changes have been made in the 12 months following the Navarette defeat, that Isaac will now be fighting at the more comfortable featherweight, that Isaac has matured more mentally and that the lessons from a year ago have been well learnt.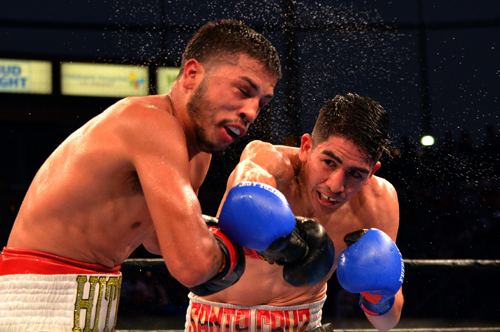 Chris Avalos is an average boxer, but he's one who has had opportunities to own a world title. The American racked up 16 victories in a two-year period between 2008 and 2010.
His first defeat was via a split decision against Christopher Martin in 2010. His record between then and 2015, when he lost to Carl Frampton in his first world title fight can best be described as a rollercoaster.
He lost again the following year to Mark Magsayo in another world title fight and again against Leo Santa Cruz for the WBO Super Featherweight title.
What is telling is that all these defeats came via stoppages. When Avalos has come up against quality, his real pedigree has been laid bare. Like Dogboe, he's in the last chance saloon but the stakes are much higher for the Ghanaian.
The world expects Dogboe to beat Avalos for the simple reason that he's better than the American despite the setback suffered against a superior boxer in Navarrete. The belief is that if Dogboe cannot beat Avalos then he may as well forget about becoming a two-time world champion.
The challenge for Dogboe is not merely to win, he must be impressive. The Navarette defeats put him somewhere a little above the level of Avalos. He must prove that he's way above average. Dogboe must prove that he belongs among the elite in the division.
Avalos, like Navarrete, is tall (5′ 7″/170cm) and has long reach (68″/ 173cm) – but he fights short. He fights so short even the shortest of pugilists in Frampton (5′ 5″/165cm) with an 8-inch reach handicap could beat him to the most basic of punches.
If Dogboe can find an extra bit of speed than he usually has he can end this before the final round. What Avalos does is to pile pressure like Navarrete does but he lacks the conditioning to see it through 12 rounds.
Dogboe must make him miss, and outwork himself into a physical condition where he can break him down. No disrespect intended, but this is Dogboe's fight to lose. It is difficult to see a path back to the top if the Ghanaian star loses this one and he knows it.
It's one thing losing to Navarrete. If you lose to Avalos, it places you on a certain field which is surely not a world championship level. If Dogboe is not putting himself in contention for another world title shot, then what business does he have remaining in such a brutal sport?.
There's a reason Avalos failed in his two attempts to become world champion; he's just not a world class boxer. Dogboe may not be a world class boxer but he's world championship material.
In boxing, there are the world class technicians, the Paulie Malignaggi's an average, in that order.
If you cannot be a Mayweather or Leonard, you must at the very least be a Paulie Malignaggi to become a two time, possibly two division world champion.
Malignaggi beats Avalos in a boxing match up, can Dogboe do same? Some way, somehow Dogboe must summon the storm from the royal household of Anyako.
It's showtime.