Government Statistician Prof Samuel Kobina Annim has stated that the Census Night scheduled for June 27, for the 2021 Population exercise is not to count persons.
At a press briefing on June 20, he said the Census Night is to raise awareness on questions to be asked on the actual day of enumeration, which is June 28, to enable a successful census.
"Let us not have the impression that 27th night is about knocking doors of people in an attempt to count them. All that we are doing is to raise awareness on that night, and we are hopeful that once we are all targeted with the various instrument that we've developed, we're pretty certain that we're going to have a successful census," he said.
He noted that during the second phase of data collection, persons in short-stays institutions such as hospitals, remand, hotel, guesthouses, in transit, and those who sleep outdoors will be enumerated on June 27, and given certificates.
He added that the counting of household's populations and people in long-stays institutions such as boarding houses, university halls, training academies, prisons etc will begin from June 28 to July 11, 2021.
The Government Statistician stated that the enumeration is going to be structured in core 10 modules.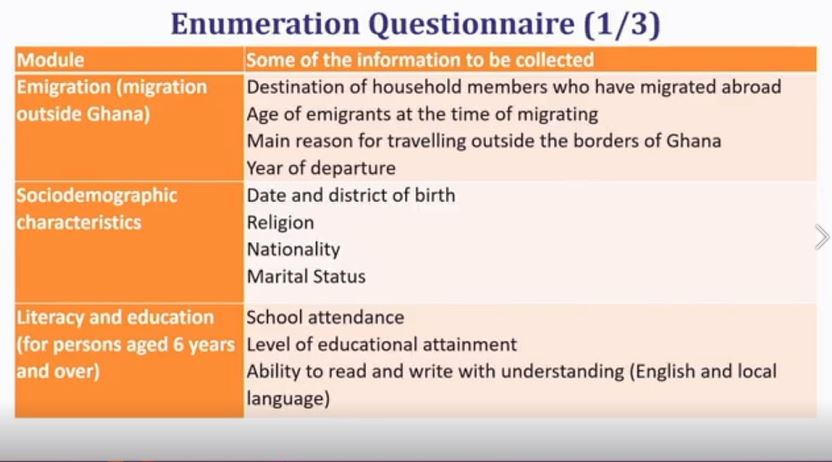 He said the first module the institution will work on is emigration, about persons who have travelled in the last 12 months.
The second module is the sociodemographic characteristics. According to him, questions related to literacy education, religious affiliation, ethnicity, marital status will be asked.
The third module, he said will capture literacy and education for persons aged six years and over.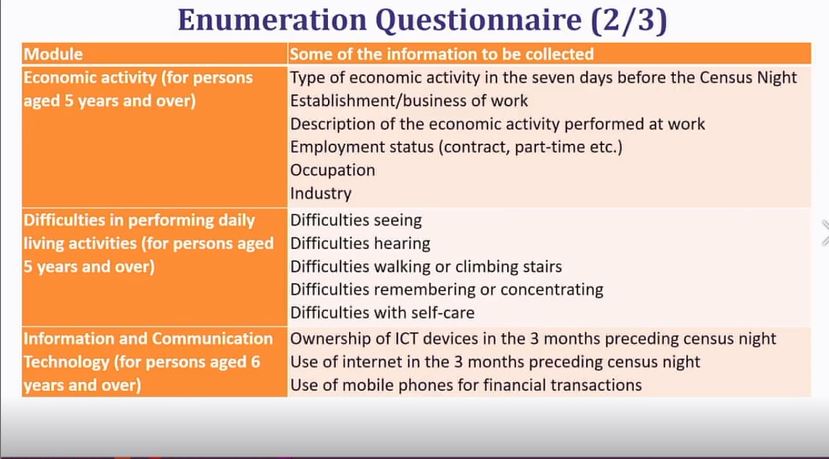 Prof Annim stated that the fourth module will deal with the economic activity of persons aged five and over.
Some information to be gathered will be on employment status, type of economic activity undertaken seven days before the census night.
The next module which is the fifth module will tackle the daily living activities of persons in difficulties.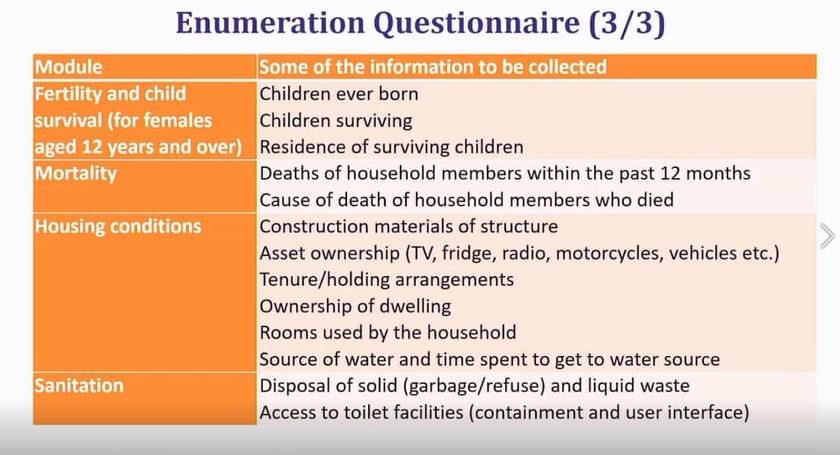 The sixth will be on information and communication technology, and information to be collected.
This information will be mobile phones used for financial transactions, use and ownership of ICT devices, and internet three months preceding census night.
The last four set on modules will span on fertility and child survival, mortality, housing conditions and sanitation.