Nigerian musician Burna Boy for the first time in nearly a week has reacted to the death of South African rapper AKA.
The two artistes did not see eye to eye after their friendship fell off years prior.
Taking to his Instagram stories, Burna Boy shared a snippet of a tribute, seemingly recorded after AKA died.
In his tribute, Burna Boy stated that like everyone he was taken aback by the news and more shocked by the cold-blooded murder when he watched the CCTV footage.
He revealed that years prior he had advised AKA to get a gun when the deceased saw his but according to Burna Boy, AKA thought the idea of carrying a gun was "wild".
Referencing their beef, the 'African Giant' stated that although they had not been friends in a while, the last thing he wanted was AKA's death.
"But I didn't want you dead, it was like that with me and you, have one too, cuz it weren't like niggaz wasn't dying but I thought you knew, and I ain't really f**k with you," he stated.
Burna Boy added that it is his prayer to see the perpetrators who planned and killed AKA behind bars.
"Wicked! I hope they catch whoever did you wicked. I hope you rest in peace, even though we ain't kick it. At the end of the day we some grown ass ni**az," he continued.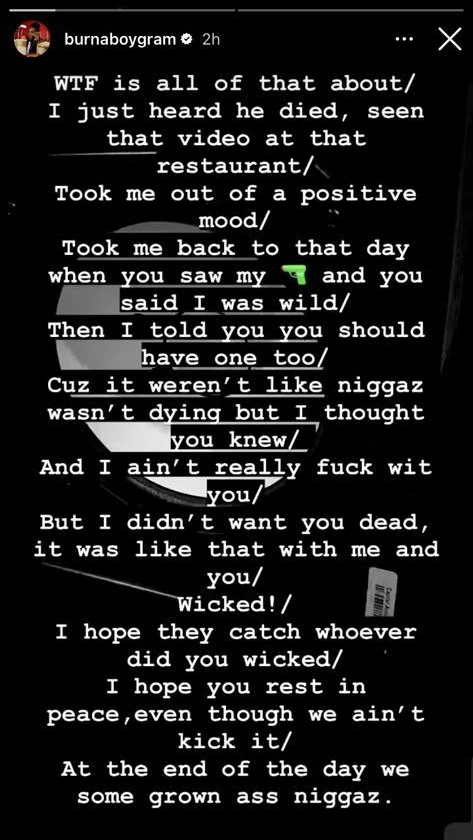 In another Instagram story, Burna Boy simply wrote "R.I.P AKA."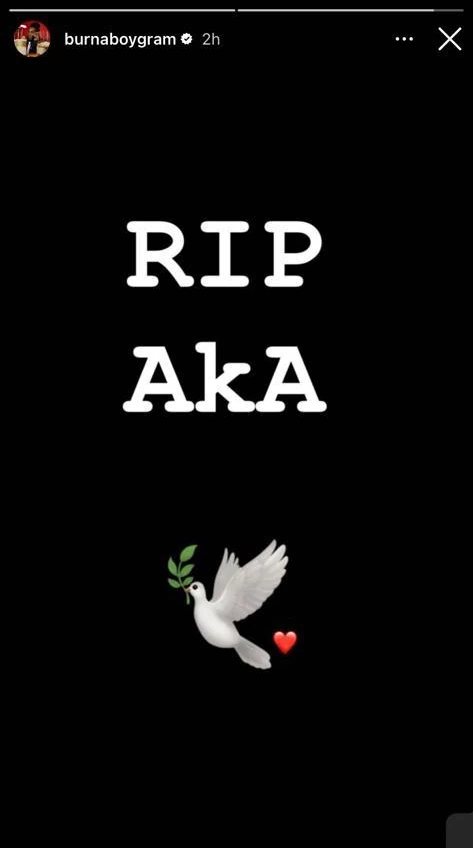 Background
Kiernan Jarryd Forbes was shot just before 10:00 pm (South African time) while standing outside the Wish Restaurant in Durban on Friday. The deceased was seen interacting with some friends in a busy street when the unidentified person walked up to him and shot him in the head.
The suspect then took to his heels.
The family issued a statement to confirm the death of the artistes via his Twitter handle.
"It is with extreme sadness that we acknowledge the passing of our beloved son, and confirm his untimely and tragic passing on the evening of February 10, 2023. We are awaiting further details from the Durban Police.
To us, Kiernan Jarryd Forbes was a son, brother, grandson, nephew, cousin and friend, most importantly father to his beloved daughter Kairo. To many, he was AKA, SUPAMEGA, BHOVA and the many other names of affection his legion of fans called him by.
Our son was loved and he gave love in return. In this time of grief, we appeal for your compassion, space and time to congregate as family to decide on the upcoming days. We thank you for the love and support we have received thus far and ask you to continue to keep us in your prayers," Tony and Lynn Forbes wrote.
Meanwhile, South African police say evidence gathered so far leads them to believe the killing of popular rapper AKA was an assassination.
KwaZulu-Natal police chief Nhlanhla Mkhwanazi said the gunman had approached AKA from behind and shot him at close range in the side of the head. A second gunman then started firing to deter onlookers from responding to the "hit", he added.
One of these rounds killed AKA's friend, celebrity chef Tibz Motsoane.
No arrests have yet been made.
But police say they know the identities of the "two shooters", and are still checking the identities of all of those at the scene in Durban that night.
Investigators are now using the suspects' data to piece together their communication and movements in the run-up to the killings, Gen Mkhwanazi has told the Newzroom Africa TV channel.
DISCLAIMER: The Views, Comments, Opinions, Contributions and Statements made by Readers and Contributors on this platform do not necessarily represent the views or policy of Multimedia Group Limited.