An Alpine area of southern Germany has gone into a new lockdown, the first part of the country to do so since the first Covid peak earlier this year.
The 105,000 people of Berchtesgadener Land, bordering Austria, will only be allowed to leave home for essential reasons for the next two weeks.
Like much of Europe, Germany is confronting a sharp rise in infections. But the situation remains less severe than in other major Western European countries.
Germany has recorded 84 Covid-19 cases per 100,000 people in total over the past 14 days, according to the European Centre for Disease Prevention and Control.
This compares to rates of 159 for Italy, 339 for the UK, 427 for France and 343 for Spain. But the local infection rate in Berchtesgadener Land, part of the state of Bavaria, has hit 273 per 100,000 over the past week, which is why the fresh lockdown – being called a "circuit breaker" – has been imposed.
Schools, restaurants, bars, theatres, gyms, cinemas and hotels will be closed, but church services will be allowed.
Last Friday, German Chancellor Angela Merkel appealed to Germans to reduce their social contacts to bring down transmission rates.
"Please forsake any journey that is not absolutely essential, every party that is not absolutely essential," she said. "Stay at home, where at all possible."
What's the latest elsewhere in Europe?
In Ireland, restrictions similar to the spring lockdown will come into effect from midnight on Wednesday. People are being asked to stay at home and will only be able to exercise within 5km (3 miles) of their home. Schools will stay open and the restrictions will last six weeks.
Taoiseach (Prime Minister) Mícheál Martin said that despite having introduced what was probably "Europe's strictest regime", current restrictions had not been enough to significantly reduce levels of infection.
Ireland's 14-day infection rate per 100,000 people is 254 but the country reported no new Covid-related deaths on Monday, with the total remaining at 1,852.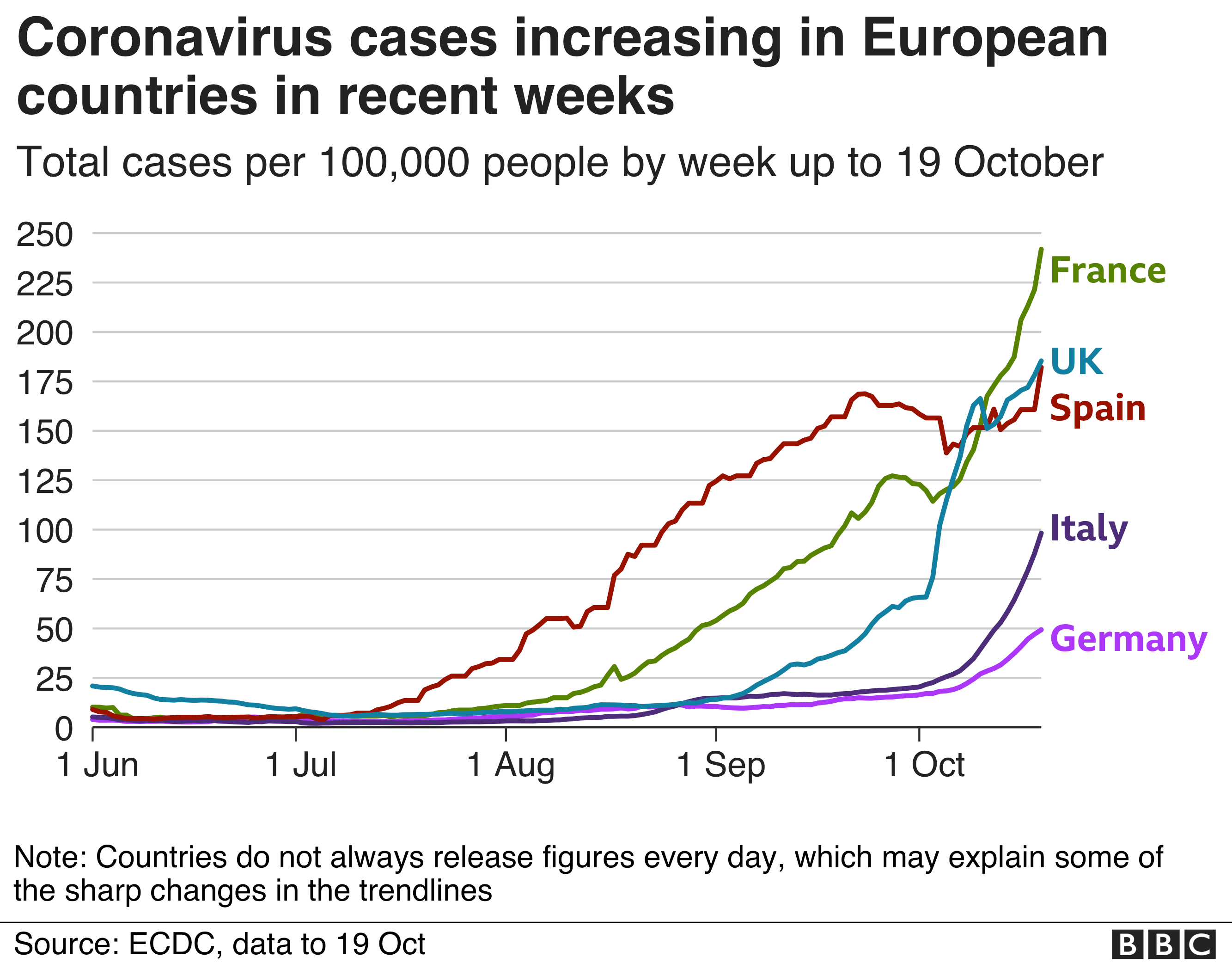 Navarre, currently the worst-hit region in Spain, has announced a partial lockdown from Thursday. The region has a 14-day infection rate per 100,000 of 811.
At the national level, the Czech Republic continues to have the highest infection rate in Europe, but Belgium is not far behind.
On Monday the Belgian health minister warned the country was facing a "tsunami" of infections, with all bars and restaurants closing for four weeks in a bid to tame transmission rates.
Frank Vandenbroucke described the situation in the capital Brussels and in the south of the country as "the most dangerous in all of Europe". The Czech government, meanwhile, is holding off imposing a full lockdown until results of recently tightened restrictions begin to show.
Slovenia, like the Czech Republic, managed to successfully control the virus in the spring. But it is now facing a surge in infections and hospital admissions.
A curfew from 21:00 until 06:00 begins on Tuesday evening, with older school pupils and university students also now taking classes online instead of in person.
In the UK, the Greater Manchester region in northern England is expected to be placed under the highest level of Covid-19 restrictions by the government despite the opposition of local leaders after talks broke down.
Separately, UK researchers are pushing to become the first globally to deliberately infect people with Covid to speed up progress towards getting a safe, working vaccine.
Human challenge studies provide a faster way to test vaccines because scientists do not have to wait for people to be exposed to an illness naturally.