A major incident has been declared in London and more than 10,000 Omicron cases have been found in the UK, as the variant surges across the country.
The UK's daily cases record was broken for a third consecutive day on Friday, with another 93,000 reported.
Cabinet ministers are currently being briefed on the latest Covid data.
London's mayor said he was "incredibly concerned" by the city's infection levels and the major incident was "a statement of how serious things are".
Sadiq Khan said Friday's 26,000 new cases were having an impact on staff absences in the city's emergency services.
"I've been meeting over the last few days, on a daily basis, colleagues across the city from the NHS to councils, from the fire service to the police – we're incredibly concerned by the huge surge in the Omicron variant," he said.
"The big issue we have is the number of Londoners who have this virus and this is leading to big issues in relation to staff absences and the ability of our public services to run at the optimal levels.
"I've taken the decision, in consultation with our partners, to declare a major incident. It's a statement of how serious things are."
Latest government data has shown there are 1,534 Covid patients in London hospitals – up 28.6% on last week – with about 200 new admissions per day.
It comes after ministers were warned England's hospital admissions could reach 3,000 a day without new measures.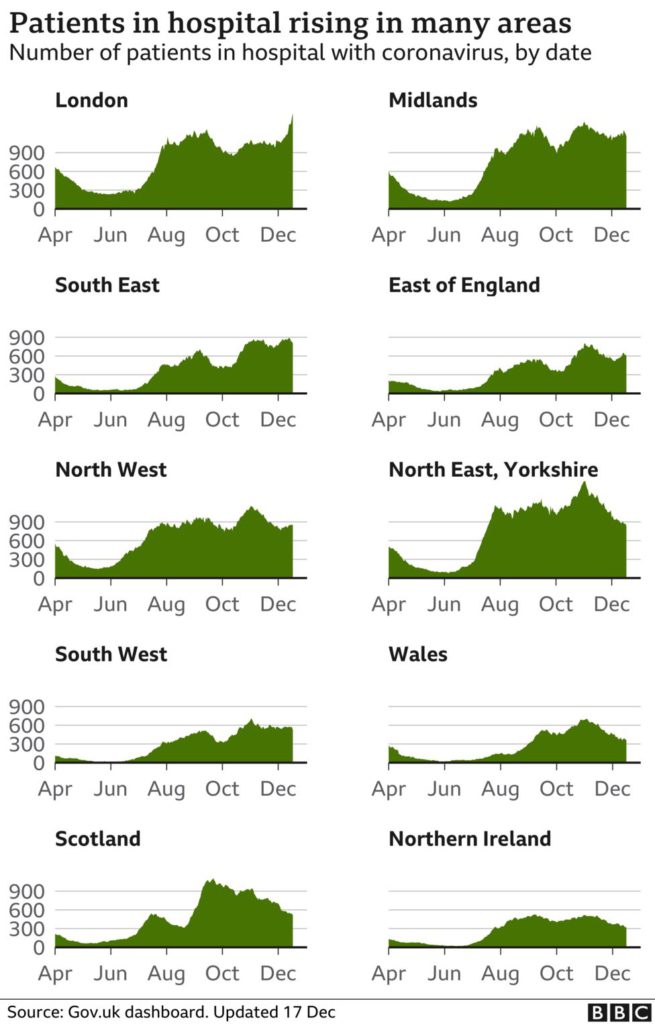 The World Health Organization has said the Omicron variant has been identified in at least 89 countries – and is spreading significantly faster than the Delta strain.
It is spreading rapidly in countries with high levels of population immunity, it added.
In England, modelling indicates hospital admissions could peak at at least 3,000 a day without intervention measures beyond the Plan B rules currently in place, advisers from the Scientific Advisory Group for Emergencies (Sage) said in the leaked minutes of a meeting held on Thursday.
The current Plan B rules for England include Covid passes for certain events, face masks in more places and people being urged to work from home if they can.
The other nations of the UK have already brought in similar rules – and Scotland has gone further by asking people to limit social contact to three households at a time in the run-up to Christmas. Wales has also ordered nightclubs to close from 27 December.
When it comes to Covid hospital admissions it's going to become increasingly important to look behind the headline figures to truly understand the impact of Omicron.
With infection levels rising, it's possible a greater share will be incidental admissions – a patient with a broken leg who happens to test positive for Covid on arrival, for example.
In London more than one in five patients in hospital fall into this category – and it's a proportion that may be just showing the early signs of increasing.
Admissions for Covid are also going up, just not as fast it seems as admissions with Covid.
So direct Covid pressures are still on the rise but just maybe not as fast as headline figures suggest.
Another figure to watch is length of stay for Covid patients.
It has been falling throughout the pandemic.
If it falls again during this Omicron wave that too could relieve the overall pressure.
Omicron is now thought to now be the dominant variant in England and Scotland, replacing Delta.
On Friday, the UK saw another record number of daily Covid cases for the third consecutive day, with more than 93,000 infections announced.
But there were also a record 861,306 booster and third dose jabs announced – the highest daily total so far.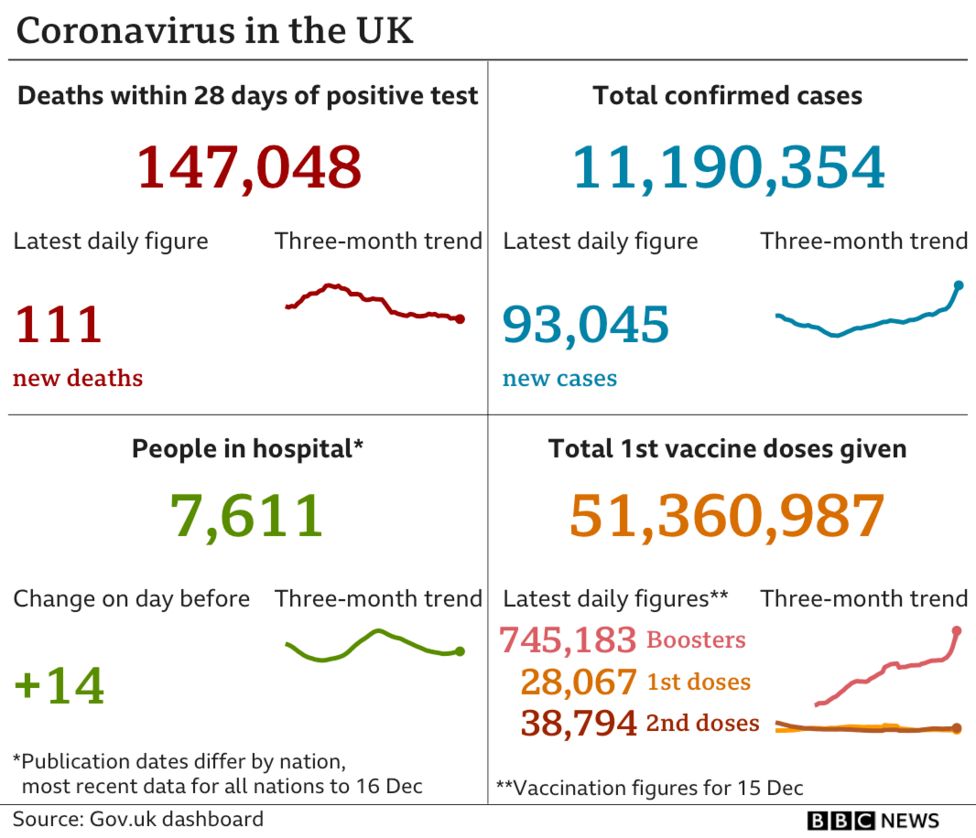 Meanwhile, epidemiologist Prof Neil Ferguson, who is a government adviser but was not involved in Thursday's Sage meeting, said the true number of infections was likely to be much higher than those reported – and might be 300,000 a day.
On hospital admissions, he said there had been a significant surge in the London region, which was ahead of the rest of the country in terms of the spread of Omicron.
Speaking to the BBC's Today programme in a personal capacity, he also said there were concerns "we'll be heading into something which has the risk of overwhelming the public health service".
The Liberal Democrats said the government needed to "come clean with the public about what Omicron means for Christmas".
The party's health spokesperson Daisy Cooper said: "Ministers must act now to protect NHS staff and ensure that urgent NHS services are available to everyone over the Christmas period.
"The government should explain what additional public health protections are needed to bring the NHS back from the brink of collapse, and urgently get support to struggling businesses."
'Brutal'
Hannah Essex, co-exec director at the British Chamber of Commerce, told BBC Breakfast further restrictions would need to come with a package of support for businesses.
She said the past 20 months had been "absolutely brutal" for businesses and doing nothing was not an option.
"They were just starting to see things pick up and this is the point at which we could see them fall over the edge. And that would be such a terrible shame and will inevitably lead to job losses as well," she added.