The Food and Drugs Authority (FDA) says it has not authorised the sale and usage of Covid-19 vaccines in Ghana.
In a public health alert dated January 12, the Authority cautioned citizens against purchasing various coronavirus vaccines for sale on the Ghanaian market.
"It has come to the attention of the Food and Drugs Authority (FDA) that some unscrupulous members of the business community are peddling information on the sale of Covid-19 vaccines to hospitals and other health facilities.
"The information is ostensibly to inform the general public of the availability of these vaccines from well-known pharmaceutical brands indicating their price ranges.
"The general public is hereby cautioned against the patronage of such vaccines since the FDA has not yet approved any Covid-19 vaccine for use in Ghana," the release indicated.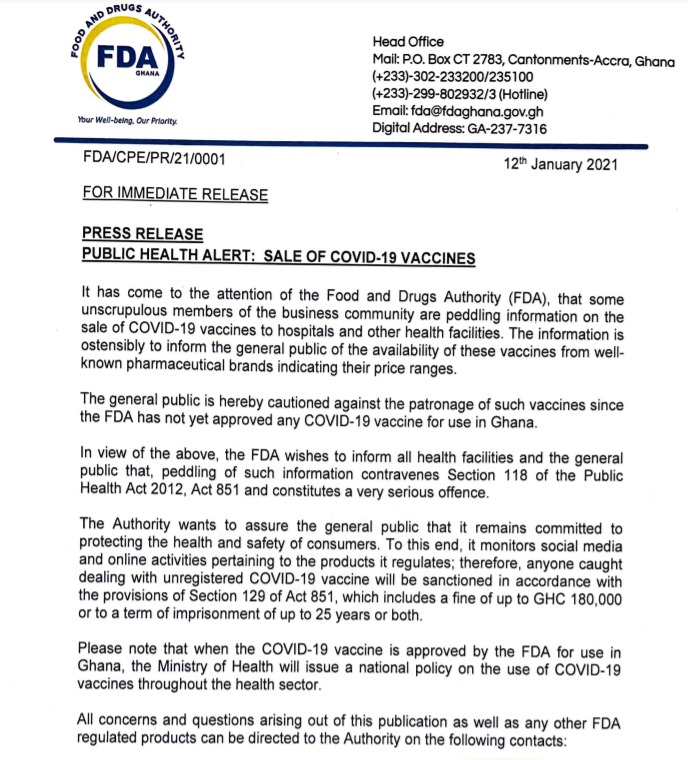 Engaging in the sale of products for consumption without certification from the FDA according to Section 118 of the Public Health Act 2012, Act 851 is illegal.
In view of this, the FDA says persons found culpable will be sanctioned as evidence of commitment to protecting the health and safety of consumers.
"Anyone caught dealing with unregistered Covid-19 vaccine will be sanctioned in accordance with Act 851, which includes a fine of up to ¢180,000 or to a term of imprisonment of up to 25 years or both," the release stated.
The authority noted that should it approve the use of Covid-19 vaccines in Ghana, the Ministry of Health will issue a national policy throughout the health sector.
President Akufo-Addo in his 21st address on Covid-19 said the country has taken steps to procure the novel coronavirus vaccines.
Following his announcement, the Ghana Health Service (GHS) indicated that Ghana would receive its first dosage of the vaccine at the end of the first quarter in 2021.