An Accra High court has handed down to the Electoral Commission a 12-month deadline to operationalise the law granting Ghanaians living abroad the right to vote.
This was after the Commission failed to meet an earlier deadline of December 2018 handed it by the High court in December 2017.
Justice Nicholas Abodakpi observed the EC has had new Commissioners who have shown a commitment that appeared missing under the previous administration.
But the court did not end the sitting without awarding cost against the EC for failing to prioritise the implementation of the Representation of the People (Amendment) Act (ROPAA) passed in 2006.
A cost of 8,000 cedis went the way of the plaintiffs, a group of Ghanaians living abroad who represented by Samson Lardy Anyenini as counsel have sustained pressure on the Electoral Commission.
They had asked for 20,000 cedis after providing evidence showing the EC has failed to prioritize implementation of the law.
It was this group that secured the December 2017 court order by Justice Anthony Yeboah to the EC to ensure regulations are passed by Parliament to activate the law.
It was not complied with under the Charlotte Osei-led Electoral Commission which was largely removed in June 2018.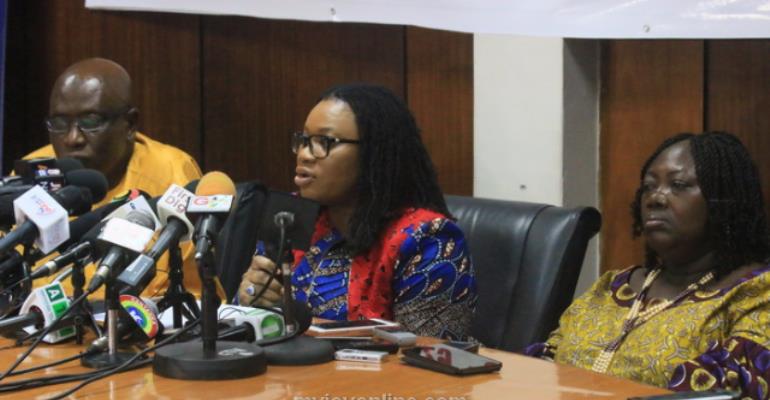 Photo:Amadu Sulley, Charlotte Osei and Ms Georgina Opoku Amankwaa were removed for stated misbehaviour.
Enter a new EC Chair Jean Mensa appointed in July 2018 which outdoored a committee in October 2018 as the January 2019 deadline loomed.
The committee is to examine the practicalities of implementation of possibly the most difficult electoral task it has ever faced.
An unimpressed Samson Lardy Anyenini has said this committee is trying to do work already done, not once but twice.
His continued frustration has been that "we live in a country where we just engage in waste. We just waste money and do things over and again and sometimes of course because it is public money we cannot be bothered."
The 2018 deadline elapsed with the EC filing an application in January 2019 asking for an extension with the explanation that there is a change in leadership at the EC which is learning the ropes of electoral management systems.
This leadership needs some time, the lawyers argued.
Justice Abodakpi appeared appeased by the EC refraining from using logistical and resource constraints as the excuse, a major justification for its failure to implement the law under previous management.
He has set a January 2020 deadline as the law marks its 13th anniversary of non-implementation.