The Student Representative Council (SRC) president for Ghana School of Law, Philemon Laar has tendered in his resignation, leaving office as the democratically elected executive of the Council with immediate effect.
The decision comes after the Registrar, Juliet Adu-Adjei wrote to inform him that the School's has withdrawn its recognition of him as the president of the SRC.
This, she explained was based on reasons that "Mr Laar was not successful at the recently held PLC Part I Exams and has to repeat Part I."
As a result, the School says he cannot hold himself out as the SRC president and he is being advised to resign.
"The SRC body responsible for elections is hereby requested to conduct a by-election to elect a new SRC president," the Registrar added.
According to the School, until then, management will not be in any position to deal or engage with the SRC with Mr Laar as its president.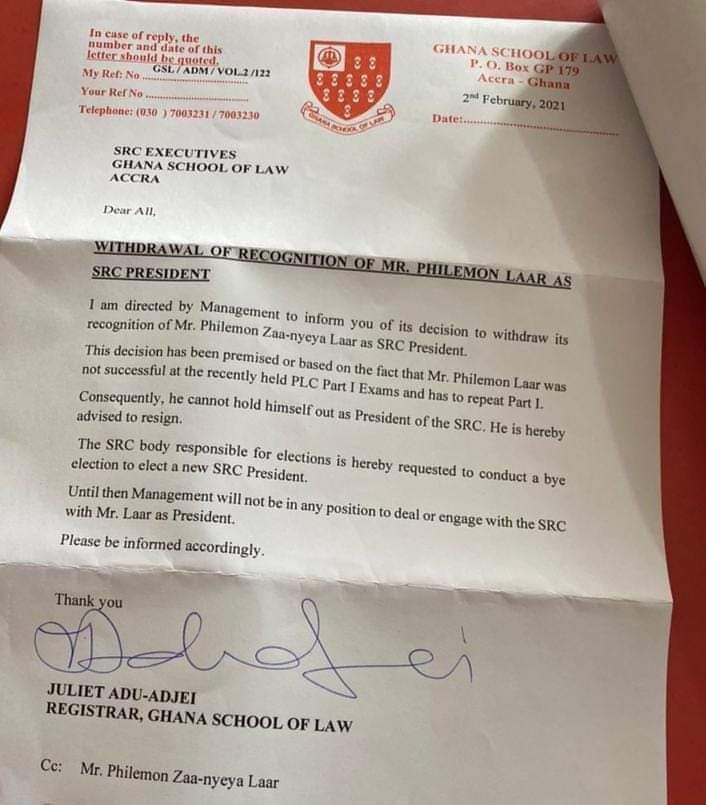 This Mr Laar disagrees. Telling his side of the story, he said, "I was unsuccessful in the October 2020 PLC examinations. Like several other students displeased about their results, and convinced that the examination results did not reflect their industry and performance, I applied to have my scripts remarked. Results of the said remarking are yet to be released."
"Based on the above facts, Management of the School of Law has refused to release any funds to the SRC," Mr Laar said.
He disagrees with the position management has taken saying "it is an affront on the constitution of the SRC and represents undue interference in the affairs of students."
Mr Laar said he was elected to serve but cannot in the circumstances, offer leadership his constituents deserve therefore the need to step down and be replaced by one of the Vice Presidents.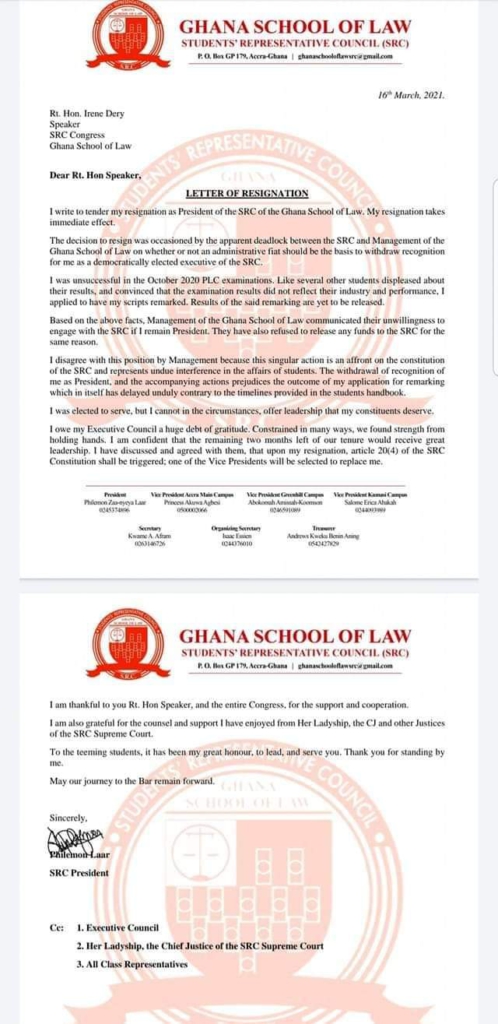 "I owe my Executive Council a huge debt of gratitude. Constrained in many ways we found strength from holding hands," the letter stated.