You think about basketball, and immediately height comes to mind. Yes, there have been big names like two-time All Star, Isaiah Thomas, listed as 5ft9, and NBA legend Chris Paul, hitting only 6'0.
According to the NBA, there was a total of 27 players who appeared in at least one game of the 2021/22 season listed at 6 feet and below.
However, it's more popular for the taller guys to dominate the game, with Shaquille O'Neal breaking the barriers to hit 7ft1, LeBron James in at 6ft9 and Kobe Bryant in at 6ft6.
Scientifically, it is believed boys hit a growth spurt later than girls as they experience a bloom between ages 13 to 15. Females on the other hand have their spurts start at age 8 and hit a height peak two years after their first period.
But to hit a height of 6ft5, three years after only being 5ft5 – is 'Godzillian', and Catherine Maame Serwaa Banahene, an 11-year-old basketball player in Accra has the genes of a Godzilla.
"I want to take basketball to the next level – that's the WNBA, to be the next Liz Cambage."

Catherine Banahene
Catherine has developed into possibly Ghana's most talked-about basketball talent, as she possesses one of the game's crucial keys at a very tender age, aplenty.
Standing at a full height of 6'5, not many females her age or even older, hold such an intimidating reach in the game and the WNBA's 2017 MVP, Sylvia Fowles, who stands at a height of 6'6, is only tall enough for Catherine's burgeoning 6'6 wingspan.
Her natural characteristic which obviously cannot be trained into players, stand out and is a feature almost all of Ghana's hawk-eyed basketball academies look out for. Frankly, though, her gift is one many academies outside the local shores will be wildly enthused about, as proven by the rave she caused on social media when her video first broke the internet; the 11-year-old girl dunked when she barely leapt off the ground.
Irrespective of this obvious advantage and God-given gift, basketball goes beyond simply being tall, especially as the technical side of the game has received numerous 'facelifts' over the years. So Catherine, who hopes to someday play under the floodlights of the WNBAs grand courts, will need to add up to her God-given advantage.
Unfortunately for the hopeful star, Ghana is a minimalist basketball state, but as it happens in fairytales, there are always god-like characters during not-so-sweet moments, and this is a role Ernest Koomson has slotted into quite well for Catherine.
Koomson is head coach at Charm Basketball Academy, one of many scattered across the country, and the reason behind Catherine's steady-growing career in basketball. Together with two others, she was amongst Charm's first recruits in their female basketball project three years ago, and since then, Koomson has been the brain in charge of overseeing her development, and understands clearly her skillset.
"The younger the better as a basketball player, especially as a female player and with that height, it's quite exceptional and special. At 11 and 6'5, we see it to be exceptional and she has to further develop so that she can live her dream.
"You know with her height, when she gets to other places, they'll say she has to be a centre or a power forward [because] she can't bounce or dribble. But Catherine actually started from the fundamentals – dribbling, bouncing and all that. So she's really good on the court – her movement on the court, dribbling, bouncing and shooting – whatever it is. She can take on the role of a point guard if you ask her. She's growing and developing."
These are glittering remarks for a player who only recently took to basketball, and is yet to hit five years in the sport. Her growth can be described as one close to remarkable.
She is a jewel of a basketball project which boasts of other unique talents but all of her development, which was sweetly retold by Koomson, does not tell the full story, as all of the glitter sold, narrates just a little part of what is not a straightforward story.
"Even though it's challenging sometimes, I'm going through it. Since my coach started taking me through the fundamentals, I have been able to dribble, defend and the rest. My strengths are dribbling and my height. I really like taking the role of a point guard because I'm good at dribbling," a shy Catherine told JoySports.
Basketball ranks high in a list of Ghana's least developed sports, receiving close to no state attention. Yet, it remains one of the most patronized activities by the youth and more than just a section of Ghanaians, especially in the country's big cities.
Courts in the final hours of weekdays are occupied with people drenched in sweat from pickup games. Weekends in Ghana present an opportunity for basketball fanfares, with courts occupied for half of the day. Pickup games on campuses of tertiary institutions like the University of Ghana, start as early as 9am and courts never see the last of students till 7 or 8 pm.
But all this love and passionate language displayed by the youth is a rhetoric really, since it has derived very little response from governments. And although many talents have ended up working in offices, governments' deaf ears seem to have failed in quenching the fire of those who already exist in the system and the ones now coming up.
This is a narrative which encapsules Catherine's story in basketball, a tale that also includes her abnormal sprout to 6'5 from a 5'5 frame only three years ago.
"Catherine's brother is a player as well, he plays in the U-16 division. He started playing with us in 2018 when we started this whole program, and there was this day I spoke with him – he told me he had a younger sister, who also wanted to start playing. So I met her mom as well and we took it from there. She wasn't this tall [6'5] at the time – I have a picture of her when we started. I actually started with three girls, and Catherine was part. She was around 5'5 and 8 years by then," Koomson recounted to JoySports.
She's a project still undergoing construction and some distance away from being a finished product. But the progress made in the last 36 months indicates she is one well worth the sacrifice, and if there is anyone besides Catherine ready to give all, it will be Koomson, who has plenty to let go in order to make sure a potential mammoth is equipped with all she will need in her journey.
But were there any signs Catherine was ever going to be such a towering figure so young?
"I remember when I gave birth to her, two weeks later I was supposed to go and see the doctor for review. He asked me to go check her weight and height so I sent to the nurses and they put her in a scale, but she was taller than it. So they had to hang her instead and they [nurses] were all very surprised.
"They kept saying 'eii two weeks girl and she's tall like this?' in Ga. And when I brought her home, I realised when I put her in the baby cot, she could not fit, her legs were always outside so when people visited they'll tease her by pulling her legs. Eventually, I had to take her out and it was then I knew she'll be very tall," Catherine's mum, Georgina Banahene recounted.
Her journey's already started – from the courts of Methodist University, where Catherine and the Charms train. Training is grueling to ensure the yet-to-be teenager is ready when the opportunity arrives, but is also well measured to achieve the right balance to prevent wear out.
After working together for three years, Catherine, who is without a father following his unfortunate passing, has developed with Koomson a daughter-daddy relationship, which is best witnessed courtside after practice.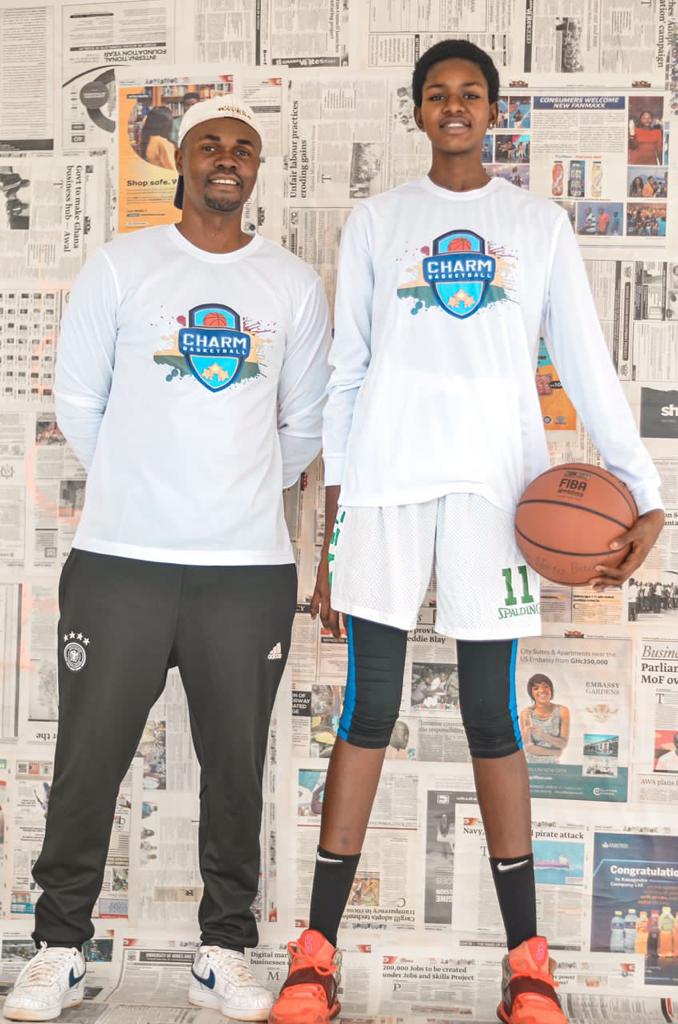 "Most at times after training, we sit on the court and talk. She makes me know she wants to live her dream, she wants to play in the WNBA and be a great player. We are guiding her so she can be on a direct path to achieve her dreams.
"We're still developing her as a kid with the dream of playing professionally. Now, we're working on her speed and her post moves which are the challenges she's currently facing but at her age, we are trying to get her to understand how to move around and also finish.
"We want her to develop more focus and confidence, to make sure she plays to her strengths and [also] looking to improve her endurance. We are taking it step by step – we don't have to force it to break her down."
The streets of Ghana are littered with kids and dreams. They might seem playful, but behind every trot or sprint on walkways and the sandy parks scattered across the country, are hidden dreams. And it is no different with Catherine, for whom every bounce of the basketball, serves a reminder of where she really wants to be.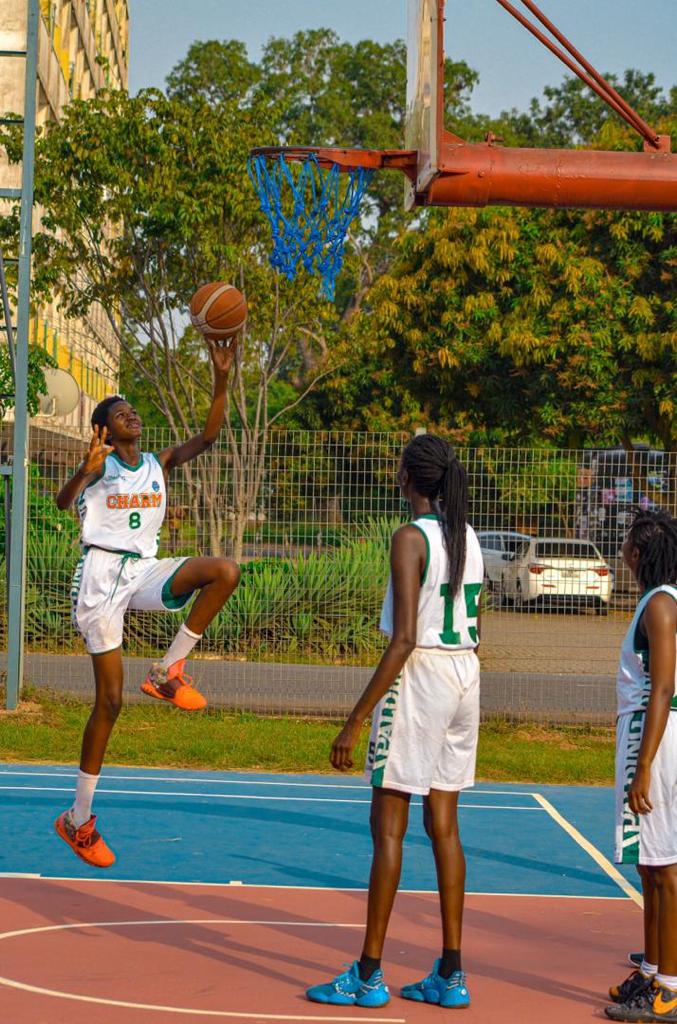 "I want to take basketball to the next level – that's the WNBA, I want to be the next Liz Cambage. It has been my dream since I was a kid to always be in the WNBA," Catherine chatters excitedly while juggling a ball in her hand.
To Koomson, who has been her guide so far, the dream is not far-fetched, especially as her video reels have reached FIBA. But more importantly for him, it is all about how she prepares herself for her big break.
"With her quality and age at the moment, we see Catherine in the WNBA one day. FIBA and other companies posted her video [but] we're calm, keeping her development on course and praying that very soon she'll find herself in a system she can further develop as a basketball player and live her dream."
A silent, hopeful prayer is what has been sent up to God ever since her development started but a professional career in the WNBA might not start till at least Catherine's 22. Meaning, she is some 11 years short of being drafted into the franchise. In the USA, prospects her age are engaged in high school competitions to serve as a pathway to compete in the NCAA at the collegiate level.
Comparatively, the system has major deficiencies in Ghana. GUSA games – held every four years – serves as the major form of competition for basketball prospects at the tertiary level. But before then, there is a non-existent system for prospects at the junior and senior high school levels especially, following Sprite Ball's disappearance after the outbreak of covid-19.
In the gap however is, the Accra Youth league (AYL) – not without its own issues, but provides a platform for in-game development for many prospects and it is where Catherine tests her mettle against kids (boys predominantly) older than her. And Feranmi Olunloyo, an executive of AYL, believes Catherine needs more than just the AYL to be ready.
"The thing about youth and genetic gifting is that there's a lot of potential, and potential is always a great thing. But potential is just potential, something has to move that potential. So one thing we are looking to do because of things like that is to be able to have a place for her to thrive as well – so in the future we want to have a girls' youth league because technically, girls should not be playing in a boys' league especially at u16 level.
"We have to create a league where girls who have the potential to grow can grow. So I'm excited to see what happens and hoping she does great things with basketball," Feranmi told JoySports.
While the girl waits, Catherine already seems to be a big personality amongst her peers and Charm teammates, to whom, she is a priced asset.
"Catherine is a very good player; when we're on court, she's very hard on defense and I love playing with her when she's on my team. Because she's tall, once you give her the ball, she's able to shoot and make the basket. It's fun playing with her," Beatrice Adwoa Owusu said.
"It's fun playing with Maame Serwaa because she's very interesting to play with and calm. When we are playing on the court, we do the pick and roll – she knows every move of mine and I know every move of hers. I do not want to be in a team against her," Queenstar Quao, another teammate said to JoySports in a beam of smile.
DISCLAIMER: The Views, Comments, Opinions, Contributions and Statements made by Readers and Contributors on this platform do not necessarily represent the views or policy of Multimedia Group Limited.