Rapper Eno Barony has disclosed that contrary to colleague rapper Medikal's claim, she paid him for his feature.
The 'Rap Goddess' crooner made this known on Showbiz A-Z on Joy 99.7 FM with George Quaye.
Quite recently, rapper Medikal called out Eno for disrespecting him. This came after she supposedly 'dissed' him in her song 'Argument Done', for writing Sister Afia's rap in 'WMT' – a song which began the feud between Eno Barony, Sista Afia and Freda Rhymz.
According to the 'Omo Ada' hitmaker, he didn't expect Eno to disrespect him after he featured on her song and shot a video without taking a penny from her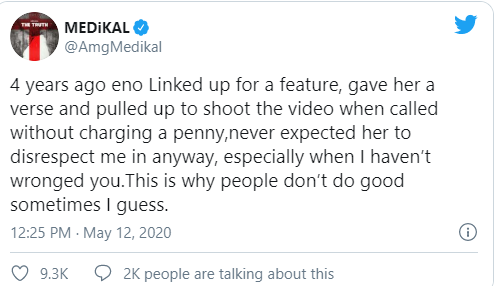 However Eno says Medikal lied about that.
"I still appreciate what he did for me. I can't come out and talk about what he took because even if it was someone, he wouldn't have taken that money'
When asked about the exact amount of money she paid the rapper, she said "I can't mention, but I brought this out because he said he took nothing. I won't come tarnishing his image but it's just that I don't know what came over him that made him tweet that. Because I don't have a problem with him."