The Ghana Police is on a manhunt for some five suspects who fled the police cells, along with seven others, after they were arrested by the Zenu-Atadeka District Police.
The 12 men escaped the law enforcers on Sunday, April 4, 2021, after one suspect Aziz Fuseini who had been arrested on bench warrant poured hot porridge he had been holding on the officer on duty.
The officer had opened the cell and was about to place the suspect in it.
However, after the incident, Aziz and the others in the cell escaped.
In a press statement, the Tema Regional Police Command indicated that it has rearrested seven out of the total who run away adding that one of them had surrendered to the police.
However, five of the men are still on the run. They are:
(i) Richard Remeo, 30, dark in complexion, slim and about 5'10 tall.
(ii) Sulemana Ibrahim, 23, dark in complexion, stout and about 5'5 tall
(iii) Abu Sadique, 29, fair in complexion, stout and about 5'6 tall
(iv) Ibrahim Fuseini, 26, dark in complexion and about 5'10 tall and
(v) Aziz Fuseini, 38, dark in complexion, slim and about 5;11 tall.
The Tema Regional Police Command called on the public to provide any credible information that can help them re-arrest the suspects.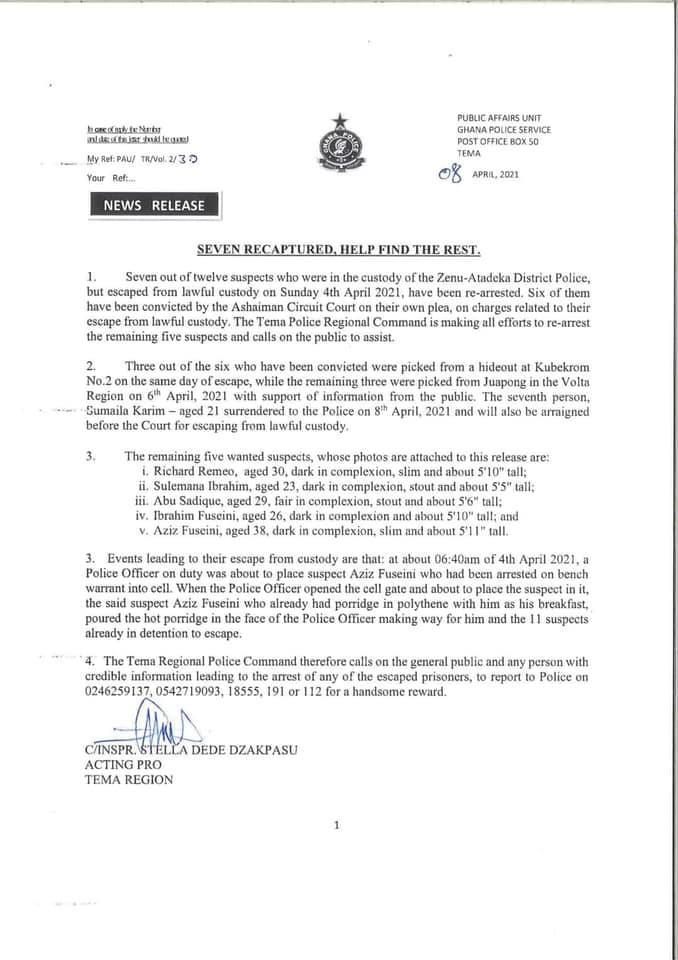 Meanwhile out of the seven rearrested, "six of them have been convicted by the Ashaiman Circuit Court on their own plea, on charges related to their escape from lawful custody."
Also, the seventh suspect Sumaila Karim, 21, who surrendered to the police on April 8, will also "be arraigned before the court for escaping from lawful custody."