Ten political parties have been prevented by the Ghana Police Service from embarking on a peace walk on Thursday.
According to the group, a notification reaching them by the police stated that due to security issues, the march should be called off.
The parties who joined hands to embark on the walk were Ghana Union Movement (GUM), Conventions People's Party (CPP), Ghana Freedom Party (GFP), Great Consolidated Popular Party (GCPP), and All People's Congress (APC).
The Peace Walk which was supposed to happen on the principal streets of Accra on Thursday was intended to call on the National Democratic Congress (NDC) to accept the verdict of the 2020 results.
In a statement by the political parties, they emphasised that " the essence of this peace walk we embarked on is to appeal to our college the NDC presidential candidate John Mahama to concede defeat just as we have all done and congratulate the President-elect Akufo-Addo who was declared as the legitimate winner of the 2020 general elections."
According to them, the gesture is not only about the peace and stability of the country but also to preserve and affirm Ghana's enviable democracy.
The others include Liberal Party of Ghana (LPG), People's National Convention (PNC), Progressive People's Party (PPP), National Democratic Party (NDP) and the Vice President of the Independent Candidate.
The group clad in white attires held placards with several inscriptions like "Ghana First Lets Peace Prevail" and others chastising the NDC protestors for burning tires.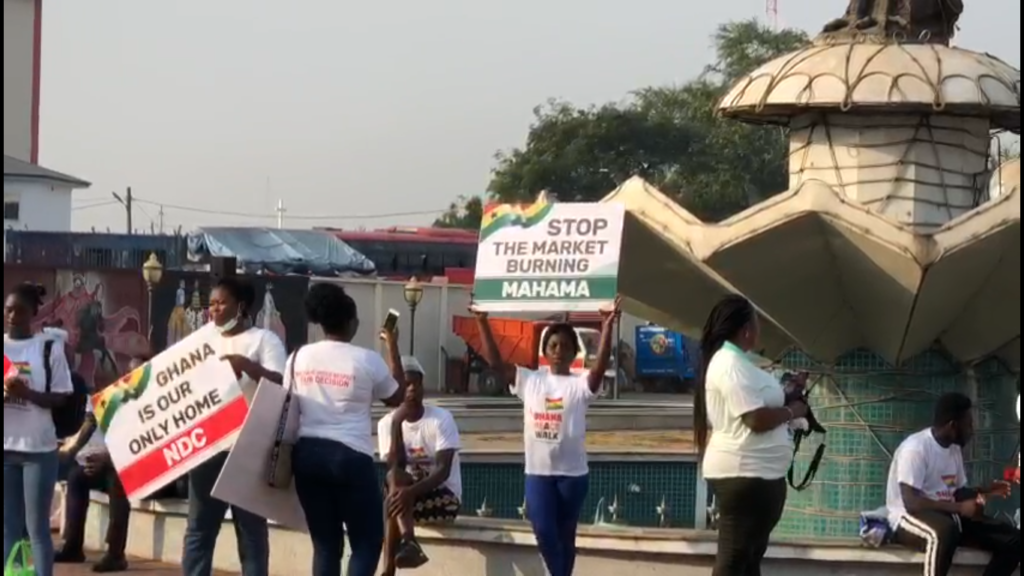 One of the peace walker told JoyNews' Kwaku Asante that, "We are here for peace, we just want peace to prevail in our country, we want everyone in Ghana to know we are one people and we need peace. Without Peace there is nothing we can do."
"My brother we are all in this country and then we saw all the media houses projecting the outcomes of the results so what we want to tell our brothers from the other side is that, they should just respect the verdict of the electoral commission and then we can move on as one country," another said.
This walk comes on the back after the presidential candidate of the NDC, John Dramani Mahama's rejection of the 2020 election results in which the EC declared President Akufo-Addo as the winner. 
His rejection has since seen his party supporters partake in a series of nationwide protests claiming the EC manipulated the figures in favour of the President-elect.
However, the group urged the NDC to respect the verdict of the people or go to court if it disapproves of the declaration by the Electoral Commission.
The group, in their hundreds, was expected to have begun their walk from Obra Spot and end at the Efua Sutherland Park.