There is currently a shortage of hydrogen peroxide in several pharmaceutical facilities across the country according to a report by the Food and Drugs Authority (FDA) and Pharmacy Council (PC).
The FDA in a press statement stated that the fall in supply of hydrogen peroxide is due to panic buying by persons who hope to protect themselves from the Covid-19 pandemic.
The high demand for hydrogen peroxide stems from reports that indicate that the chemical compound offers some protection and also aids in the treatment of the coronavirus disease.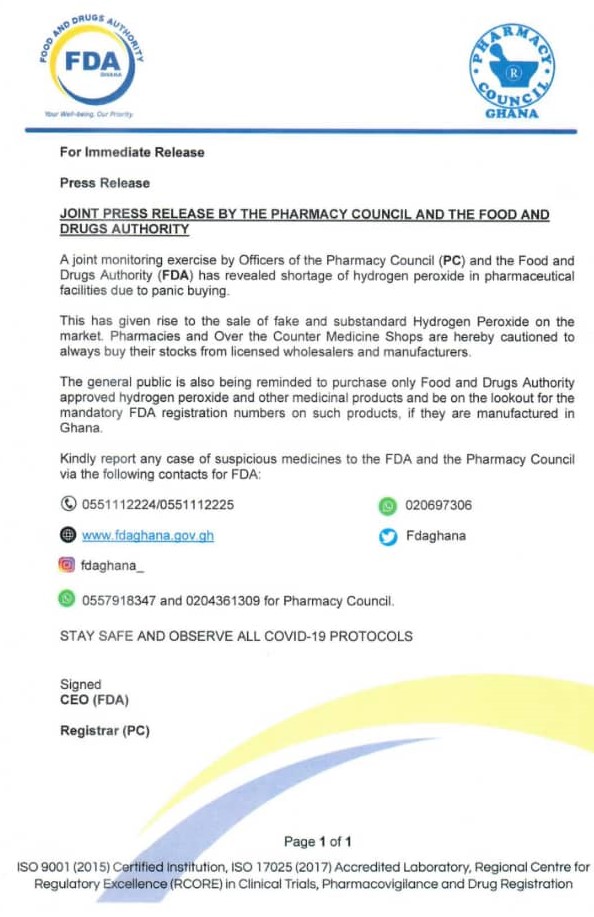 Consequently, the Food and Drugs Authority has cautioned the general public to be wary of some fake and substandard hydrogen peroxide in the market as some persons are engaged in the sale of fake hydrogen peroxide due to its high demand in present times.
The FDA has, therefore, urged Ghanaians to purchase "only Food and Drugs Authority approved hydrogen peroxide and other medical products and be on the lookout for the mandatory FDA registration numbers on such products, if they are manufactured in Ghana".
Meanwhile, the general public are encouraged to report persons who deal in suspicious medicines to the Authority.