Police in Hong Kong have arrested pro-democracy activists on the anniversary of the Tiananmen Square massacre.
Authorities have banned public commemoration of the 1989 incident, which saw China crush peaceful protests in Beijing with tanks and troops.
However, dozens of candlelight vigils are expected to take place in cities around the world.
Among those detained was 67-year-old campaigner Alexandra Wong, widely known as "Grandma Wong".
She was arrested while carrying flowers near Victoria Park, where vigils had been held for decades.
The leader of one of Hong Kong's main opposition parties has also been detained and placed in a police van, according to the AFP news agency.
Chan Po Ying, a veteran pro-democracy activist who heads the League of Social Democrats party, was holding an LED candle and two flowers.
Events to mark the 1989 massacre in Beijing are banned in mainland China.
Hong Kong was previously the only Chinese city where these commemorations were allowed, under the city's semi-autonomous economic, political and legal set up - known as "one country, two systems" - established when the city handed over to China by the UK in 1997.
But public events to mark the anniversary have since been outlawed, after the Chinese government imposed a strict national security law outlawing many forms of dissent.
The annual commemorations have not been held since 2020, after being initially banned under Hong Kong's Covid regulations.
This year, a pro-Beijing carnival is being held in Victoria Park instead.
Ms Wong was quickly surrounded by police and driven away on Sunday in the city's Causeway Bay area.
Nearby Victoria Park has hosted annual candlelit vigils to mark Tiananmen Square since 1990, often drawing tens of thousands of people to mark the day, known as June Fourth in much of China.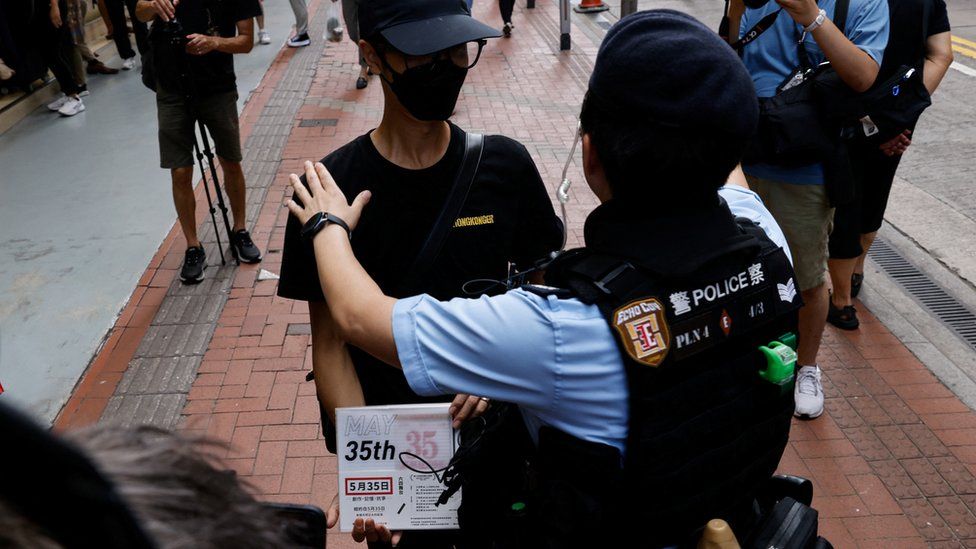 Hong Kong Police have deployed thousands of officers at key sites in the city, stopping people to search question them.
Reports say at least 10 people, including Ms Wong, have been taken away by officers.
One of those arrested was a woman who shouted "Raise candles! Mourn 64!" while another was a man carrying a book with the title "May 35th" - both references to the 4 June date of the killings.
On Saturday, at least four people were arrested and several others detained near the Victoria Park.
Dozens of candlelight vigils will take place around the world on Sunday to remember those killed by the Chinese military in response to the crackdown.
Many involved also hope the vigils will also continue the spirit of Hong Kong's once-vibrant civil society and political community, which has now largely fallen silent because so many have been imprisoned under the national security law, or have left Hong Kong altogether.
The Tiananmen Square protests in Beijing became the focus for national demonstrations calling for greater political freedoms in 1989.
Thousands of people - the majority of which were students - camped for weeks in the iconic Beijing square before the military moved in on 4 June and opened fire.
One unidentified protester became an international symbol of protest for blocking an advancing column of tanks in footage that was seen around the world.
The Chinese government says 200 civilians and several dozen security personnel died. Other estimates have ranged from hundreds to as many as 10,000.
The actions of the authorities have been seen by activists as part of China's broader agenda to snuff out political dissent in Hong Kong.
DISCLAIMER: The Views, Comments, Opinions, Contributions and Statements made by Readers and Contributors on this platform do not necessarily represent the views or policy of Multimedia Group Limited.