Ghana has been to the International Monetary Fund (IMF) at least 16 times on 16 separate fiscal years and is very familiar with the steps to follow to be fully registered on a particular IMF programme.
In the absence of IMF financing, the adjustment process for the country could be more abrupt and difficult. For example, if investors are unwilling to provide new financing, the country would have no choice but to adjust – often through a painful compression of government spending, imports and economic activity.
IMF financing facilitates a more gradual and carefully considered adjustment. As IMF lending is usually accompanied by a set of corrective policy actions, it also provides a seal of approval that appropriate policies are taking place.
Any member country that decides to opt for an IMF bailout has the primary responsibility for selecting, designing and implementing policies to make the IMF-supported programme successful.
The first step is to submit a letter of intent to the Fund. Typically, a country's government and the IMF must agree on a programme of economic policies before the IMF provides lending to the country.
A country's commitments to undertake certain policy actions, known as policy conditionality, are in most cases an integral part of IMF lending.
This policy programme underlying an arrangement is in most cases presented to the Fund's Executive Board in a 'Letter of Intent' and further detailed in a 'Memorandum of Understanding.'
Once an understanding has been reached on policies and a financing package, a recommendation is made to the IMF's Executive Board to endorse the country's policy intentions and extend access to IMF resources.
Below is Ghana's 2015 IMF Letter of Intent: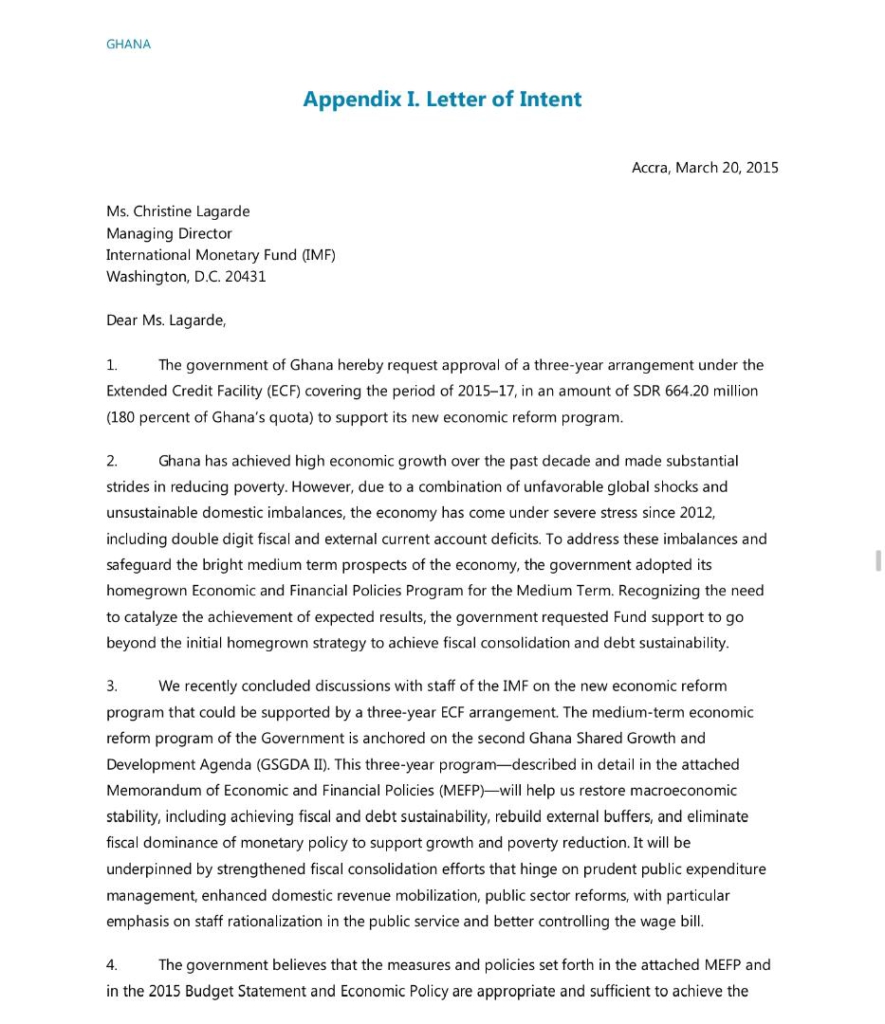 Ghana's 2009 IMF Programme: Letter of Intent