An alliance of Accra Academy alumni (Bleoobii) and St. Mary's Senior High School alumni (SMOGANS) on Monday, donated Personal Protective Equipment (PPEs) valued at ¢10,000 to their respective alma maters.
The donation by the ACASMA Family consisting of Veronica Buckets, Liquid soap, Tissue Rolls and Sanitizers was aimed at augmenting government's efforts at preventing the spread of the coronavirus Pandemic in Senior High Schools (SHS).
The Coordinators of the event; SMOGAN SitsoTamakloe and Bleoobi Albert Quartey intimated that the donations are a token to help provide a conducive environment for stakeholders in the schools to enable both teaching and non-teaching staff as well as students to religiously adhere to the Covid-19 protocols as set out by the Ministry of Health.
The presentation at the Accra Academy coincided with the school's 89th Anniversary celebration.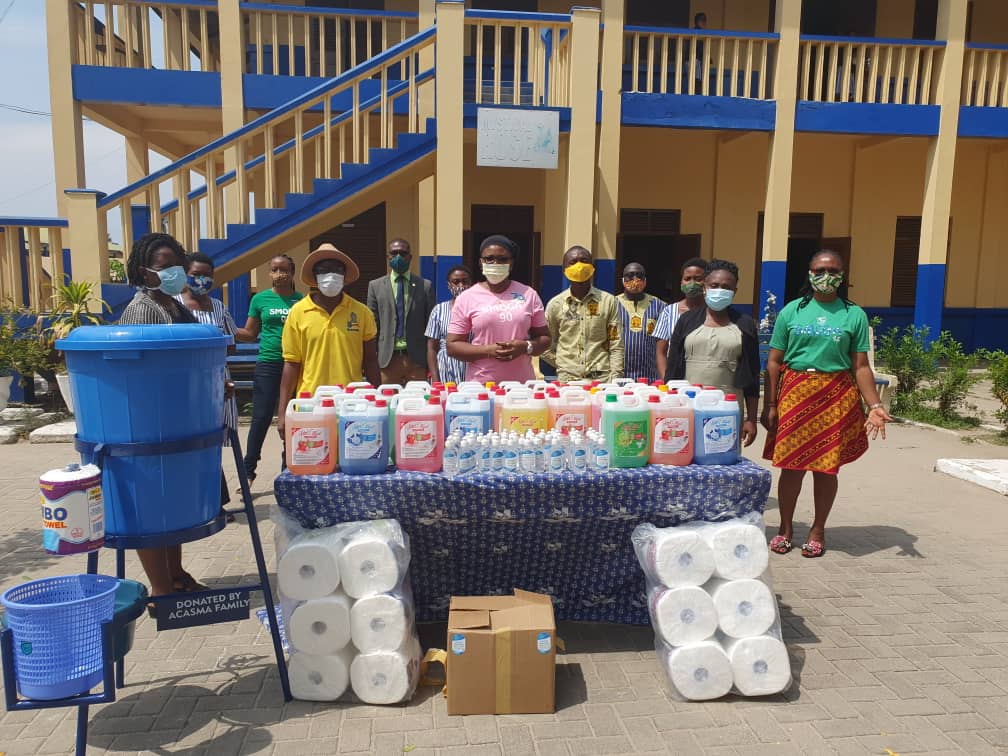 The Headmaster of the Accra Academy, Emmanuel Ofoe Fiamawhle, received the items on behalf of the school and thanked the members of the ACASMA Family for their kind gesture.
He noted that the items would enable the school to enhance its safety measures and provide students and staff with peace of mind to carry on with their work.
The donation at the St. Mary's Senior High School was received by Sarah Garshong, the Assistant Headmistress of the School.
She expressed her gratitude to the ACASMA Family and appealed to other stakeholders to emulate the kind gesture and complement the efforts of the Government and the Ghana Education Service in these challenging times.
The ACASMA Family is a social network of old students of Accra Academy and the St. Mary's Senior High School in Accra.
The alliance was formed in the 1970s when there were frequent nationwide strikes by teachers. During this period, some students of the Accra Academy went to St. Mary's Senior High School and taught their colleague students free of charge.
This act of kindness led to the formation of the alliance to foster stronger ties between both schools and their old students.
Some members of the ACASMA family present at the event were: Josephine Dodoo ( SMOGA '93 President), Ewurasi Agyeman-Badu (SMOGA2G8 President), Bleoobi Berrish Owusu Ansah (Bleoo'93), Bleoobi Solomon Lomotey (Bleoo'94), Bleoobi Emmanuel Kusi (Bleoo'96), and Bleoobi Daniel Matthias (Bleoo2G8).