Schools, colleges and other public facilities in the Republic of Ireland are to close in the wake of the coronavirus outbreak.
Taoiseach (Irish prime minister) Leo Varadkar said the measures take effect from 18:00 on Thursday until 29 March.
He said that Northern Ireland and the UK would be briefed on developments.
Some 27 new cases of Covid-19 were confirmed in Ireland on Thursday, according to the Department of Health.
There are now 70 total confirmed cases in the country.
The first death linked to coronavirus in Ireland – involving an elderly woman with underlying health conditions – was announced on Wednesday.
Meanwhile, two more people have died in the UK after testing positive for coronavirus, bringing the total number of deaths to 10.
There are now 596 confirmed cases in the UK.
On Thursday another two more cases were diagnosed in Northern Ireland, bringing the total to 20.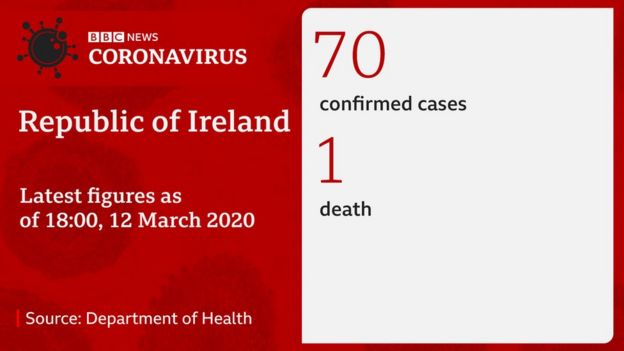 Making the announcement, Mr Varadkar added that indoor mass gatherings of more than 100 people and outdoor gatherings of more than 500 should be cancelled. He said people should work remotely if possible. Airports and ports will remain open.
Northern Ireland's schools and colleges will not close at this stage. First Minister Arlene Foster said NI would follow scientific advice.
Ireland's chief medical officer Tony Holohan said "he recognises the differences" on the island of Ireland in the way governments are dealing with the Covid-19 outbreak.
Mr Holohan said: "We have assessed the situation from our point of view and we believe that closing schools is an important part of the strategy for the reasons of ultimately protecting older and vulnerable people from schoolchildren who may not be significantly affected in terms of the illness."
Earlier on Thursday, stocks tumbled around the world after US President Donald Trump restricted travel to the US from mainland Europe in a bid to slow the spread of the coronavirus. The UK and Ireland were not included.
Mr Trump announced a ban on travellers from 26 European countries entering the United States for 30 days, starting on Friday.


Mr Varadkar said schools, colleges and childcare facilities will close from Friday and that the public and businesses needed to take a sensible approach.
The measures introduced in the Republic of Ireland will have a significant impact on Northern Ireland's border region, according to the managing director of O'Neill's sportswear firm.
It employs more than 750 staff at its factory in Strabane, County Tyrone, near the border with County Donegal in the Republic.
Kieran Kennedy said: "That will be very challenging for a lot of our staff. It will have a real impact on our manufacturing."
The taoiseach said he realised the restrictions would be a "real shock".
"It is going to involve big changes in the way we live our lives and I know I'm asking people to make enormous sacrifices but we're doing it for each other," Mr Varadkar said.
"Our economy will suffer but it will bounce back.
"Lost time in school or college will be recovered and in time our lives will go back to normal.
"Ireland is a great nation, we're great people, we've experienced hardship and struggle before, we've overcome many trials in the past."
Mr Varadkar said shops should remain open and public transport will continue to operate.

In other developments:
Prime Minister Boris Johnson is expected to sign off plans to move from the "containment" phase of the outbreak to "delay" at the emergency Cobra meeting later.

'Necessary and justified'
Later, Tánaiste (Irish deputy prime minister) Simon Coveney said the closures were "necessary and justified".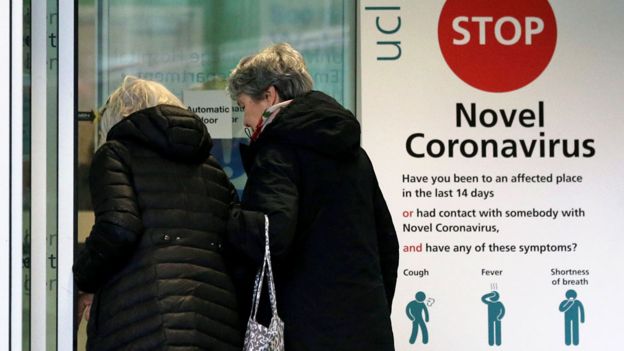 "We do need to respond with calm, with unity, with discipline and resolve," he said.
"These are the right measures at the right time based on the best public health advice."
'Decisive and rapid'
Mr Holohan said the measures announced by the government were "early, decisive, rapid, co-ordinated and comprehensive" and offered the "greatest chance of mitigating the impact" of the outbreak.
"But it is not to say it is going to prevent an increase in cases. We expect to see that," he said.
DISCLAIMER: The Views, Comments, Opinions, Contributions and Statements made by Readers and Contributors on this platform do not necessarily represent the views or policy of Multimedia Group Limited.