Easily Hearts of Oak's King of goals, Ishmael Addo scored 103 goals in 124 appearances for the Phobians, won 4 league titles, 2 FA Cups, the CAF Champions League and the CAF Super Cup. The 'Enfant terrible' won 3 Golden Boot awards for being the top scorer in the Ghana Premier League between 1999 and 2001.
Two decades have passed and there's still no trace of Hearts of Oak finding another striking jewel who compares, or a precious squad that can take them back to the echelons of club football in Ghana and on the continent. After listening to the entire 'Ishmael Addo story' it is clear Hearts veered off its trusted methods of scouting and development much to their own detriment.
Getting Noticed
Addo, then a teenager, was first noticed at colts' club, Tema Hearts Babies, where he had struck a strong partnership with Dong Bortey. The colts' side had already produced a flurry of players who had gone to become real stars at Hearts of Oak in the late 80s. The list includes Ablade Kumah, Shamo Quaye, Nanabenyin Crentsil and Paul Adjoda, who became the backbone of the famous 'musical' youth team.
Addo narrated his little climb up the ladder to Joy Sports' George Addo Jnr: "Somewhere in 1998, we had Milo Games. I am not very sure of the year but after colts, I was then playing in Tema Hearts Babies, so we had a chance to be in the final of the Milo colts tournament that was held at the Accra Sports Stadium. We played against Corners Babies, Kumasi; the team was made up of Stephen Oduro, Michael Osei "Ember", and a couple of guys I knew that played in that final.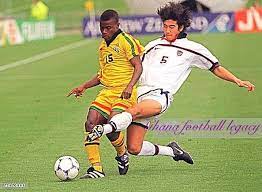 "I think we lost the final by penalty kicks. So, after that tournament, Hearts of Oak decided to dub some of us to restructure their U-20 – that is the Auroras team. They totally dissolved the U-20. It was Commodore Mensah who came up with the idea that we have to start the U-20 again so we can groom the players. They actually adopted us after the tournament to start all over with the U-20.
Back then, I know they used to have the U-20 where Ezekiel [Alemu], Seth Ablade, and all that came up from. They were able to be in the first team. They are buying too many players; they come to the team and can't perform. Why don't we go back to our roots? So that's how it all happened''
The promise of 'Aurora' at the time
Auroras, the youth side of Accra Hearts of Oak back in the day were that strong, and it appears there was a consistent strategy to tap youth talents as early as possible from a functioning colts system that afforded the opportunity with many competitions organized. But after scouting the promising talents, Hearts of Oak appeared to have a plan to develop them for a competition first under the late Jones Attuquayefio, and Addo explains qualifying for the Ghana Premier League as a youth side amongst professional Division One clubs was a testament of how great a side they were.
"Jones was then the coach. What he did was put up a program that every Friday before the senior team goes to the camp for the games on Sunday, Auroras have to play a competitive match with the senior team. So, it happened every week, every Friday. That's where it all started.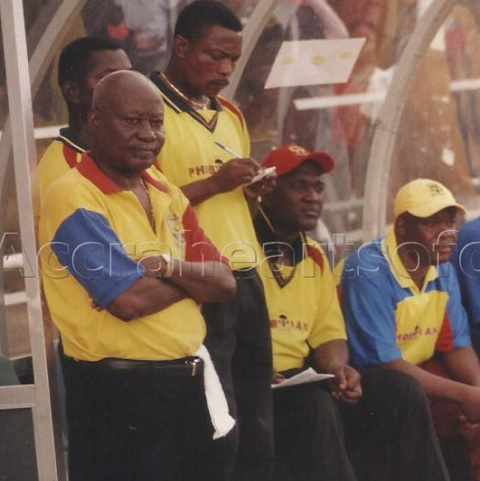 "I would probably say the senior team never won against Auroras because at a point we qualified to play in the Second Division. We came up to the first division and we qualified even for the Premiership. Our qualification was taken away from us because the FA had this rule that a team cannot have two teams in the same league. Auroras were never given the chance to be in the Premiership. They had Hearts already in the Premier League, they can't have Auroras coming into the Premier League. So, they had to take the qualification from us and give it to somebody else.
"Honestly, the reason we were very good is because the same team that played together in the Milo tournament, was the same guys who played together in all our youth years. We played in the colts. We started all the way from U-14, graduated to U-17 and then ended up with Hearts U-20. So, we were together for ages, we actually knew ourselves; it was easy for us to keep playing.
"When we came to Auroras, there were a few guys that joined the team. Coach Lamptey had some colts players in Accra that he brought into the team. These guys coming to join us were also playing in the colts, so it was easy for us to combine and perform the best way we could. It actually really helped us. The fact that we had the opportunity to play with the senior team every Friday was a plus for us," He explained.
Making the cut in Jones Attuquayefio's Hearts of Oak
Fresh from the 1997-1998 season as Ghana Premier League Champions, Jones Attuquayefio was looking to bolster his squad ahead of the next season. In his squad, he had the goal king of the previous season Joe Fameye, which meant consideration for another striker or backup was not a priority unless the player had proven beyond doubt. That prolonged the journey to the top for Ishmael, but in hindsight he agrees it's the best decision the club could have taken at the time, believing their youth ranks had enough quality.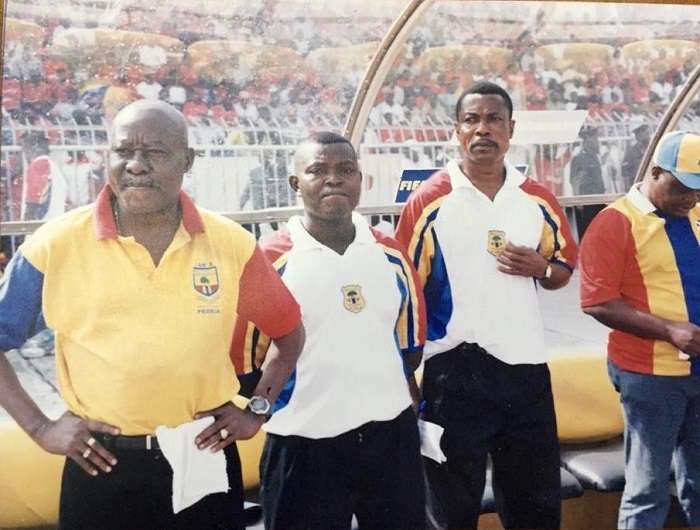 "What they did was promote the best players we had at Auroras to the first team, so they could still keep the rest who were not promoted to the first team, to keep Auroras running. I think they promoted six of us and out of the six, I believe I was the only one who made the grade that broke into the first team.
"When I got promoted, I never dreamt I had the slightest chance of playing because back then they had the great strikers that I was looking up to when I was young; when I was playing in colts. Fameye was there, Osmanu Amadu, Emmanuel Donkor, and you look at yourself and say, 'you don't have a chance' because these people have been at the top for so many years, so how do you think you can be competing with them?
"But you know in life, you always have to stay positive. I was like, you know what, I'm not going to get worried, I know definitely my chance will come and I'm going to take it. So, I never lost hope. I kept training with the team, giving my best trying to push through just to make sure when my time comes, I'm going to grab it."
Ghana Premier League debut and success
Addo made his Hearts debut on January 31, 1999, in a game against Liberty Professionals – an off-season game in a gala which served as a curtain raiser for the league season.
Then 16, all he needed was 26 minutes to announce himself to Ghanaians. Hearts won that game 1-0. The pacey young striker would go on to score in 3 out of 4 games in the competition Hearts won comfortably after beating Goldfields in the final.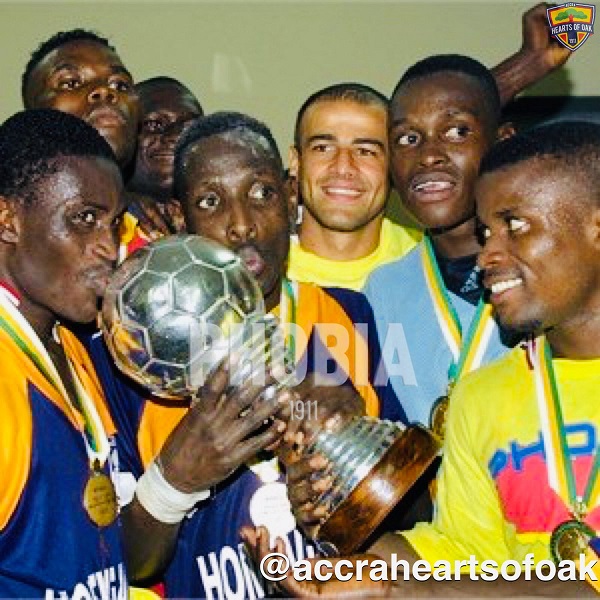 A week later it was the proper league season, and many who had seen him in the previous tournament were hoping they could catch another glimpse of the boy wonder in the league and he didn't disappoint.
"It was a game against [Afenya United] at the El Wak Stadium. Prior to that game, we had a couple of friendly games we played against Dawu United, it was a second-tier team we went to play against and I was part of the team. I think we won 4-0 and I scored all the goals. After that game, we came back to Accra and then we played against a second division team and I scored three in that particular game; we won 5-0.
"Then Jones decided – you know what, I'm going to give him the chance. He's proven himself when he was playing U-20. We used to play and win against the senior team. So, he was like 'you know what, let me give him the chance.'
"On that day against [Afenya United], I was on the bench and somewhere along the game, he said get up and warm up. I want you to go in there because you will have fun. I didn't get scared. All along the line, I was respectful to the senior players, so they always pushed me, advised me and all that. So I wasn't that scared because I knew I had more fatherly figures around me to protect me in any way.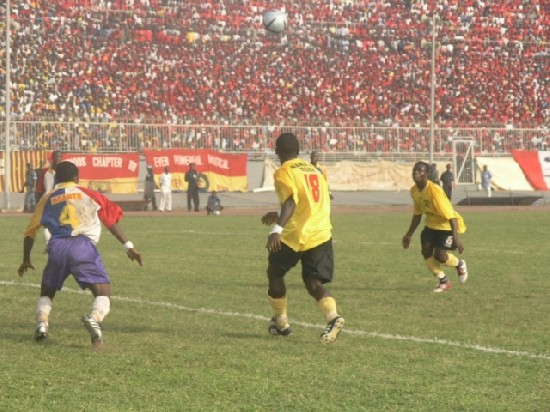 "Everybody was talking to me, 'don't get scared, don't look at how big and strong they are, you have your own way you go'. They kept encouraging me.
"When I finally got in, I kept whatever they told me in the back of my mind before I got into the game. I was like, 'you know what, you are right.' There's nothing special around these people that I have to be scared of. So, I ended up scoring a goal. That was the first-ever goal that I scored for Hearts of Oak in a regular league season.
"I believe it was a move from the right wing and then a cross, I happened to be right at the spot and attacked it. This was in 1999. I had all these senior strikers around me. Like everything that you do; humility and respect will get you everywhere. I was respectful and willing to learn from them [senior strikers]. I wasn't trying to compete with them," He explained.
The rest of the season was a strong testament to the kind of work that had gone into making Ismael Addo who he had become. Addo scored in the first three games of the season despite having to jell with the likes of the established Joe Fameyeh, Ousmanu Amadu, Ibrahim Mugu and Ian Acquah. Sadly, the tried and tested Hearts of Oak youth system is not recognisable and the brilliant talent production line seems cut off.
How it got broken
Ishmael Addo traces this back to his second year at Accra Hearts of Oak, just at the beginning of the 21st century when it appeared there was a paradigm shift. There was a sudden focus on getting already-made talent instead of relying on the dependable production line of Auroras and the Royal Oaks.
"I remember when they started buying big names for the senior team. I think they brought Awudu Adama and Amuki from Dwarfs. They were all top strikers in their various clubs and Hearts bought them. But here is the case we had Fameye in the team, Addo in the team, me and also Yaw Sakyi as strikers.
"So why do you buy all those people? Here's the case all those three years we played, we used the same 13 players week in, week out. So, you ask yourself, 'why did they bring all those players when they could use that money to revive the U20 team? They can get young and upcoming talents like they did with us?
"That will make it easier to save money. The people brought in never had the chance to play in a game for a whole season, so what was the sense in buying them?"
A failing Phobia Youth System
What used to be a strong point for Hearts of Oak has become their Achilles heels at the moment. The brilliant production of youngsters who could easily fit in the first team ceased partly because the very core tenet of an intensive program was discarded almost.
There could be a case for the general collapse of the colts system in Ghana that makes it even more difficult to see the talent on the display. But, even more worrisome is the fact the hierarchy of the club is proven to be less interested in putting a youth system right and harnessing the talent there off.
In 2013, Hearts of Oak slapped in an advertisement inviting young players to have trials with the club in its bid to revive its highly-respected youth academy. The likes of Amidaus Professionals and Liberty Professionals had learnt so fast that they were among the clubs exporting rich youth talent from Ghana.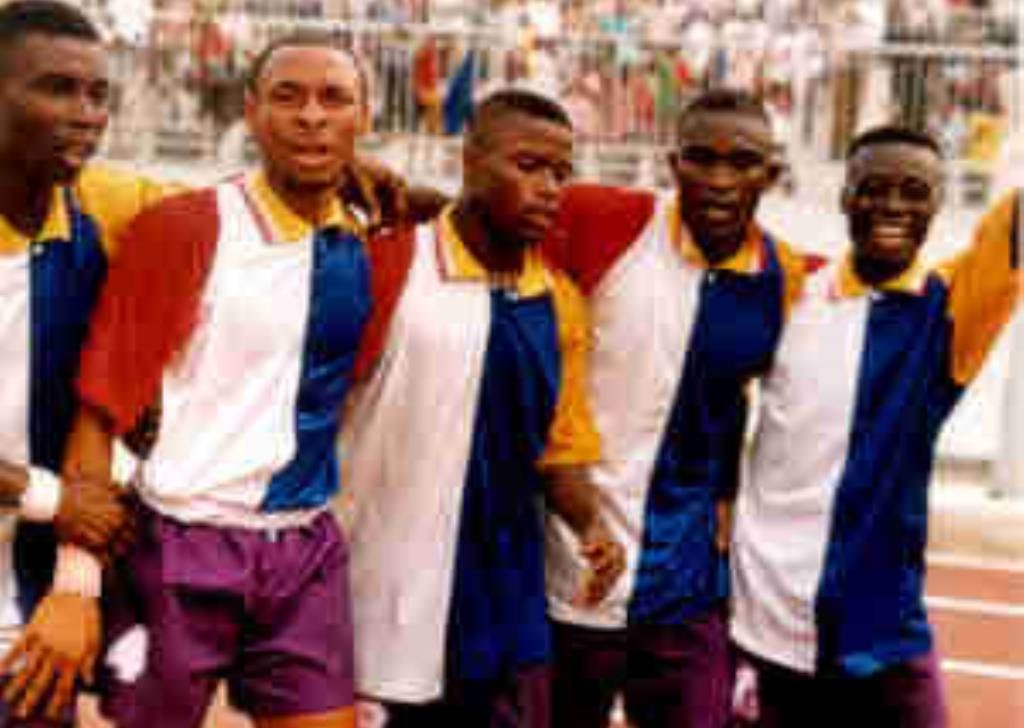 Four years down the line there was promotion which ignited some interest, and many fans were confident of receiving incredible young talent who will grow up to become household names.
Players including Stanley Aniagyei, Perry Amofa, Moses Dogbegah, Welbeck Tettey, Ishmael Thompson, Maxwell Botchway and Daniel Owusu were promoted to join Auroras excelling with the Royal Oaks. Five years on there are no real signs of a super talent emerging or any of these names on the radar anytime soon. There have been a few brilliant ones coming through like Tariq Jebril and Manaf Abdul Gumah, but certainly not of the quality that Hearts of Oak demands.
The phenomenon explains why there has been a wholesale purchase from other premier league clubs. In the last three years, Hearts of Oak have had to make do with talents from the West Africa Academy. To put this in context, defender Mohammed Alhassan, captain, Fatawu Mohammed, midfielder Seidu Suraj, Enoch Asubonteng, goalkeeper Richmond Ayi and new signing Richmond Boakye Yiadom, have come at huge cost to the Ghana Premier League giants
Any Hope?
Despite winning the Ghana Premier League and back-to-back titles, it's still difficult to define the little success at the club. In the last Ghana Premier League winning season, the club employed three coaches and had to deal with different challenges before winning after a drought that lasted for 11 years. There have been back-to-back titles under Coach Samuel Boadu too, but coupled with a poor sixth position as defending champions and a wretched Africa campaign, many close to the club including Ishmael are worried.
"It's really painful, you put the team up there, you leave with the idea that they will be better than where you left it, but they keep dropping and dropping and dropping," he said.
There are some encouraging signs these days, with the Club focusing on infrastructure. There's been some consistent work on the 'Pobiman Project' which will serve as the club's training complex when completed. The Phobians have a new commercial centre and are building a new club secretariat. There's some emphasis on the Auroras side who are active again, training and getting involved with games. The continental masters however need to get serious with scouting, funding and properly reworking their youth system. While it remains to be seen if a consistent, structured youth programme will emerge, club legends like Ishmael Addo are on the verge of giving up.
"Even though we have done our part and left, we still have something for the team. We want to see the team get better and better, its heart breaking. At one point I decided I'm not going to follow Ghana football, it's difficult."