I am Ga. Indeed, Ga-Dangme. I trace my paternal roots to Osu-Alata and Ningo-Prampram. My maternal root ends at Mantse Agbonaa- James Town, British-Accra.

So, I know Ga women like the back of my hand. They come in three types – aggressive, in-between and the very soft tempered. I have experienced all three through my wife, mother and two particular cousins – Aakai and Aatsoo.

The aggressive type, they won't come for your troubles oo. But if you dare them, you will regret it forever. The in-between, nmmm, they can let it go if they are not in the mood. The very soft, soft like fish bone. Their slogan is, 'AJ)' – Let it be. If they are beautiful, like our First Lady, we call them, 'Awula Naa' – Lady.

Watching from afar, it seems to me that the First Lady, H.E. Rebecca Naa Okaikor Akufo-Addo (née Griffiths-Randolph) belongs to the third category.

I say so because she has all the traits – woman of few words, soft spoken, speaks to the text of her speeches, no scandal in four years and beyond. Not even a case of verbal diarrhea- 'Me mma mu …nn3 me mma mu…ekyena'- I won't give you …, today, I won't give you… tomorrow.

Soft tempered Ga women respect themselves very much – 'Am3 bu) am3he di3nts3'. The First Lady's traditional name, Okaikor, presupposes that she is the second female or daughter of her parents. Her elder sister should be called Okailey. It is the first borns; Okailey, Dede, Deidei, Dei, Lamiley, Larley, Larteley, Ayeley, Koshie, Gogoe and Aku, who have the vim of the Hawa Koomsons and Ursula Owusu-Ekufuls.

As indicated earlier, they will not look for your trouble, but if you bring it on, they will receive it and give it back to you in equal measure.

Against this background, when news broke that Parliament has approved payment of salaries to the First Lady and the wife of the Vice President, and the insults started, I told myself that this woman will reject this offer. She did not disappoint me.

I could bet on it because, the first and only time I met her, she stamped my perception of her. I was part of a team that led a client to invite her for an event. At the end of that brief meeting, I found her down to earth, decent and respectful, despite her status.

Announcement of the spousal salaries and the public reaction

The public outcry against the announcement of the spousal salaries was too loud. But I was not among.

As for me, the only thing I told my wife is this, "this is how you make almost GHC1m, in 54 months. When Victoria Hammer said she will not leave politics if she hasn't made $1m, you thought she was going to rob the Bank of Ghana. So you made my IPR Ghana colleague, H.E John Mahama, sack her.

H.E. Mahama, as a PR professional, was very concerned about the corruption propaganda being pursued by the opposition at the time, against his government, so he sacked her because of the backlash.

Please note that I have not said that former President Mahama is my co-equal. Not in any way. Even at IPR, he is an Honorary Fellow, I am just an affiliate member. Thank you.

The rare response

Actually, things were said publicly, that Auntie Naa Okaikor, clearly, was not happy about. As I indicated earlier, I expected her response. What I could not anticipate was the refund bit.

Consequently, when I heard that a statement has been issued by her Office to indicate her decision to refund allowances from day one of her becoming First Lady, I read the release with a fine tooth-comb. My suspicions were confirmed.

The First Lady found some of the reactions as distasteful and seeking to portray her as, "a venal, self-serving and self-centred woman, who is insensitive to the plight of Ghanaians." That is typical of a soft tempered Ga woman, who feels that, 'aaj3mi, aawie nhi3'.

Any time I get the opportunity to share my communications and writing skills, I tell my audience that they could be forgiven if they speak Ga-English or Twi-English. Because we think in our local languages and speak as such. It takes an effort to speak impeccable English.

When it comes to writing, however, there are rules to follow. So you think in your language but apply the rules on grammar to write grammatically correct English.

Let's take the words used in Auntie Okaikor's release one after the other and you would know how she felt, when almost every Tom Dick and Harry was hitting her with verbal missiles.

Venal (bribery or corruption) – 'Jul)'. Self-serving/Self-centred (having concern for one's own welfare and interests before those of others/preoccupied with oneself and one's affairs) – 'nkome nfa'.

My soft Ga women hate being reprimanded publicly, thus they don't do anything for you to get the chance to treat them as such. More so, when almost everybody is insinuating 'Jul)' and 'nkome nfa' on her part.

According to the statement dated July 12, Aunty Rebecca therefore, "decided to refund all monies paid to her as allowances from the date of the President's assumption of office, i.e., from January 2017 to date, amounting to GH¢899,097.84." That's it!!! Very characteristic. 'Ekpoo shikaa'- she has rejected the money. 'ny3hea ni ny3 nm3a mibii l3 ahe"- take it and leave me alone, is how she would react on reflex.

Errr! You expect my wife, Awula Dede, to refund money, she didn't ask for? Money you gave to her for being Eric's wife, now you are complaining, 'obaa na shi osum)n'- you will get it, but you will not like it. Don't worry, my wife is okay with this. I asked her and this was her response, " n)ni miyel3, miye, am3 ka hami eko d)))"- what I have already spent, I will not refund, they can stop paying me, hence forth.

Na who cause am?

Just in case you don't know, the trouble-free Auntie Naa Okaikor's current plight was caused, immediately, by an Emoluments Committee chaired by Prof Yaa Ntiamoa-Baidu set up by President Akufo-Addo to determine salaries and allowances for Article 71 office holders under his second term in office.

The remote cause, however, is an existing convention, based on which even past First and Second Ladies are enjoying various forms of allowances.

Per Article 71 of the 1992 Constitution, public officers entitled to salaries and allowances from the Consolidated Fund are; the President, the Vice-President, the Speaker of Parliament, the Chief Justice and Justices of the Supreme Court.
The rest are; Members of Parliament (MPs), Ministers of State, political appointees, and public servants with salaries charged to the Consolidated Fund but enjoying special constitutional privileges.

Clearly, the First Lady, and the other beauty, Mrs Samira Bawumia (Very personable too. I've met her once under similar circumstances as the 1st Lady), are not mentioned anywhere here.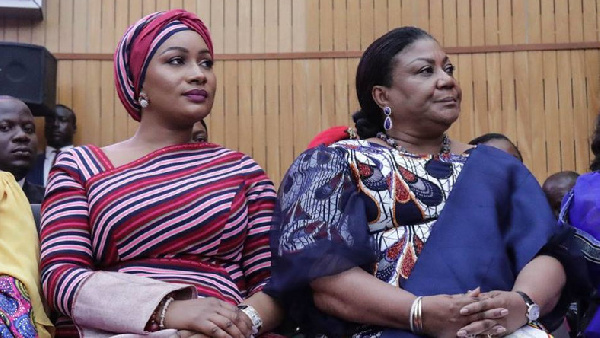 I am unable to describe Mrs Bawumia's temperament, because I have not observed her closely enough. But if you consider her Miss Universe pageant antecedents and the fact that, apart from her local dialect- Mamprusi, she speaks fluent Ga, Ewe, Fante and Twi, that should give you a clue.

Let's return to the Committee's recommendation. It could be that the Chairperson of the Emoluments Committee, a woman, in recognition of the emotional and moral support that the Presidential spouses give to their husbands, felt that 'something small' could be given to them as salary, legally, to motivate them to do the job better, hence the recommendation.

The Committee recommended that the First Lady be paid a salary equivalent to a Cabinet Minister who is a Member of Parliament (MP) while her husband is in office and the Payment of a salary equivalent to 80% of the salary of a Minister of State who is a Member of Parliament (MP), if the spouse served one full term as President or 100% of the salary of a Minister of State who is a Member of Parliament (MP), if the spouse served two full terms as President.

Prof Yaa Ntiamoa-Baidu's Committee knew that it was not within its remit to approve salaries for the Presidential spouses. So, it was only a recommendation. It is our representatives in Parliament who approved the payment of the salaries in January, 2021. Therefore, no one should blame Prof Yaa Ntiamoa-Baidu.

Interestingly, in spite of the trouble that being the wife of a politician had brought upon her, Awula Naa Okaikor still found space in the press statement she caused to be issued, to re-affirm, 'my mind dey' for President Akufo-Addo. "The First Lady will continue to support the President, as she has always done, in the execution of the mandate entrusted to him by the good people of Ghana," the release read.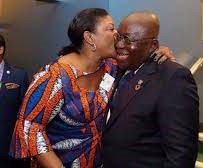 That's another trait. Very loyal and loving.

GH¢899,097.84 in 24 hours

Having caused that press release to be issued, 'My beautiful Rebecca' lived up to her word. A cheque for the amount was presented to the Chief of Staff within 24 hours.

A letter dated July, 13, addressed to the Chief of Staff, signed by Mrs. Shirley Laryea of the Office of the First Lady stated, "I am directed to forward, herewith, a consolidated Bank Ghana Limited cheque number 000002 for an amount of GH¢899,097.84 (Eight hundred and ninety-nine thousand ninety-seven Ghana cedis eighty-four pesewas), being the full refund for monies received from 7th January 2017 to date, as allowances given to her Excellency the First Lady of the Republic."

What I did not see, from Public Relations perspective, which for me, takes something away from this novel occurrence in Ghanaian governance history, is a photo of the cheque. That would have sounded the death knell of this issue completely.

Nonetheless, by this gesture, she inoculated herself from any further public backlash. At least, any reasonable person, would acknowledge that she is not in, for the money.

So, "a Professor of Political Science at University of Ghana, Ransford Gyampo, has commended First Lady, Rebecca Akufo-Addo on her decision to refund all allowances paid to her, since January 2017." The lead, to a story on Myjoyonline.com announced.

Knowing Prof Gyampo, my professor, who does not give Grade 'A' by heart. If he says good things about you, then you have really done well. Prof Gyampo did not end there. "I won't say you have succumbed to the legitimately expressed venomous pressure against the recommendation to regularize your allowances into salary. Rather, I will say, you have simply displayed some politically fine principles and conscience that do not come cheap. Well done. Others must follow," he said in relation to Mrs. Akufo-Addo's decision.

Prof Gyampo is known for his critical comments of socio-political issues. If this is his remarks on this one, then that should be it.

Others followed, "very very good gesture"- Dr Charles Wereko-Brobbey, aka TARZAN and Lawyer Martin Kpebu – "it is a mark of high emotional intelligence."

Expectedly, the politicians think otherwise. Former Member of Parliament (MP) for Mion in the Northern Region, Mohammed Abdul Aziz, Builsa South MP Dr Clement Apaak, and MP for North Tongu, Okudzeto Ablakwa were not pleased by the gesture.

Evidently, the lack of evidence, by way of a photo of the cheque, as I pointed out earlier, has informed Hon. Okudzeto Ablakwa's comment to the effect that, "First Lady's allowance rejection is a mere bait to look good in public's eye. I do not have any evidence to fall for that bait," he said.

Please Honourables, kindly spare her the politics. As for 'My beautiful Rebecca', she was drawn into it by accident- Marriage. What is natural of her kind, as I have elucidated above, is what she has done. You complained about money, she has refunded and said, don't give me anymore. 'Sane eta' – case closed.

As if that was not enough the entire Minority in Parliament is reported to have charged the Auditor General to probe accounts of the First Lady because she has been able to refund the money too swiftly. Why?

Deputy Minority Leader, James Klutse Avedzi is reported to have said that the Auditor General should also verify the source of the refunded money. 'Nuke J) ha!!'- What is it?

"Efo Avedzi, mede kuku, mega do nya ma da oo" – Please don't bring that issue up. If you do, you will be implying that 'My beautiful Rebecca' cannot have GHC1m as balance, in her Bank Account. If the Auditor General audits her Account and finds plenty money in it, then what?

Please stop. I know you from Ministry of Health, you are not like that. This is about a career-Secretary, who worked with the Merchant Bank in Ghana and relocated to United Kingdom where she worked as a Legal Secretary for Clifford Chance/Ashurst Morris Crisp, Multinational law firms.
Please don't even consider the fact that, 'loooooong' before you became Deputy Minority Leader, her father, Jacob Hackenburg Griffiths-Randolph, a Judge, served as the Speaker of the Parliament of Ghana in the Third Republic.

Guess what, my bald-headed lawyer friend, who relocated to London in 2007, now drives a Mercedes Benz C Class, whose price ranges between £30,257.87 and £34,331.04, without being a politician. This means anybody who lives in London and works very hard, can save enough to be able to have such reserves in his or her Account.

Aunty Rebecca, lived and worked in Britain for most parts of her life. She can therefore not be said to have been living a poor life before her husband became a politician. Please she has rejected our money, let's take it and leave her alone.
How many of us in Ghana today, will, while sleeping, smell the sweet scent of honey dripping on his or her lips, and wipe it off? I daresay that all of us will open our mouths and savour that nutritious discharge from the bee.

First Lady Rebecca Akufo-addo has proven to be different. Her kind is rare. Instead of vilifying her, let's pat Auntie Naa Awula on the shoulder so that, apart from H.E Samira Bawumia, others will emulate her when they, unfortunately, find themselves in a similar situation.

Mia dogo- That's good bye in Ewe

Let God Lead. Follow Him directly, not through any human.