The Food and Drugs Authority (FDA) is warning all food service establishments in the country operating without valid Food Hygiene Permits to stop.
The Authority says such actions are illegal and punishable by law.
"All operators of food service establishments are to note that it is illegal to operate without a valid Food Hygiene Permit."
The FDA said this is according to the Public Health Act 2012 (851).
It made this known in a press release issued today and signed by its CEO, Delese A. A. Darko.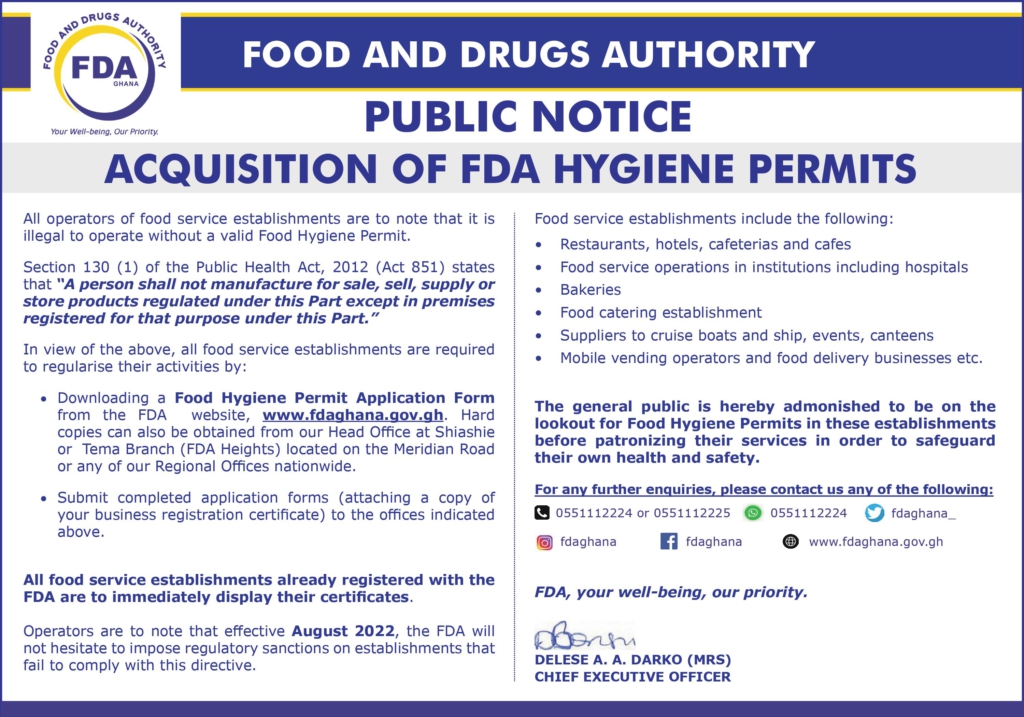 The FDA is thus urging all food service establishments to download a Food Hygiene Permit Application Form from its website or obtain same from its head Office at Shiashie or Tema Branch or any of its Regional Offices nationwide and apply.
"Downloading a Food Hygiene Permit Application Form from the FDA website, www.fdaghana.gov.gh. Hard copies can also be obtained from our Head Office at Shiashie or Tema Branch (FDA Heights) located on the Meridian Road of any of our Regional Offices nationwide."
It added that "submit completed application forms (attaching a copy of your business registration certificate) to the offices indicated above."
Meanwhile, it has asked all registered eateries to "immediately display their certificates" at their premises.
The FDA recently closed down the restaurant's East Legon and Abelenkpe branches of Marwako Fast Food.
This was after several Twitter users complained of being served contaminated food, resulting in food poisoning.
The FDA subsequently said both the East Legon and the La branches of Marwako did not have a food hygiene permit.
It added that the East Legon branch where the suspected food poisoning occurred had its permit expired at the time of the alleged food poison.