Frontline health workers in the Ashanti Region have served notice they will lay down their tools over unpaid allowances.
The over 200 aggrieved workers attend to severe and critically-ill Covid-19 cases at the Komfo Anokye Teaching Hospital (KATH).
They are unhappy with what they say are disparities and discrimination in the payment of insurance packages promised them by government.
Caregivers have since the emergence of Covid-19 discharged their duties, attending to critically-ill patients mostly with diabetes comorbidities.
As of January 26, 2021, at least 251 positive cases, representing 48.9 per cent of samples taken, have been treated at the facility.
But taking care of Covid-19 positive cases comes at a cost to medical staff as they risk their own lives.
"In fact, the team that manage Covid cases at Komfo Anokye are very efficient. They work diligently and are able to use the little resources that they have to be able to care for the patients well," a doctor who spoke on condition of anonymity said.
The government in April 2020 promised to pay 50 percent of basic salary of frontline health workers.
It also announced an insurance package for medical staff who contract Covid-19 in the line of duty. But the supposed beneficiaries say they are yet to benefit especially from the insurance.
According to them, some administrative staff who are not frontline personnel but lately contracted Covid-19 have been paid the insurance ahead of them.
"Those who manage Covid- doctors, nurses contracted it as early as May and their names were sent to the Ministry [of Health ] for payment. Those people have not received it and people who are not clinical staff but the staff of Komfo Anokye; they don't manage patients.
"An example like an accountant, a health service administrator. I know two people who are not clinical managers but contracted it. They contracted it as far as in August and they have been paid.
"How can someone contract it in May, let's say a doctor or a nurse not receive their monies, their insurance and then somebody contracts it in August and the person has been paid," he quizzed.
The aggrieved health staff have threatened to lay down their tools, that is according to a senior medical officer who has been mobilising aggrieved staff.
"There's a growing disenchantment and serious uproar. People are not happy and we are not careful, most of our people are going to lay down their tools," he revealed.
The strike could be widespread as colleagues from other hospitals in Ashanti and other regions have threatened similar actions in the first week of February.
"It's like a revolution. Whenever there's a revolution, people die. After that, the right thing is done. If you are left with no option, that is the only action you have to take."
The Ghana Medical Association is worried about the situation.

Ashanti Regional Chairman, Dr Paa Kwasi Baidoo, says some members are owed about three-month arrears of the 50 per cent basic salary promised them plus the insurance packages.

"The last check, people were complaining that for three-months they owe them arrears of three-months. And this is from a platform of doctors. We have over 2000 doctors on that platform. That's where the complaint was coming from."
He wants government to come clear, provide list of health workers who have benefitted from government's salary allowance and the insurance package.
"We use this medium to urge our Minister of Health-designate and our Finance Minister-designate that if they've really paid health workers this amount, they should let us know; the names and the facilities. "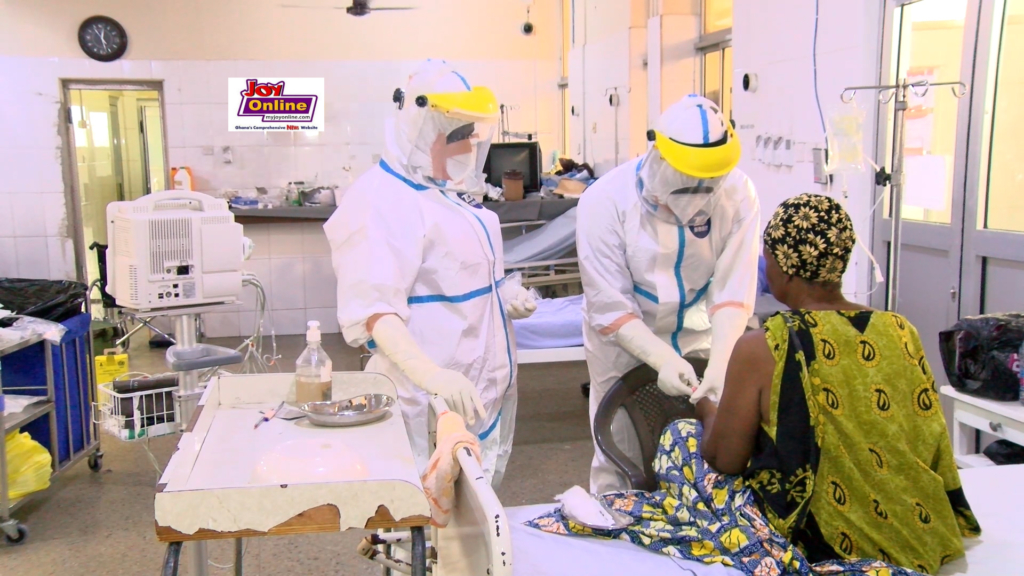 Management of Komfo Anokye Teaching Hospital has also expressed frustrations in the payment of insurance packages to the staff at the facility.

Medical Director, Prof Baafuor Kofi Opoku have been speaking to the issues, first on the salary allowance.

"It is beyond our capabilities sitting here as to why they have not been paid," he said.
"We sent the list to the Ministry of Health. the Ministry of Health scrutinise it and sends to Ministry of Finance. The Ministry of Finance would then authorise Controller and Accountant-General that pay these people.
"So the payment comes directly from the Controller and Accountant Generals Department directly into their bank accounts. We have no hand in why people have not been paid and who has been paid," Prof Baafuor Opoku added.
Speaking on the insurance package, he insists management of the hospital has no hand in the payment since it is paid directly into the accounts of individual beneficiaries.
"When it comes to the insurance, we compiled the list from April to October and sent to the Ministry of Health. The total was 351. The Ministry sent us a list of 71 as those that they have shortlisted.
"So we got back to the Ministry and asked, what was the criteria? We are on the ground. We know people who have been infected; those who have been admitted.
"Unfortunately, we had two of our staffs losing their lives and we asked them what is the criteria for this shortlisting? Before we could say jack, we got wind that some people have started receiving some payments.
"So as I speak to you now, close to 40 people in Komfo Anokye Teaching Hospital have received some amount of money being insurance money from government," he explained.
"I have no idea how the selection was done," he added.
The effect of frontline health workers laying down their tools could be dire especially on potential Covid-19 positive cases.

Until government addresses these concerns, the worst could hit the country's healthcare delivery.