School pupils in the Komenda Edina Eguafo Abirem (KEEA) Municipality can now heave a sigh of relief as tables and chairs have been procured for the student who has been complaining for years.
The lack of furniture in the school caused some of the pupils to sit on cement blocks and put their books on the floor to write.
This was a way teachers improvised to ensure academic work went on.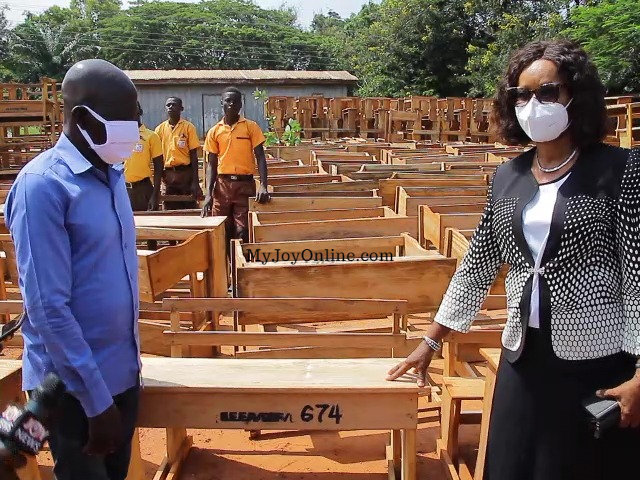 Municipal Director of Education for Komenda Edina Eguafo Abirem Municipality, Cecilia Aboagye, said her outfit was pleased as some burden on the teachers and the school pupils have been lifted.  
The issue of inadequate teaching and learning materials is not new in the country's schools and what is also fast becoming a grave challenge in some schools is that of furniture: tables and chairs.
In some schools in the Komenda Edina Eguafo Abirem Municipality, for instance, it is widespread to see three or four children sitting on chairs meant for two children because the ones in the schools are inadequate.
Municipal Director of Education Cecilia Aboagye, on her part, expressed her excitement as the Municipal Chief Executive for KEEA handed over some tables and chairs.
She said: "We thank our MCE for this kind gesture because he is aware that furniture is a huge problem in this municipality. He has been visiting the schools himself."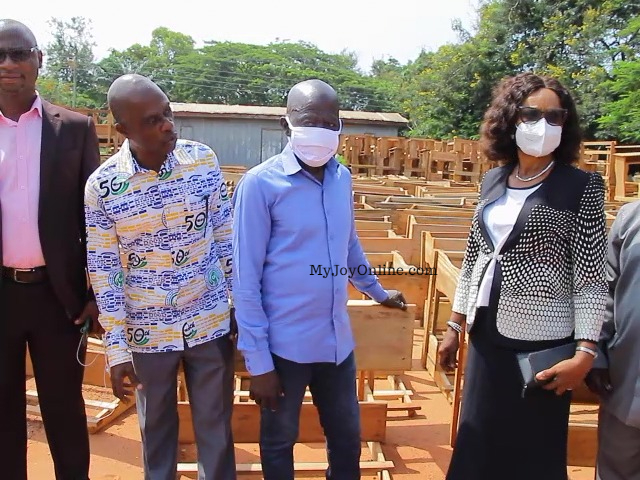 According to her, the MCE discovering the challenge in the schools encouraged her to write and inform authorities, so he does the follow-up. 
Out of the excitement, the Municipal Education Director said every good teaching and learning happened in a perfect environment. In an environment such as they had, no proper academic work could occur. 
"If a child is learning and is sitting on a block and writing on the floor, we know that no good teaching and learning can take place."
Municipal Chief Executive for KEEA, Nana Appiah Korang, said the government would fill such gaps in Ghana's education.
"I have been going around, and the problem I spotted was lack of furniture. Three or four school pupils shared one desk, and it was bad, so I had to mobilise resources to get some furniture quickly," he said.
The Education Director assured that the furniture would be distributed to the schools that need them.
DISCLAIMER: The Views, Comments, Opinions, Contributions and Statements made by Readers and Contributors on this platform do not necessarily represent the views or policy of Multimedia Group Limited.