Former Deputy Power Minister, John Abdulai Jinapor has rebuked the incumbent government for failing to come clean on the "avoidable" recent intermittent power outages experienced nationwide.
Unlike the Akufo-Addo administration, the Yapei-Kusawgu MP said the erstwhile NDC government led by former President John Mahama who was keen on accountability kept Ghanaians abreast with information regarding the country's power supply challenges.
In a letter dated April 13, the ranking member on the Mines and Energy Committee, said, "When the nation was faced with a similar challenge under the NDC, the Mahama government was candid with Ghanaians and proceeded to implement pragmatic policies to comprehensively address the challenge subsequently handed over a resilient a robust energy sector to President Akufo-Addo."
Despite the governing party inheriting over ₵230 million in the ESLA account from the NDC government, the country according to the former Power Minister has been plunged into a period of unnotified power interruptions which keeps "worsening day by day."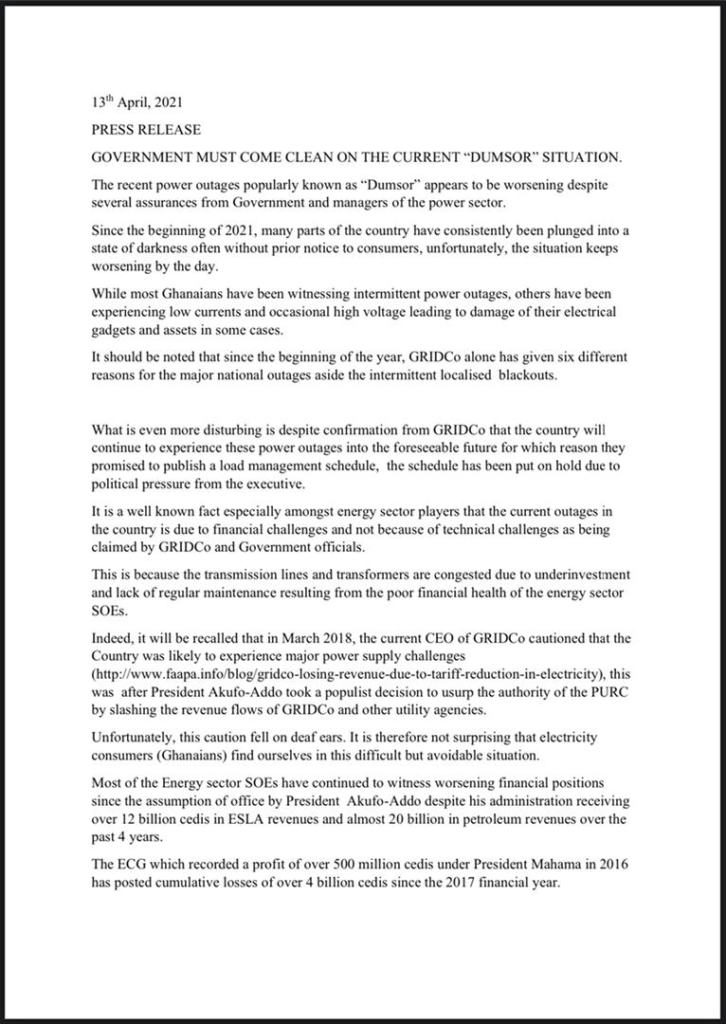 According to the legislator, instead of the Akufo-Addo government conceding on their shortcomings and being honest with Ghanaians, it "has adopted political chicanery, denial and misinformation as a cardinal tool whilst the ordinary Ghanaian is made to bear the brunt of this avoidable power outages."
He, therefore, called on government to divert its course to save Ghanaian businesses and come clean on the challenges facing the energy sector – a challenge Mr Jinapor does not attribute to technical challenges but financial constraint.
"Government must therefore come clean on the current power crises as a matter of urgency and desist from engaging in blame game. Shifting blame and providing conflicting information only goes to exacerbate the crisis which is threatening lives and businesses across the country," he urged.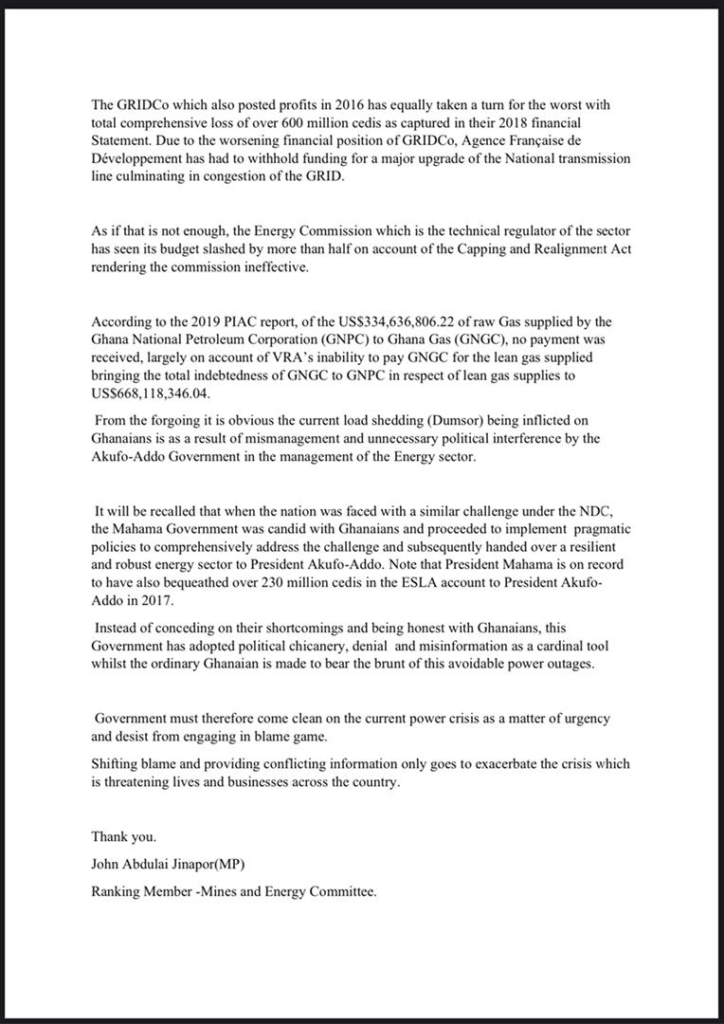 To buttress his reasons present day "dumsor" is due to financial challenges, Mr Jinapor in his statement revealed that the Ghana Grid Company Limited (GRIDCo) during the first administration of President Akufo-Addo had its revenue flows slashed.
The decision by government was not welcomed by present GRIDCo CEO, Jonathan Amoako-Baah who explained that the initiative would have dire consequences on the power sector.
"Indeed, it will be recalled that March 2018, the current CEO of GRIDCo cautioned that the country was likely to experience major power supply challenges, this was after President Akufo-Addo took a populist decision to usurp the authority of the PURC by slashing the revenue flows of GRIDCo and other utility agencies.
"Unfortunately, this caution fell on deaf ears. It is therefore not surprising that electricity consumers [Ghanaians] find ourselves in this difficult but avoidable situation," portions of the statement said.
The ranking member on the Mines and Energy Committee added that the Energy Commission that is the technical regulator of the energy sector also had its budget slashed by more than half "on account of the Capping and Realignment Act rendering the commission ineffective."