The virus that transmits Covid-19, according to the WHO, is generally spread by sneezing and coughing, when a person close by breathes in the droplets.
With limited supply of N95 and surgical masks, cloth masks therefore come in handy to save the situation. Nonetheless, frontline health workers have been battling it out with authorities on the effectiveness of cloth masks against the virus.
Is something amiss? Luv FM's Emmanuel Kwasi Debrah investigates.
At about 10 a.m. on Sunday, June 21, 2020, I received a distress call: nurses at the Intensive Care ward commonly known as 'Red' of the Emergency Medicine Directorate of the Komfo Anokye Teaching Hospital (KATH), were on a sit-down strike.

The nurses at the second largest Covid-19 holding Centre in Ghana had refused to work with cloth masks management provided them.

"We accept the risks and do what we know to keep the risk low. It's better to know you have no protection and take steps than to assume you have protection and unintentionally get exposed against your wish," a message from an anonymous source, sent to me via WhatsApp.

At 4 p.m., they agreed to resume work after one of the doctors on duty supplied surgical masks.
Lead clinician of the Directorate, Dr. Daniel Osei Kwame, confirmed shortage of surgical masks.
"Momentarily, we've run short of the surgical ones," he said.
Similarly, earlier in March, House Officers at Ridge Hospital in Accra also raised similar concerns when management decided to give them cloth masks.
"Ridge Hospital's management is providing face masks made of fabric to its house officers in this Covid era?"surprised House Officer asked.

A survey by Kaiser Health News and the Guardian reveals about 600 frontline healthcare workers in the United States have died from the coronavirus.
US Centers for Disease Control and Prevention says more than 9,000 were infected.

The Ghana Medical Association has also tallied close to 200 health care workers as having been infected with the virus. Sadly, Rector of the Ghana College of Physicians and Surgeons, Prof. Jacob Plange-Rhule, and Medical Superintendent of Kwadaso SDA hospital in Kumasi, Dr. Harry Owusu Boateng, couldn't make it.

"We have most of our colleagues getting infected. On the national level we have close to 80 doctors who are infected," Ghana Medical Association Ashanti Regional President, Dr. Paa Kwesi Baidoo told Joy News. "Per my last count about 15 to 20 doctors have been infected at Komfo Anokye Teaching Hospital alone."

Mass Masking
Ghana's Health Ministry had directed the use of face masks in all public spaces where social distancing is hard to maintain.

As part of efforts to curb spread of the disease, President Nana Akufo-Addo has signed a law, Executive Instrument 164.

It criminalizes the act of not wearing a face mask that fully covers the mouth and nose in public places.

The law states that those who are found guilty will be fined a minimum of 12,000 cedis or $2000 or a maximum of 6,000 cedis or $1000, or be sentenced to 4 to 10 years imprisonment.

Already, those without nose masks are prohibited from entering public places.In Kumasi and other towns like Kumawu, defaulters even had to do communal labour, as punishment.
With the citizenry increasingly embracing home-made masks, the Food and Drugs Authority had to come in, just like in the case of alcohol-based hand sanitizers, to set a standard.
By end of April, tens of brands of facemasks and face shields had been registered by the Authority.
How evaluation is done
Ghana Standards Authority's guidelines on reusable facemask, advises: "The thickness of the reusable face mask should be, at least, three (3) layers with thickness not less than 0.759 mm."
With the Ghana Medical Association craving for answers, the question that keeps coming up is: how is the FDA testing the efficacy of these cloth masks?
According to the above video released by the FDA, all surgical masks, N95 and locally-made are certified in accordance with American Society for Testing of Materials Methods (ASTM) and the FDA's medical devices ISO 170 25-2017 accredited laboratory.
First test, involves measuring the dimensions, using a digital thickness gauge so it can cover the nose, mouth and chin.
Aerosol spray splash test then follows. The aerosol used for the test is less thick than nasal and mouth secretions, to give more assurance.
The dyed aerosol is sprayed at high speed. After 5 minutes, the mask is taken apart to see if there are liquid stains.
"Passed-failed determination is based on visual detection of the dye penetration," the footage explains.
In the porosity test, a certain pressure of air is applied on the inside of the facemask. A flame is placed on the outer side of the mask and porosity is determined by whether the flame goes off or not. If it does, it means the pores are too wide and not suitable.
The last is breathability which is determined during the porosity test.
"For satisfactory breathability, the ratio of atmospheric pressure to the applied pressure, from a pressure device should be less than 6 for N95 and comparably locally-made mask; and 5 for other medical face mask," the footage explains.
The Health Ministry advises that home-made masks of the following materials and specifications may be used: JAVA or WAX sewn triple-layered and stringed with side loops to be worn as hooks to the ear.
Calico in-laid with fabric stiffener and inner covered with side loops to be worn as hooks to the ear.
Then, homemade masks with strings to be tied behind the neck or head.
Is it effective?
A report in the Journal Infection Control Hospital Epidemiology has it that hospital-acquired infection among Covid-19 patients in Wuhan China stood at 7.1 per cent.
World Health Organization's new interim guidelines on use of masks, in context of Covid-19, recommends that health workers who provide direct care to Covid-19 patients should wear a medical mask (in addition to other PPEs that are part of droplet and contact precautions).
A study in China in May 2020, had recommended: "International communities, especially in other low-and middle-income countries with potential Covid-19 outbreaks, should learn early how to protect their healthcare workers."
Management of KATH, in an intercepted internal memorandum, dated June 17, admonished staff, who, due to inaccessibility of PPEs, had refused to care for suspected Covid-19 patients before their results were in.
"It has come to my notice that some patients who are admitted to various units in the hospital for various conditions but are suspected to have Covid-19 are often neglected by way of medical management till their results are received. In some instances, doctors, nurses and other allied health staff have demanded to be provided full PPEs before attending to them.
"May I remind all that while we must at all times protect ourselves from contracting the virus by wearing the appropriate gear, it is unacceptable to leave suspected cases unattended to as this amounts to professional negligence," the statement said.
A medical doctor at KATH who spoke on condition of anonymity, however, believes it's too risky for a 'soldier to enter the battlefield with no weapons.'

"Now the cases are a lot. People in the ward are screened in the ward and are positive but the PPEs are not there to wear and give care to patients so as was done in red, if the right PPEs is not available you don't need to risk your life," he said.
In letter dated April, 24, 2020, the Trauma and Orthopaedic Directorate of KATH alerted staff in less-exposed units on availability of cloth masks.
The offer however didn't go down well with the health professionals.
On May 27, 2020, the Ghana Registered Nurses and Midwives Association voiced out the unsuitability of cloth masks in a hospital setting. The Ghana Medical Association was in full support.
"The FDA should provide the evidence so we scrutinized it. When was the test done, sample size, what was the methodology? If it meets the criteria for safety then we use it. But it's not enough to say FDA has approved it," said Dr. Paa Kwesi Baidoo.
Why would the duo have strong aversion for the clothmask?
Why would the associations believe the effectiveness of cloth mask against Covid-19 is in doubt, despite the parameters spelt out by the FDA?
Dr. Baidoo challenged Joy News' Erastus Asare Donkor during an interview: "Use the cloth mask being given at the hospitals and see whether it'll be easy breathing through it. I just finished a 5-hour surgery. By the time you're done with it, you'll be sick because exchange of oxygen is too difficult so you'll be taking in the carbon dioxide you're breathing out?"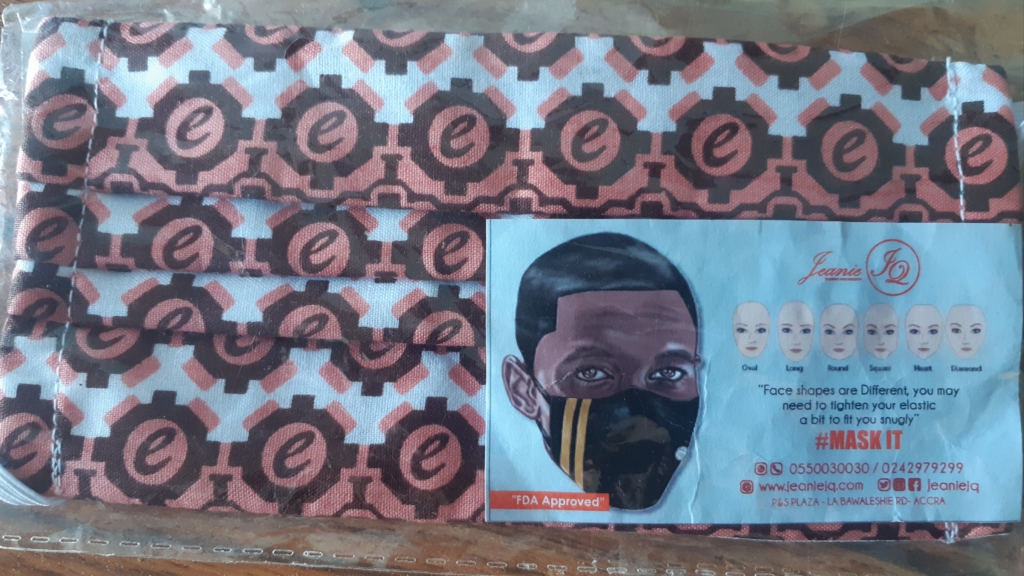 Ashanti Regional Director of the FDA, Nora Narkie Terlabie, will not deny the small pore size of cloth mask which might account for Dr. Baidoo's observation.
"The pore sizes are much smaller," she confirmed.
Mrs. Terlabie however, insists the authority "analyzed the cloth mask by the same standard as developed by the Ghana Standards Authority so they can be used in a clinical setting."
An anonymous Emergency Medicine Resident asserts the standards are not thorough enough.
He says one of the parameters found in the Ghana Standards Authority guidelines, Particulate (Bacteria) Filtration Efficiency, is absent in the FDA test. He believes without the test, the authority cannot aver locally-produced masks are same as imported masks.
"The whole purpose of the mask is the ability to filter particles. This is not found in the video," the emergency resident points out. "What they have done in the video is to tell us that the physical parameters they use to test for imported masks are exactly what they used to approve the cloth masks. N95 filters 95 percent of all particles."
He questions: "What is the filtration capacity of FDA-approved cloth masks?"
A virologist with the Kumasi Centre for Collaborative Research into Tropical Medicine, Dr. Michael Owusu, agrees with the resident physician.
He says: "The video is good but not sufficient."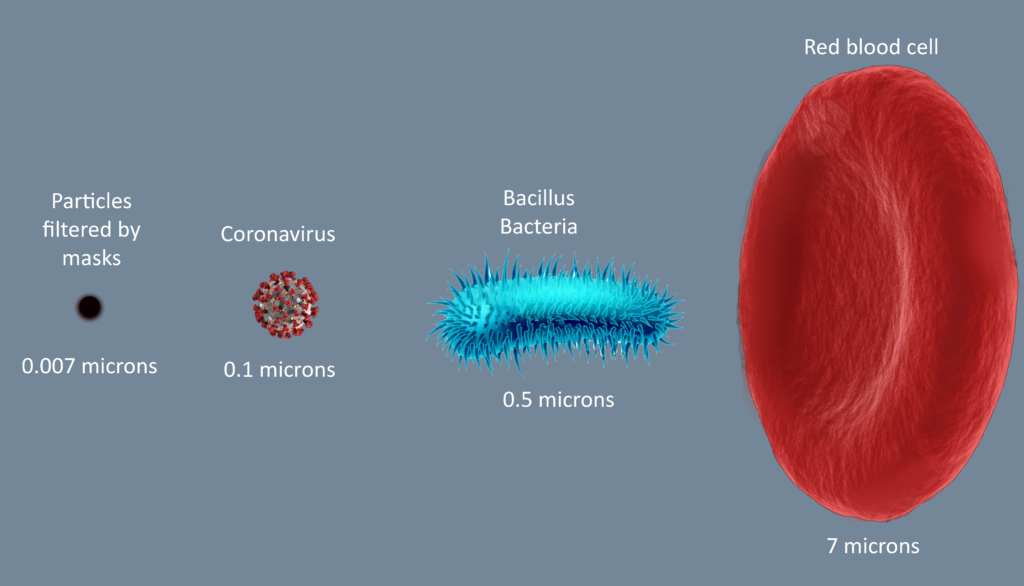 According to the Lancet, coronavirus ranges from 0.05 to 0.2 microns (one millionth of a meter). SARS-CoV-2, the virus that causes Covid-19 has been known to be a large virus, approximately, 0.1 microns in diameter.
However, bacteria are big: the smallest bacteria are even about 0.4 microns. Don't worry, your eye's lens can't make out sizes of both. Whiles an ordinary light microscope will be needed to see a bacteria, a virus would require an electronic microscope. By the way, can you guess the size of air particles? It's about 0.0005 microns!
According to the US department of labour Occupancy Safety and Health Standards (OSHS), N95 mask must be designed to tightly fit the face and filter out most airborne particles from the surroundings up to 0.3 microns.
The N95 mask is equipped with a material called electret filters which can screen particles ranging from 0.06 to 0.1 microns.
There's also the fit factor, which is the amount of a particular particle found outside of the mask divided by the amount inside the mask.
The N95 mask, according to OSHS, must attain a fit factor of at least 100.This means that the mask must be able to keep about 99 percent of a particle out from the mask and around the face.
The Ghana FDA's porosity test measures how efficient the mask is able to filter out particlesfrom the surroundings but what about particles leaking around the face?
A 2008 study in the American Journal of Infection Control found surgical mask filtering efficiencies, that is, both filter and around the face, range from 67 to 90 percent.
The report concludes: "Moisture retention, reuse of cloth masks and poor filtration may result in increased risk of infection."
Can you guess how cloth mask, with its untested face fit, will perform?
A 2020 report in the International Journal of Nursing Studies on the efficacy of face masks and respirators against coronaviruses and other respiratory transmissible viruses for the community indicates healthcare workers andsick patients finds: respirators, if worn continually during a shift, effective but not if worn intermittently. Medical masks were not effective, and cloth masks even less effective.
"Depending on the fabric and design, some cloth masks may not be safe for healthcare," the report concluded.
A large study predating the coronavirus outbreak had also ruled out the effectiveness of cloth mask in stopping infections.
The 2015 study in the BMJ Open, comparing effectiveness of medical masks and cloth masks on healthcare workers illness found particle penetration of cloth masks was almost as high as 97 percent and medical masks 44 percent!
An April, 2020 South Korea report in the Annals of Internal Medicine, almost came to lend support to the ineffectiveness of cloth masks in preventing SARS-CoV-2, when it was later retracted for data unreliability.
In the Ghana Standard Authority's general requirement 1.2, it's stated: "The reusable face mask should have good breathability and clearly defined internal and external surfaces."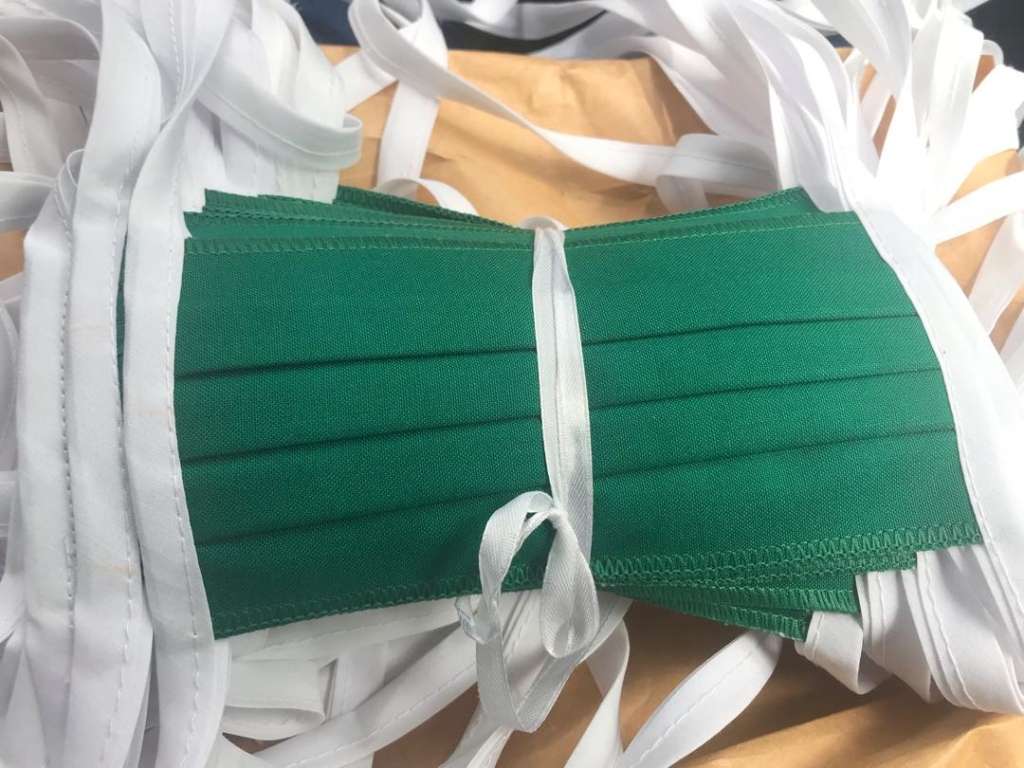 Cloth masks breathability may also need a second look by authorities so health professionals are not deprived of the body's most vital essence, breath.
Dr. Baidoo's request: "We'll all prefer the N95 with the goggles, screen and all that but if it's not available, the least we'll prefer is the surgical mask," is perhaps, a right call.
The FDA might have to consider revising a June, 2 news release, where it stated: "Locally-made medical face masks, equivalent to N95 face masks." Such a conclusion can only be arrived at after rigorous research. Available findings, however, are yet to give credence to the statement.
The public may be fine with cloth masks, but for frontline health workers, more needs to be done to ensure adequate protection in the line of duty.