5:26
Jammeh minister talks tough
Yahya Jammeh's information chief has said his boss - reportedly entrenched in Gambia's State House - is not leaving office.
Just interviewed #Gambia's information minister Sidie Njie. He says President Jammeh is going nowhere. #BBCAfrica. Click for more
5:23
Barrow demands loyalty from armed forces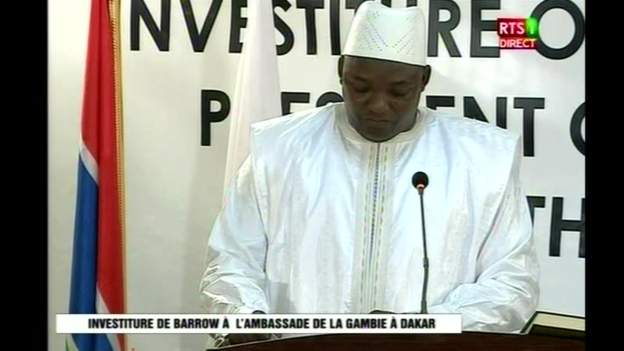 Adama Barrow, sworn in as president of The Gambia at a ceremony in Senegal, has used his first speech in office to call on the Gambian security forces to "remain loyal to the constitution" and stay in their barracks.
Soldiers found outside with firearms would be considered rebels, he said.
"From today on I am the president of The Gambia regardless of whether you voted for me or not," he said.
Mr Barrow added that his election was an opportunity for Gambians to "effect change that has been in the making for decades" and pledged "liberty and prosperity for everyone" regardless of ethnicity or gender.
He also vowed constitutional and legal reforms and said his election was the start of a meritocratic Gambia where "what you know" will be count for more than "who you know".
Mr Barrow took the oath of office with the backing of foreign governments, despite the fact that Yahya Jammeh has refused give up power in The Gambia.
5:21
UK congratulates Barrow
UK Foreign Secretary Boris Johnson has issued a statement, congratulating former estate agent Adama Barrow following his controversial inauguration as president of The Gambia:
The elections of 1 December 2016 were free and fair, and an orderly expression of democratic choice by the Gambian people. They represent a new chapter in the country's history and an opportunity for change in The Gambia.
The United Kingdom pays tribute to the decisive leadership shown by [the West African regional body] ECOWAS and the supportive role played by the African Union in ensuring that the democratic wishes of the Gambian people will be respected.
It is vital that former President Jammeh now stands aside to allow an orderly transition.
The United Kingdom has a long and historic relationship with The Gambia and I look forward to working closely with President Barrow's government to further develop our already strong bilateral and economic links."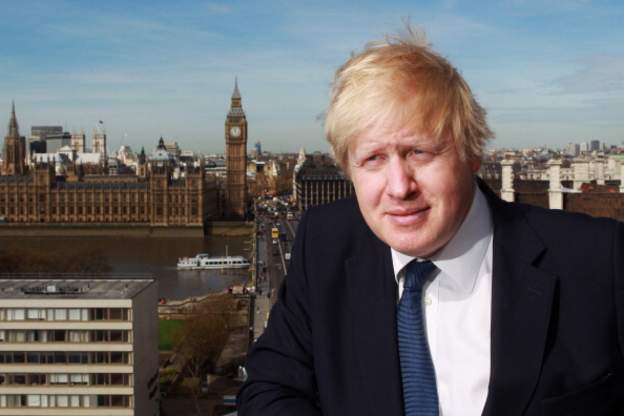 Mr Johnson says the UK will work closely with Mr Barrow
5:11
Barrow: 'I am your president'
Barrow: "From today on, I am the president of the Gambia regardless of whether you voted for me or not."
5:08
Barrow: 'A victory for Gambians'
Barrow after being sworn in as president: "This is a victory for the Gambian nation.. power belongs to the people in The #Gambia"
5:06
Barrow gives first speech as 'president'
"This is a day no Gambian will ever forget..1st time since #Gambia became independent that it's changed govt through the ballot box" Barrow
4:58
Barrow 'inaugurated' as Gambian president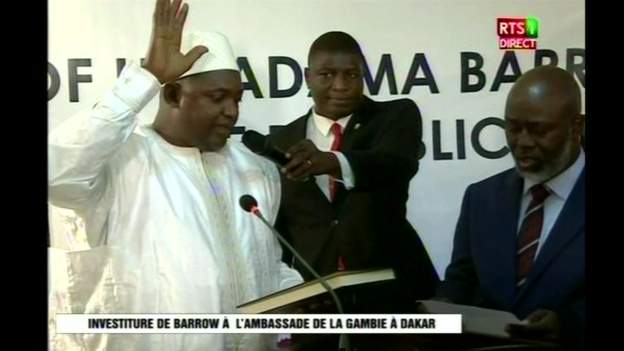 The Gambia's President-elect Adama Barrow has taken the oath of office at his country's embassy in neighbouring Senegal.
The ceremony was administered by Sheriff Tambadou, president of the Gambian Bar Association.
4:58
Gambia bar association head to administer ceremony
Sheriff Tambadou, president of the Gambian Bar Association, will administer the oath of office ceremony of President-elect Adama Barrow in Senegal
4:57
Nigerian military planes 'fly over Gambia'
Nigeria's air force is flying over The Gambia, an official has said, as regional troops prepare to force Yahya Jammeh to quit after his December election defeat, AFP new agency reports.
It quotes Nigerian Air Force spokesman Ayodele Famuyiwa as saying:
I confirm that the armed reconnaissance air force are over Gambia. They have the capacity to strike."
4:48
Barrow ready for big moment
4:41
Barrow arrives for 'inauguration'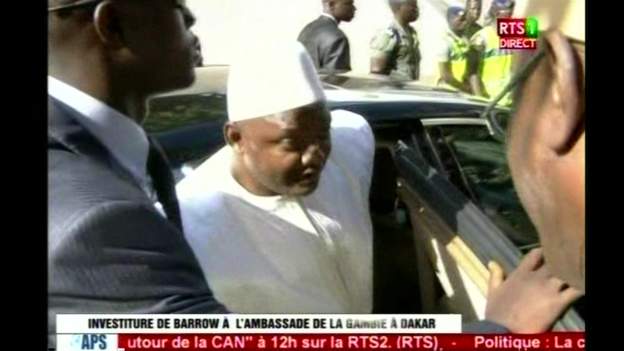 The Gambia's President-elect Adama Barrow has arrived at his countrys embassy in Senegal for his inauguration.
Dressed all in white, he waved at crowds outside the building before being escorted inside.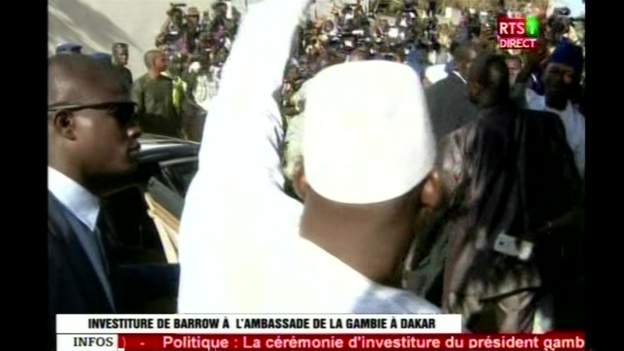 4:32
Huge diplomatic presence at Barrow's 'inauguration'
All UN Security Council states are represented at the inauguration of Gambia's President-elect Adama Barrow in Senegal's caital Dakar, Senegalese TV has reported.
4:27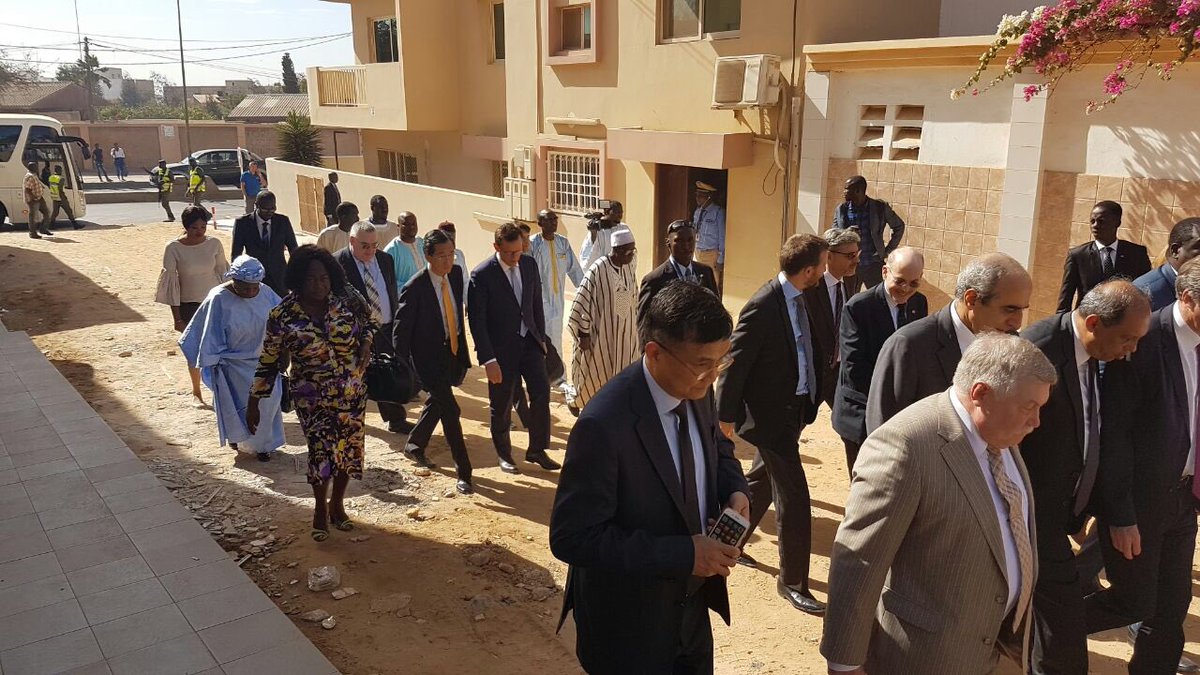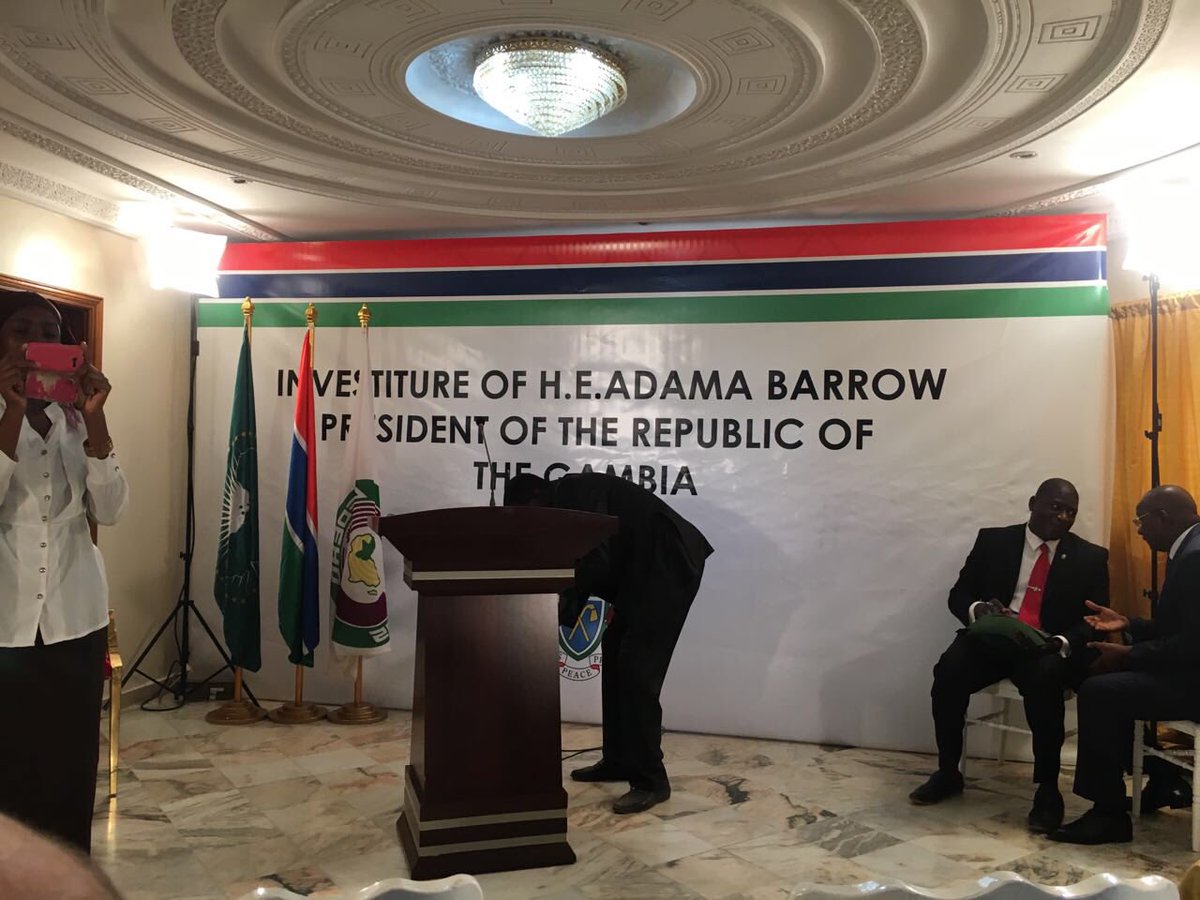 Diplomats and Gambians gather at Barrow 'inauguration'
Rwanda's ambassador to Senegal has joined other diplomats and officials at the swearing in ceremony of Adama Barrow at the Gambian embassy in Dakar.
Outside, hundreds of Gambian expatriates have also gathered, eager to be present at the inauguration Mr Barrow, whom they regard as their country's first new leader in 22 years.
Moudu Lamin reporting from The Gambia
"I can tell you that bread and other food items are in shortage right now". He said shops and markets have been closed since last week and residents had to rush to stock up over fears of a forceful removal of defeated President Yaya Jammeh from office.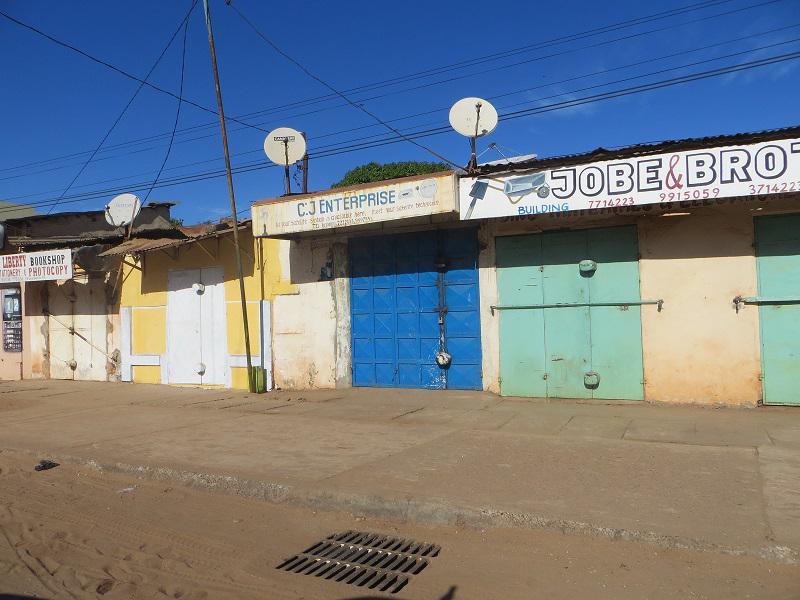 He said people intepreted the declaration of a 90-day state of emergency as an imposition of a curfew. Gambians rushed to shops to buy food and stock up. But officials moved in to explain the state of emergency is not a curfew and assured Gambians to go about their normal business.
But there is no business going on in Gambia.
Listen to audio
There are reports that senior army commanders in the Gambia have met the ECOWAS force at the border to provide directions on the take-over. The Gambian army are reportedly coperating with the sub-regional force.
Ethnicity and politics
Yaya Jammeh who comes from a minority tribe, Jola has vowed that no member of the majority tribe, the Mandinkas, will ever rule The Gambia while he is alive.
"In 1864, there were no Mandinkas in this country. You came from Mali. I will not allow foreigners to destroy this country." he has been reported as saying.
The Jola's represent about 10% of the population while the Mandinkas are about 41% of the over 1.8million Gambians.
Incidentally, Adama Barrow is a Mandinka. "That is acutally eating him [Jammeh] up" the journalist said and dismissed any suggestions that there are enthic violence is imminent.
He also dismissed reports people are stocking up machetes. "Those are just reports circulating on the internet. Nothing as such is happening in Gambia" he stressed.
"Everybody is united right now and everyone main goal is to have Jammeh peacefully leave the country" he said.
Jammeh's lawyer resigns, flees to Senegal
President Yaya Jammeh's lawyer Edward Anthony Gomez, who is to represent his client in a court hearing challenging the elections results, has fled.
In a letter, he said top lawyers in Gambia has refrained from supporting the Election Petition, leaving him in a difficult position to prepare for court.
He has urged President Jammeh to leave office because 'everything comes to an end, except God's kingdom.
Abandoned streets
Streets in The Gambia are deserted following reports of an ECOWAS military force ready to forcefully remove President Yaya Jammeh, who has refused to leave office after losing last year's general elections.
"I can tell you, you could actually hear a pin drop" Gambian journalist, Moudu Lamin, reporting from the capital Banjul, told Joy FM. He said residents are staying locked in doors on the orders of the President-elect Barrow.
In the Islamic state where religion holds strong, residents have nonetheless refused to come out for dawn prayers despite calls from the Mosques, he said.
"...virtually no one turned up [for prayers]. You can't even see anyone in the street saying they are going to the Mosque for prayers" the journalist said.
The reports indicate the ECOWAS troops entered the West African country early Thursday dawn. This was after the failure of Mauritanian President, Mohamed Abdel Aziz, to persuade the besieged leader who has remained defiant despite defeat.
ECOWAS issued an order for military intervention in the small West African country to oust President Jammeh at the stroke of midnight Thursday when his mandate ends.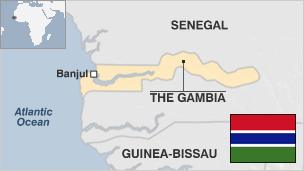 Gambians expect an inauguration on Thursday as prescribed by the constitution but they are uncertain who will be sworn in.
Adama Barrow, backed by the international community insists he will be sworn in, while a Yaya Jammeh-backed parliament has extended his mandate by 90 days.
Photo: Adama Barrow and Yaya Jammeh
Reporting from The Gambia, Moudu Lamin of West Coast radio described the mood in the country as tense and uncertain.
Moudu Lamin said the incoming government has warned, anyone seen outside the streets could be considered as a rebel.
He said people are unsure whether the troops have entered the country or are on the borders. He said there is no heavy military presence only military checkpoints which have remained since the December 1 general elections.
He said "Gambians want a change of government but they want it done peacefully". He said in The Gambia even firecrackers are enough to set Gambians on the edge.
The sound of gunshots therefore invoke alot of fear in the country, now a politically volatile territory.
Listen to audio
Have your say
---
More

News

Headlines
---